UPDATE 10/31 – The situation has continued to worsen. Entire people groups including Kurds, Yazidis, and Syrian Christians have been displaced from Northern Syria. Many Muslims have also fled the devastation in that area.
Both sides of the border with Iraq are overwhelmed by the tens of thousands of refugees. And thanks to you, Operation Blessing is still providing large quantities of relief kits and hot meals through the Barzani Charity Foundation. You're sending entire conveys of supplies including blankets, water, food, and hygiene items to refugees in both Syria and Iraq.
One Barzani representative said, "If you talk to people here in Bardarash camp you will feel their sadness, their suffering. They've lost hope. This is the biggest problem for these people." So thank you for sending a little bit of hope and a lot of help their way.
You can see updated photos of our outreach here. And please consider giving a special gift to help those in crisis.
————————-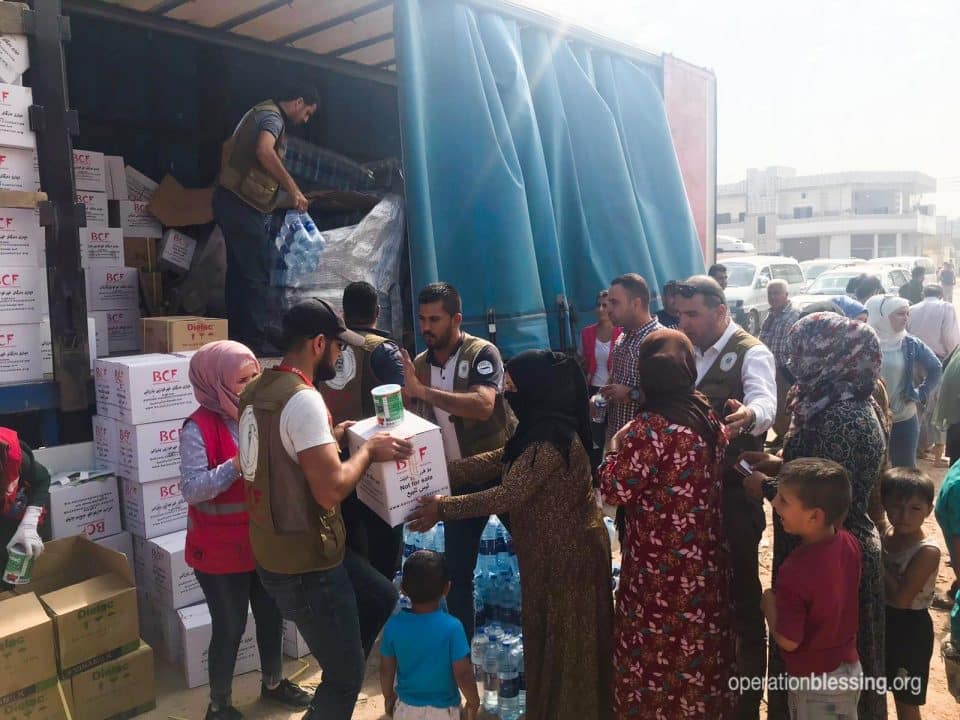 UPDATE 10/21 – As the crisis unfolds nearly 10,000 refugees have already reached Iraqi Kurdistan, where many received help from Operation Blessing friends through the Barzani Charity Foundation. However, since many refugees fled to shelters within other parts of Syria, thanks to your support, the foundation is now taking the dangerous trek into Syria to deliver vital relief supplies there as well.
They've already brought approximately 20,000 blankets, 5,000 boxes of food, bottled water and other essential aid to these shelters in Syria. And they plan to continue sending many more convoys to the area.
The refugees are extremely grateful, not only for the supplies, but also to know that someone cares!
————————–
SYRIA – As Turkish forces advance into Northern Syria, a new humanitarian crisis is underway. Kurdistan's largest NGO, the Barzani Charity Foundation, expects that tens of thousands of Syrian and Kurdish refugees will soon flood their area in Iraq.
The president of the organization, Musa Ahmed Agha said, "These displaced people will need food, hygiene kits, milk for the children, blankets and other supplies because most fled with little of their possessions in hand."
Operation Blessing is preparing relief for the impending crisis even as it unfolds. We will be working closely with the Barzani Charity Foundation and providing essential aid kits. The kits will include food, hygiene items, milk, blankets and more to provide for the refugees immediate needs. One refugee said, "While the majority of NGOs have left, you came bringing your aid and that gives me hope that there are people who still care for us."
The Kurdish relief agency greatly appreciates our support. Agha said, "This is an important partnership. We've worked together in the past to help protect the lives of the people in this region, so I am always happy when dear brothers who care for us want to help again."
To support these Syrian and Kurdish refugees and many other victims worldwide in times of crisis, please visit https://www.ob.org/mc/obrefugees/. And for the latest news go to https://www.ob.org/tag/kurdish-refugees/