ASIA – Today, someone is hurting. It might be a child in Peru struggling with a deformity or a working mother in India whose vision is slowly fading. They might be hesitant to face the day, afraid of the challenges it might bring. But their uncertainty can change in a moment. And for hundreds of people this year, it has!
Through Operation Blessing's Life-Changing Surgeries Program in Asia, partners like you have given hurting people the hope of a brighter tomorrow. In 20 countries around the world, we are empowering generous people like you to offer our life-changing surgeries to those in need.
From June 2021 to June 2022, you made it possible for us to complete 2,426 surgeries. Now the lame can walk! The vision-impaired can see! Those who were mocked can now live without fear of ridicule. Together, we have been the hands and feet of Jesus to the least of these. Each one is precious, and these are their stories.
Saving Baby Ruvina's Life | INDIA
"If this is not dealt with, it will cost her her life." No parent ever wants to hear those words about their child. But it was a reality Ruvina's family had to face as the hospital surgeon shared his concerns for their baby if they chose not to pursue corrective surgery. Ruvina was only 3 months old, but every day increased her chances of dying because of the growing bulge on her back caused by a spinal defect.
Ruvina's father, Kamal, was burdened with finding a way to help his daughter while providing for their family as a day. laborer. He and his wife feared they would have to deal with this problem alone—until faithful partners like you sent their love across the world through Operation Blessing!
When our team discovered Ruvina's dangerous situation, we knew it couldn't wait. We rushed her to surgery, and—by God's grace—it was a tremendous success! Now Ruvina and her parents longer in danger. Her father's words say it all: "I am very thankful to you for saving my daughter's life. The surgery has changed her life completely!"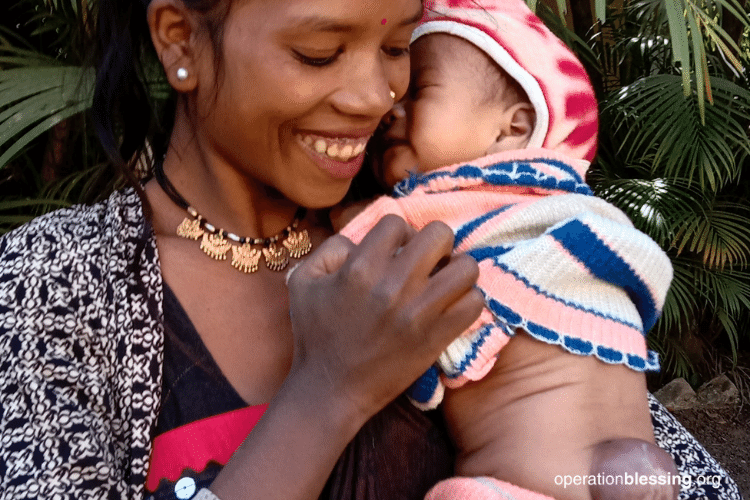 Giving Rizka the Freedom to Play | INDONESIA
Rizka loves to play. But play wasn't easy. Her club foot often caused her to stumble and fall, and many times she missed out on the fun entirely. It hurt her parents to see her cry, but what could they do? Their little shop barely brings enough income to meet their basic needs in the hut they call home. And Rizka wasn't their only child with medical struggles; her sister has mental health issues. With such huge challenges facing them as a family, Rizka's parents needed help.
Thankfully, God answered their prayers through faithful friends like you. With your help, Operation Blessing's Life-Changing Surgeries Program in Asia helped Rizka get the surgery she needed and provided special shoes to make sure her foot continues to heal properly in the days ahead. She has already experienced significant improvement and can play with a full heart. She said, "Praise the Lord—now I can run just like my friends!"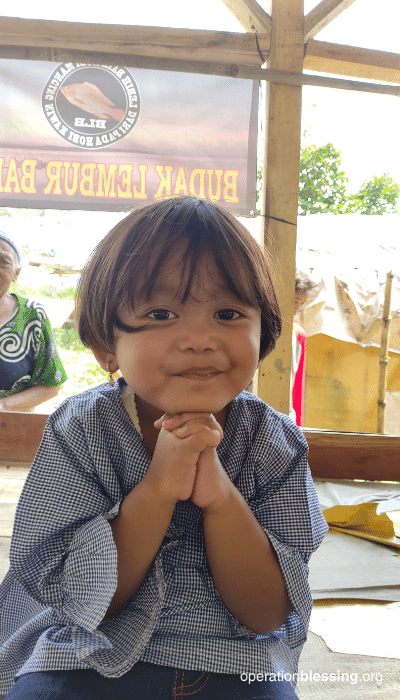 Helping Heng to Smile | CAMBODIA
He felt ashamed. Every time Heng went outside, his peers' stares and whispers pierced his heart. And sometimes they weren't whispers. To Heng, it seemed his cleft lip was ruining his life. Heng's family tried to encourage him, but he felt helpless—until his pastor reached out to Operation Blessing. Because the family couldn't afford corrective surgery, they needed friends like you to be their miracle, and you came through.
The surgeon was frank about the prognosis: at 11 years of age, Heng had a much greater chance of scarring. But his surgery went surprisingly well and his lips were completely transformed. Family members were overjoyed, and Heng was over the moon. Full of confidence, he has overcome his fears and was able to face the world with a smile. Because of Operation Blessing supporters, Heng is no longer ashamed.