---
Let the little children come to me… Matthew 19:14
Our free gift to you!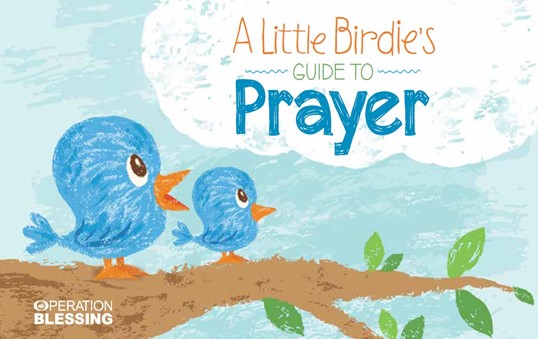 It's never too early to teach a child about prayer and help them grow in their faith. A Little Birdie's Guide to Prayer offers a great way to spend time with your favorite little person doing just that.
Through cheerful illustrations, simple scriptures, child-friendly rhyming prayers, and more, this prayer booklet can help you show them that God is always nearby and that we can reach out and talk to Him.
From international humanitarian outreach, Operation Blessing, this prayer booklet reflects the heart of a loving, Biblical God who wants to connect with His beloved children and desires the very best for them.
You will also receive three free coloring sheets available for immediate download, to give your little one something to enjoy while waiting for their booklet to arrive in the mail.
Remember, God is just a prayer away.
---
A Prayer Booklet With Simple Easy To Follow Prayers For Children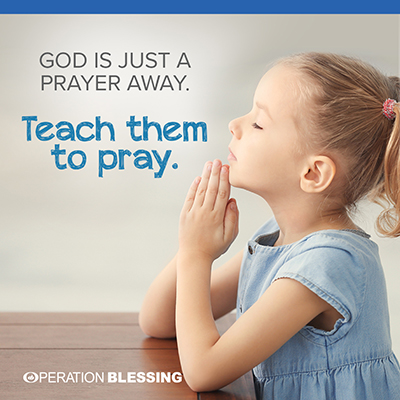 This prayer guide takes the complication out of praying with children. Consisting of a handful of simple prayers, this guide helps you begin teaching your child to pray, giving them a true gift that they will use throughout their entire life. That gift is the habit of prayer, which can shape a child's mind and heart in profound and incredible ways. The guide includes a:
Prayer of gratitude
Prayer for spring
Prayer of forgiveness
Prayer for healing
Prayer for peace
And more…
This guide is the perfect accompaniment to daily prayer time.
About Operation Blessing
The mission of Operation Blessing (OB) is to demonstrate God's love by alleviating human need and suffering in the United States and around the world. With the support of our generous partners, Operation Blessing provides strategic relief on an ongoing basis through core programs such as disaster relief, medical care, hunger relief, and clean water. Along with our faithful supporters, we put a special emphasis on not only providing physical relief to those in immediate need, but also equipping them to create sustainable solutions to combat poverty. OB partners are devoted to being God's hands and feet in the world.