NORTH CAROLINA, USA – The night Hurricane Florence hit their home in New Bern, North Carolina, quickly turned into a horrifying nightmare for John and Crystal, but their story is also full of miracles.
John and Crystal have been married for 30 years, and raised their four children in New Bern. They now live in a small home with their beloved little dog, Boxer. John previously worked with heavy machinery, but the job took a toll on his body. Now they survive on disability and a fixed income. Crystal also suffers a disability from being hit by a drunk driver.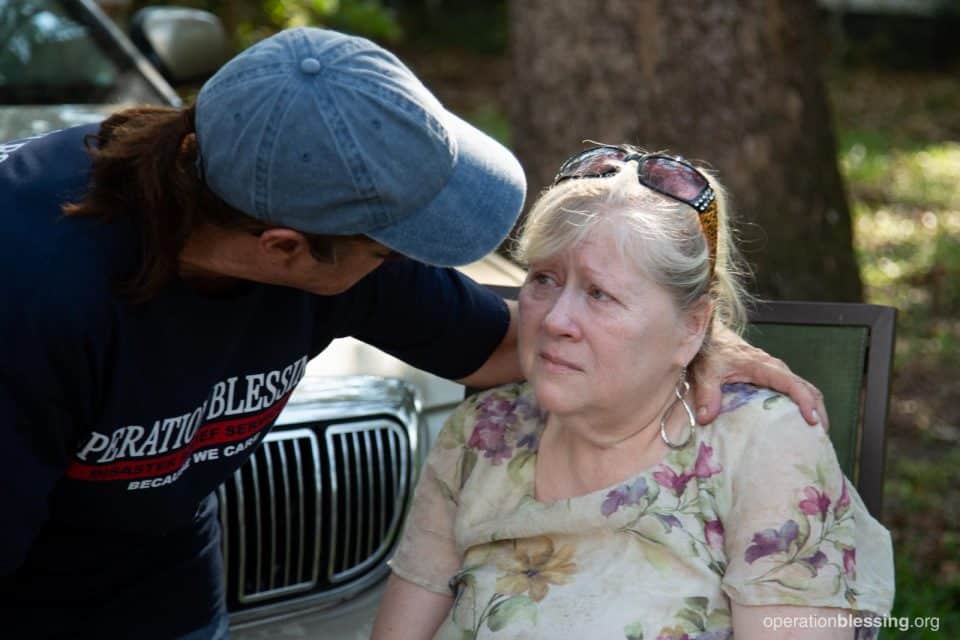 They decided to ride out Hurricane Florence at home. But the storm hit hard. Crystal said, "Nothing at all have I ever seen like this in my whole life."
The first miracle came in the form of their son leaving a big truck for them to drive in case of emergency. The second occurred when John decided he better move the truck to the highest spot in their yard. When the water started seeping into their home and covering their ankles, they realized they needed get out. After calling their son, they fought through waist deep water to the truck. Then they headed to a nearby store on higher ground.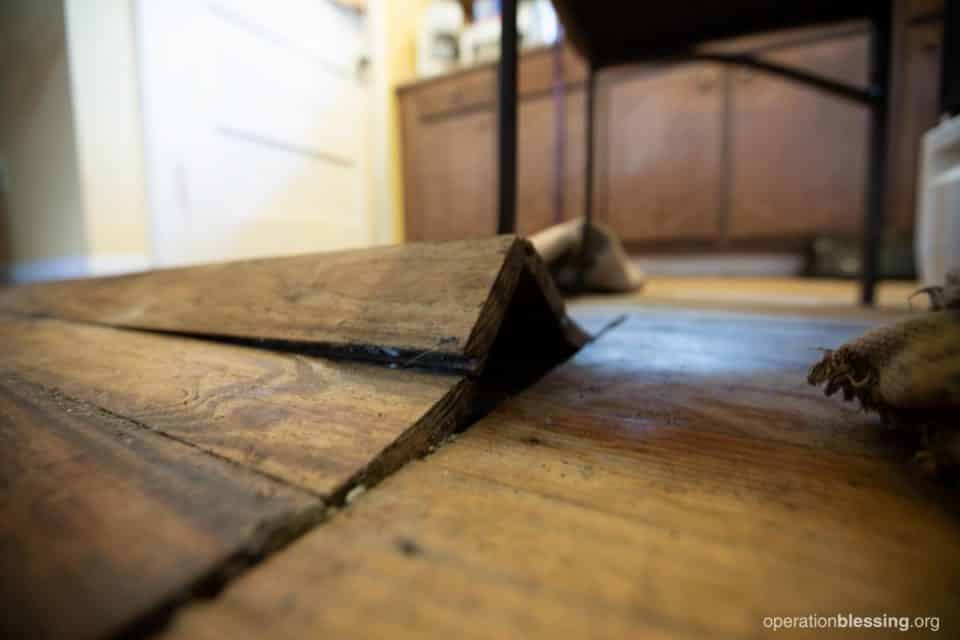 Another miracle happened when Crystal accidentally hit the button to open the truck window. Being unfamiliar with the truck, she just left it open. Before long the rising water stalled the truck and started getting inside. John said, "The next thing I knew it was to my feet…then to my chest." Within a minute, water filled the car to the dash, and it was only because of the already open window that they were they able to escape.
What happened next is a nightmare they'll never forget. The disabled couple and their dog battled shoulder high water in the dark, trying desperately to reach the store, still about 1/8 of a mile away. Rain water stung their eyes, and high winds whipped at them. Crystal desperately tried to hold her elderly little dog over her head to keep him alive. She said, "It was just a miracle that I could do that because I can't even do that normally." At times they fell in the murky black water. They lost their shoes. At one point, an exhausted John stopped to lean on a tree and just kept yelling for Crystal to keep going.
Crystal felt like she was about to die and feared none of them would make it out alive. She cried, "Oh God, please give me the strength to do this." Amazingly, their son arrived at the store about that time. He took several trips by foot helping his disabled parents and their dog to his Jeep on higher ground, and then sped them away.
John said, "He is a powerful God. He saved us."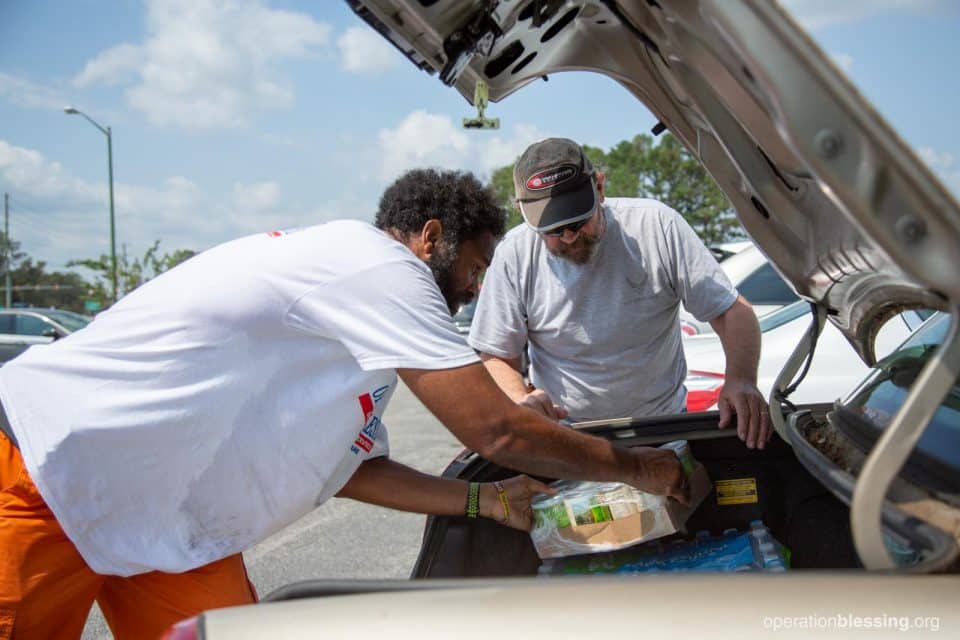 Despite all the miracles that fateful night, John and Crystal still have a long battle ahead of them. Three days later they returned to their home. Crystal said, "It looks like a bomb went off in New Bern." Their home was full of mold and smelled like nasty river water. The furniture and clothes were soaked, and their floors had begun to buckle. Neither they nor their landlord had flood insurance. "I wish I could go to sleep and wake up and things would be like they were before all this happened," Crystal said.
Although she knew that wasn't possible, as they searched for help, they found even more miracles. They watched the community, along with complete strangers, rallying around them to provide relief. John said, "It's amazing how people open their arms and hearts." At Operation Blessing's distribution center at Without Limits Christian Center, they received warm meals and hygiene items thanks to Operation Blessing supporters. They told Operation Blessing workers their story, and asked for help with their home.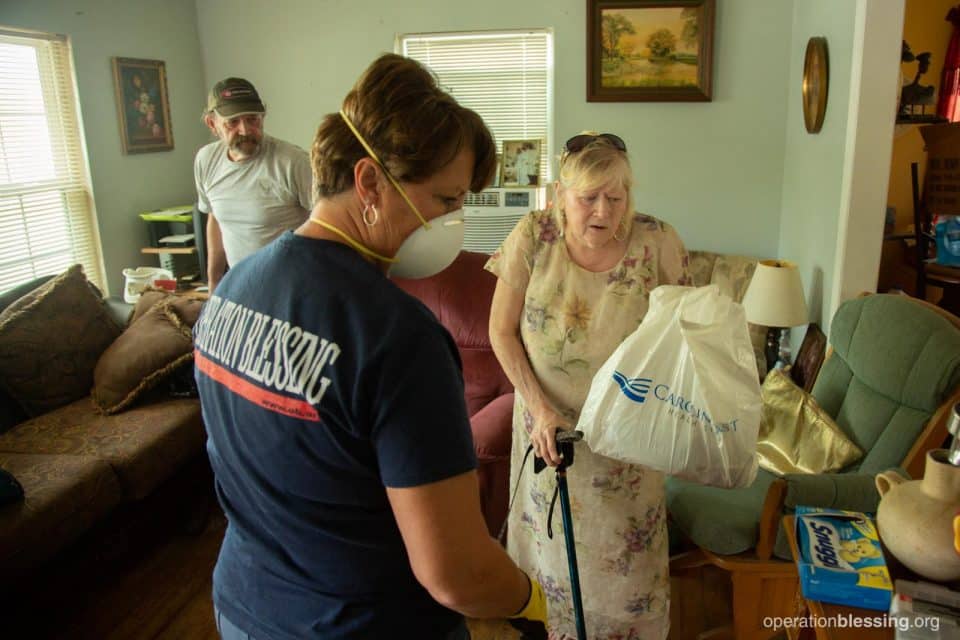 Soon, an Operation Blessing team arrived at their house to help them remove the biggest items, and they will continue helping in coming days. The disabled couple could never have accomplished this on their own. Yet another miracle, all thanks to friends like you. But there's still much to be done for the people of New Bern.
While they're so grateful for the assistance they're receiving, Crystal and John want you to know there are many more hurricane victims like them in North Carolina, including those who are older and disabled, who simply can't help themselves. Crystal said, "Please, I'm praying that we'll get the help," and John added, "I hope that everyone who sees this will help volunteer…do what they can."
Please visit our volunteer page or our disaster relief donation page to get involved and bring a brighter future to hurting people in North Carolina.