INDONESIA – For seven years, Solihati suffered with a cataract in her right eye that made it hard for the 13-year-old to see the world clearly. As time passed, she was only able to recognize light and small movements in her right eye.
Because of her appearance, Solihati was mocked by the people around her. The unhappy child would cry every night because of her "white eye" and because people said she was cursed.
Solihati lives with her parents and siblings in a poor area of Jakarta, the capital city of Indonesia. With her poor vision, she would need surgery to remove the cataract and regain her sight, but her parents work by finding items to sell from the city dump— earning very little money. They were unable to afford the cost of the surgery needed to restore Solihati's eye.
As the family had no means to help young Solihati, Operation Blessing partners stepped in to bring hope when it was needed most. Through the use of a crowdfunding campaign as part of Operation Blessing's Life-Changing Surgeries program, over 20 friends just like you answered the heartfelt prayer of this young girl. In just under two weeks, donors raised the $2,009 needed for Solihati to have this healing procedure.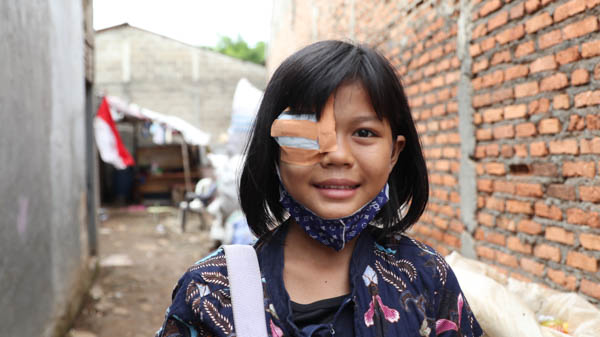 New Sight In Indonesia for Solihati
Because of friends like you, doctors successfully completed the surgery to remove the cataract from Solihati's right eye, and she is now on her way to growing healthy and strong! Thank you for giving her the priceless gift of new sight in Indonesia.
For over 40 years, your love shown through Operation Blessing has touched countless lives in the U.S. and around the world. You make it possible to share the love of God with the poor and hurting. Thank you for the kindness and compassion you've shown to people like Solihati and her family!
You can check out our current crowdfunding surgery catalog at ob.org/surgeries