LATIN AMERICA – Yo Digo No, or "I Say No," protects children from predators in Latin America by providing the educational foundation to stop child sexual exploitation and trafficking in its tracks.
Some estimates report that 2 million children and adolescents suffer sexual exploitation each year in Latin America. Thanks to you, Operation Blessing has responded by initiating Yo Digo No, an original program created to train elementary school children to protect themselves. Using songs, coloring books, puppets, games, and more, instructors teach children, in ways they can understand, how to identify, say no to, and report sexual abuse. Often in risky situations, knowledge truly is power—the power to protect yourself and your family.
Just Say No to Sexual Abuse
The classes, currently running in Cuba, Peru, and Honduras, with plans to launch soon in Guatemala, meet over a course of four to five weeks. During that time, children learn vital lessons like identifying untrustworthy people, not keeping secrets, and running from danger. Parents receive an overview of the training as well.
Teachers at participating schools assist in the program and undergo training to help them spot and intervene in potential abuse situations. During the Yo Digo No program, children are also given opportunities to speak with psychologists as needed.
Protecting Children in Latin America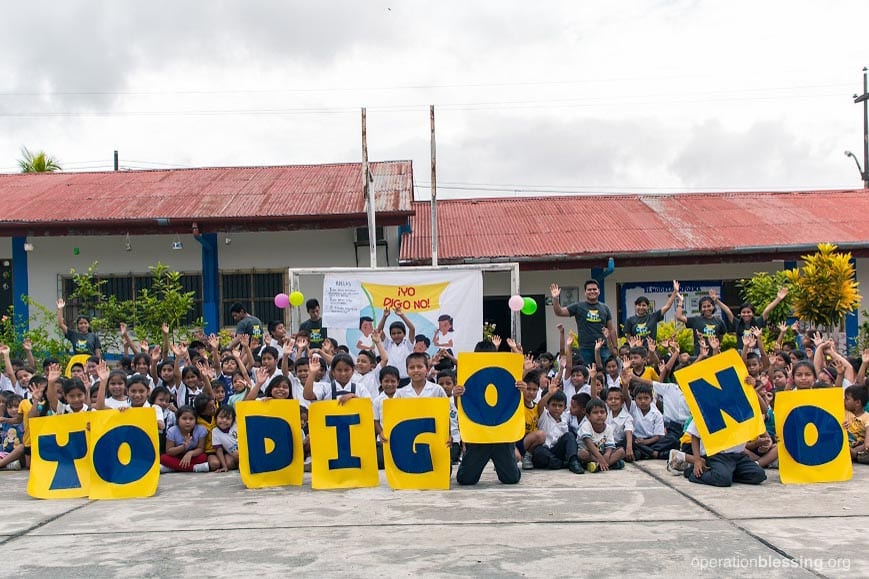 At the end, the children often offer a performance, an art exhibition, or a march for their community to demonstrate what they learned. More importantly, they are empowered with the courage to boldly say no when the situation demands. The students, parents, and teachers all gain tools to raise awareness and support those being affected by child sexual abuse and trafficking.
Thanks to your ongoing support, Operation Blessing is able to spot important needs in communities all around the world and quickly respond. You are empowering children in Latin America and giving them a brighter future.