Last week, monster storm Hurricane Florence made impact along the U.S. East Coast. But thanks to your support, Operation Blessing's U.S. Disaster Relief team stood ready to quickly respond to the desperate needs of hurricane victims.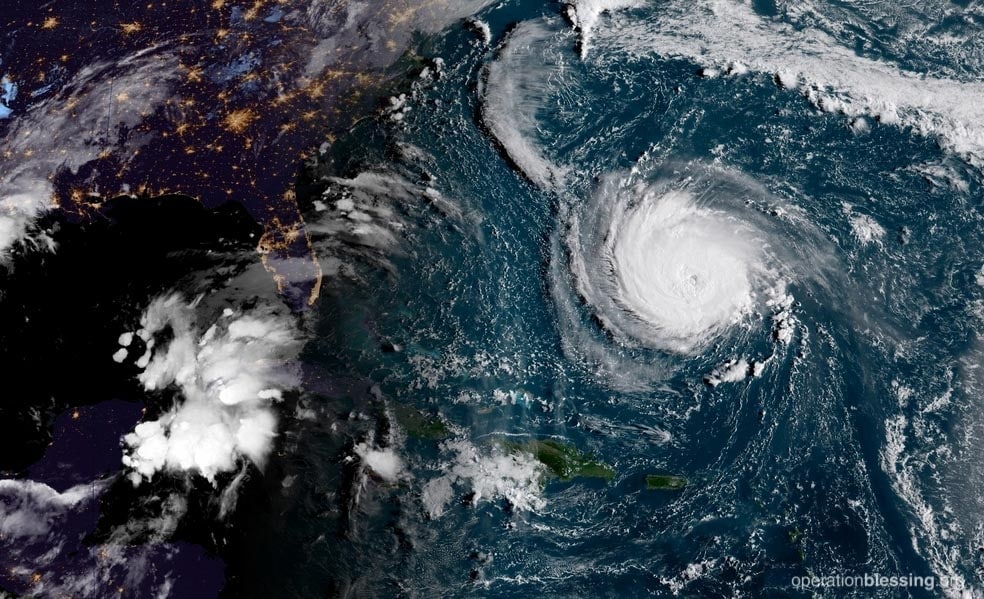 As the storm made landfall on Friday, September 14th, Operation Blessing teams had already moved into action. Truckloads of relief supplies stood by in Emporia, Virginia, near interstates into North Carolina and the expected disaster zones. Included in their arsenal was a mobile command center, a dehumidifier truck, a mobile kitchen capable of making 1,000 meals per day, flood kits supplied by our faithful partner, The Home Depot, pallets of bottled water, food, hygiene supplies, and more.
Thankfully, the storm that had previously attained category 4 status hit land on Friday as a category 1 hurricane. Still, Hurricane Florence packed a powerful punch. It crept slowly inland dumping enormous amounts of rain and causing significant wind damage. Sadly, death tolls began to roll in—3, then 5, and continuing to mount.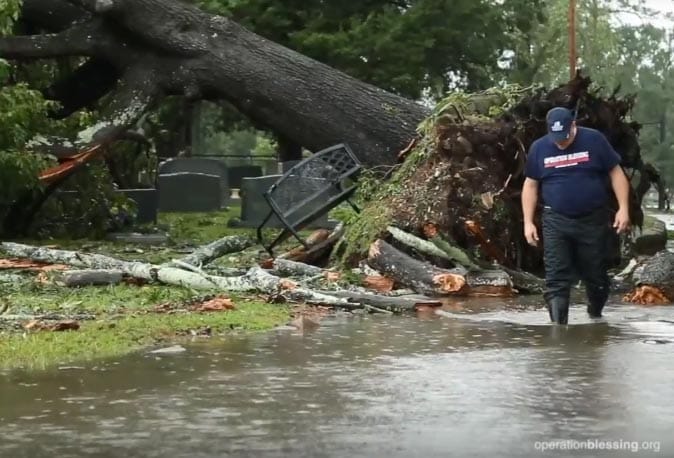 As the path of the storm became clear, Operation Blessing's convoy moved forward to Raleigh, North Carolina, and began reaching out to the State Emergency Operations Center, the National Guard, and the Christian Relief Cooperative. Saturday, as the situation continued to worsen with intense flooding inland, Operation Blessing sent out reconnaissance teams to determine the areas in the most desperate need and to search out local church partners.
On Sunday, Operation Blessing began its first relief distribution in New Bern, North Carolina. This area with many low-income individuals has suffered a hard hit from Hurricane Florence, and the impact could become worse throughout the week as nearby rivers rise. Without Limits Christian Center provided a distribution point and volunteers as OBI passed out hygiene kits, flood kits, water, food, and more to 135 hurting families. And this is just the beginning.
As of Monday morning, September 17th, the death toll stands at 18 and the flooding continues. Very soon, our second distribution center will be set up in Lumberton, North Carolina, in partnership with East Lumberton Baptist Church. Even more truckloads of supplies have been dispatched to the area from Operation Blessing warehouses as the severity of the situation continues to unfold.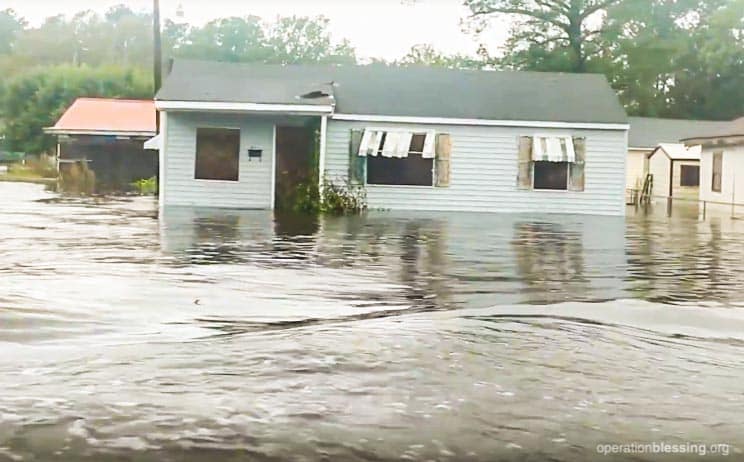 In the coming days, we will continue serving victims in North Carolina with immediate aid during this period of crisis. And as time goes on, we plan to stay in the area, helping people recover their lives and their homes.
It is only because of you that we can offer this type of immediate and effective disaster relief to help the hurting.
UPDATE SEPTEMBER 26, 2018
We've now served over 17,000 hot meals, and have begun helping hurting residents recover their homes. The Kohler shower trailer is on site, and we're accepting out of town volunteers. Visit http://www.ob.org/disaster-relief/volunteer/ to learn how you can get involved or go to https://www.ob.org/tag/hurricane-florence-relief/ to see all the latest stories of how you've made a difference for hurricane victims in need.