NORTH CAROLINA – Divya, Terry, and their 12-year-old son lived through the heartache of seeing their home in Lumberton, N.C., destroyed not once, but twice by hurricane flooding. But thanks to The Home Depot Foundation and Operation Blessing supporters like you, their tragedy turned to triumph. They received an extreme home makeover they never imagined.
Divya grew up in Lumberton, and she received her grandmother's house when she passed away. That place was very special to her and always takes her back to her childhood. She said simply, "It's home." So when Hurricane Matthew struck in 2016, the family decided to repair their home and stay put.
They felt certain that Matthew had been a "once in a hundred years storm." They worked hard to get their home back into shape. Meanwhile, Divya continued working at her small salon in town, and Terry as a corrections officer. Both view their jobs as ministries. Divya said about her husband, "He wants to protect and serve."
Hurricane Florence Wreaks Havoc
When Hurricane Florence headed their way last year, they heeded the warnings to get to higher ground to make sure they wouldn't get trapped. And they took all the precautions they could to protect their house.
It wasn't until after the worst of the storm, when a nearby river crested later that week, that tragedy struck for a second time. Divya experienced the heartache of seeing her home destroyed with contaminated water and mold once again. She said, "For lack of a better word, it's a disaster… I was kind of numb. You don't want it to be true."
Facing the devastating floods for the second time proved truly challenging for the family. But they managed to maintain their faith. In the midst of it all Divya quoted Romans 8:28: "'All things work together for the good of those who love the Lord.' So that's where I'm finding peace."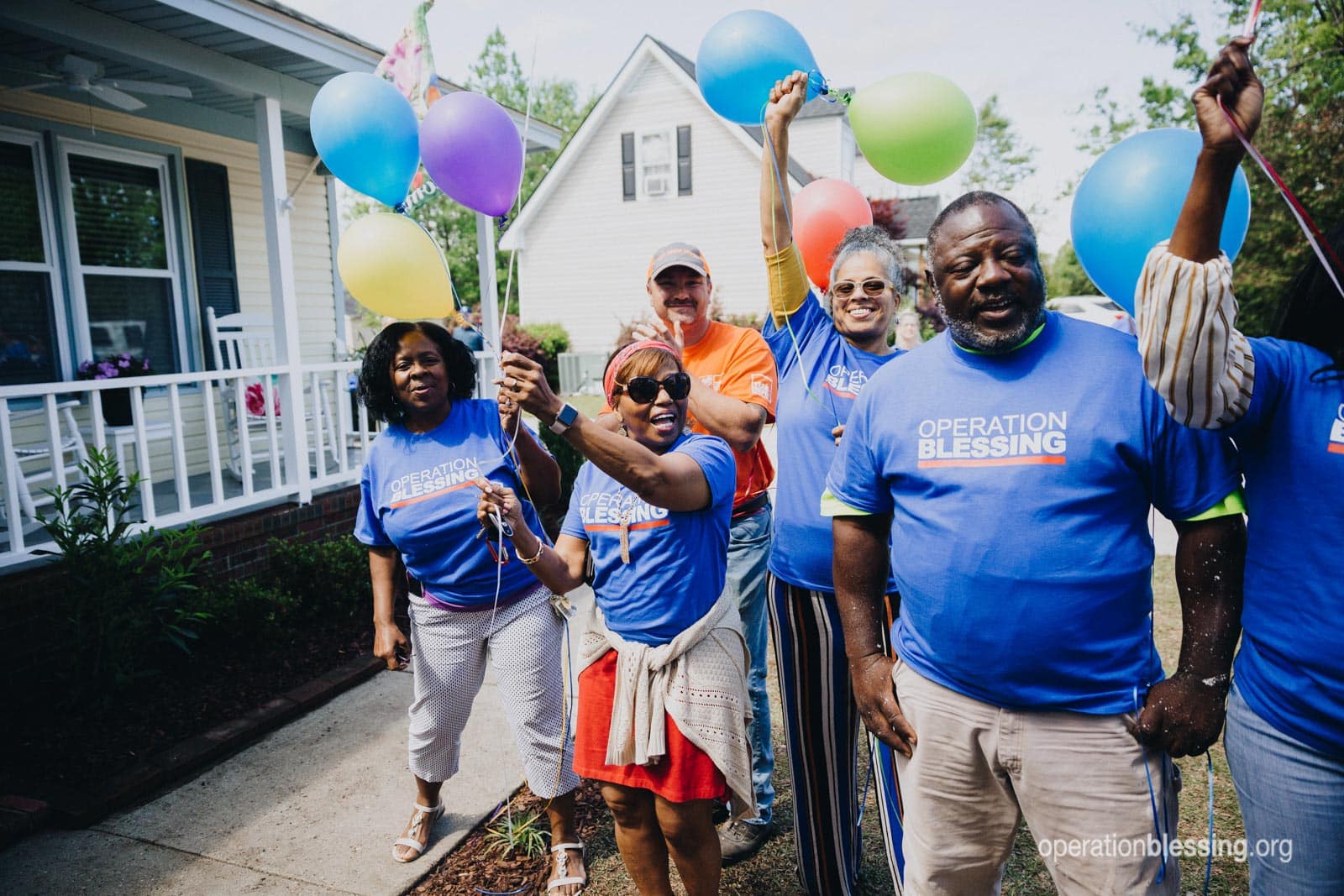 As Operation Blessing disaster relief volunteers showed up on the scene to help remove soggy flooring, molding sheet rock, and damaged items from the home, matters began to look up for the family. Little did they suspect the relief they received at that time was just the beginning of the blessings in store!
An Extreme Home Makeover Blessing
On November 27th the couple were given the chance to attend The Tonight Show. But they had no idea the surprise waiting for them there. Jimmy Fallon asked them to stand and share a little about their story. Then, to their shock, he announced that The Home Depot Foundation and Operation Blessing had a huge surprise in store for their family.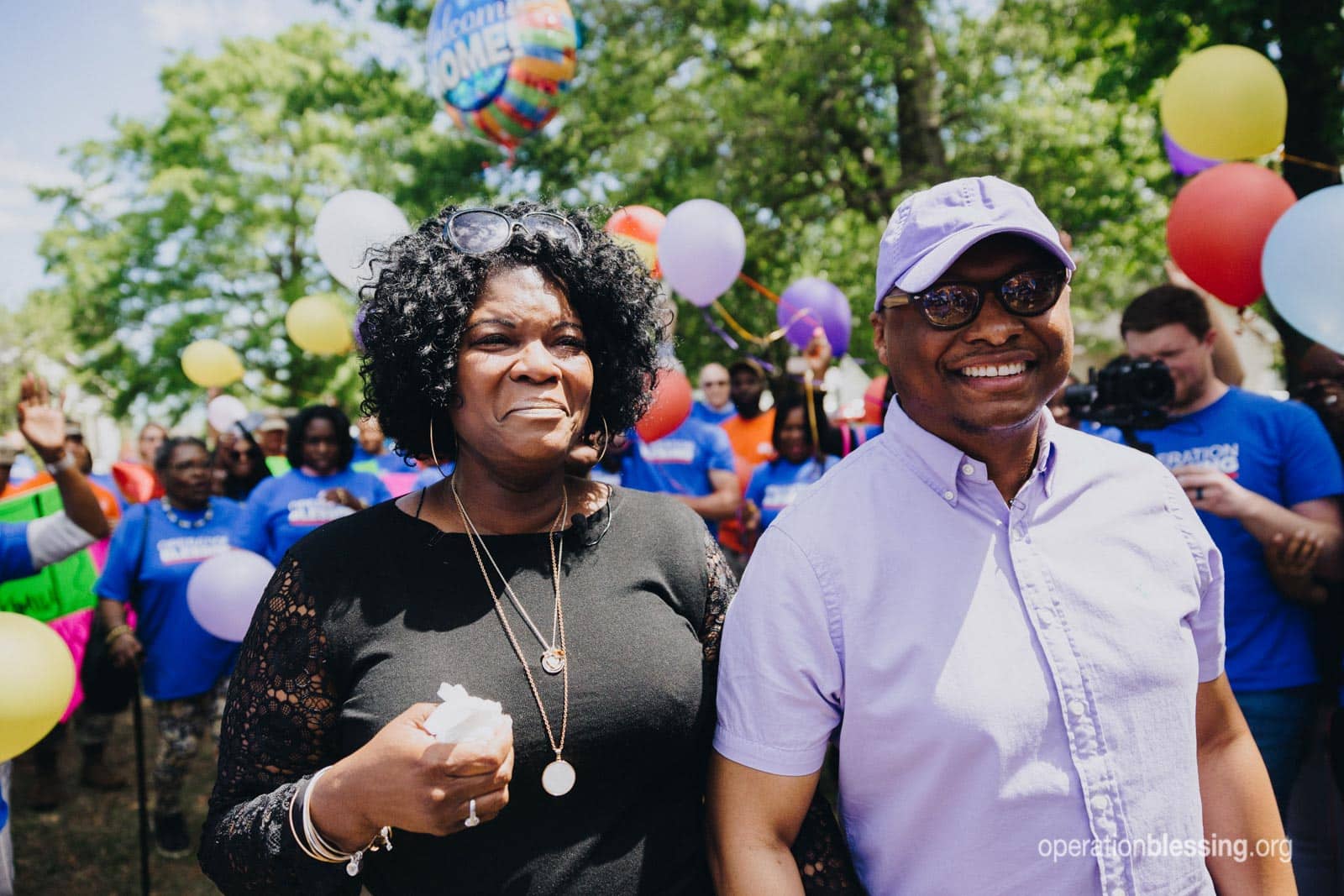 Operation Blessing helped the family find a new home in a safer area away from flooding. Then Home Depot and Operation Blessing volunteers teams completely renovated it. They painted and provided new flooring and kitchen cabinets. They filled the house with new furnishings and beautifully landscaped the yard. The team also thoughtfully decorated to make the house feel like a home to the family.
Finally, the Extreme Blessing Home Makeover was ready for the big reveal. The family, who hadn't seen any of the progress being made, was brought to their renovated home unsure what to expect. Then, OB semi-trucks pulled away. They revealed the new home lined with smiling, cheering volunteers waving signs and holding brightly colored balloons. It was a welcome home unlike any other.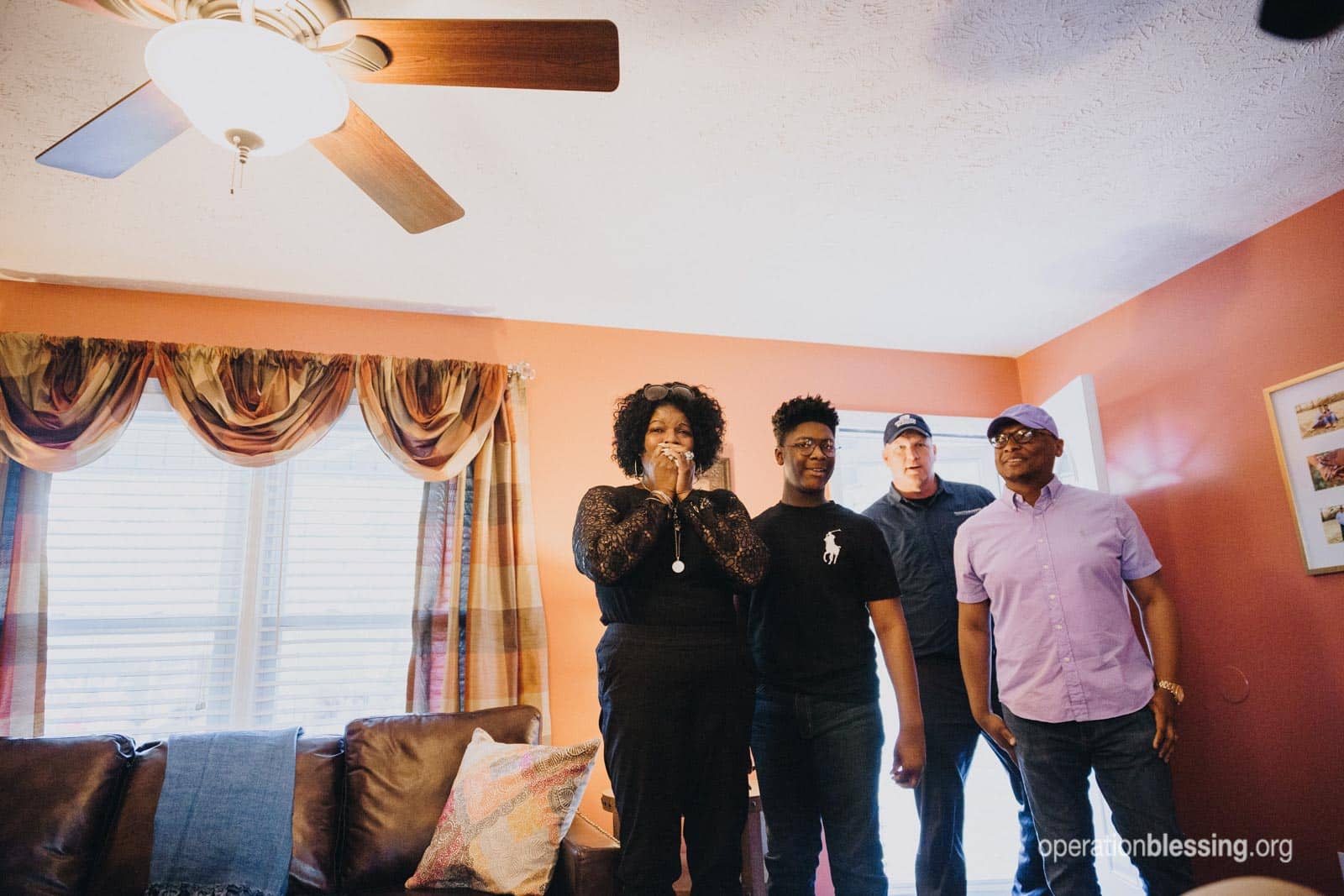 The family's expressions were priceless as they toured their house with its fresh paint, new furnishings, and fully renovated kitchen. Divya said, "It just felt like home when we entered the door. This is a miracle, because now we feel safe."
Because of you, their tragedy has turned to triumph and this family with servants' hearts can finally see purpose in it all. "To the donors and sponsors of Operation Blessing," Divya said, "thank you from the bottom of my heart."