BEIRUT, Lebanon – This year a historically massive explosion at a port in Lebanon demolished the surrounding area for miles, taking over 200 lives. But you sent comfort and blessings to survivors like Walid after the Beirut explosion.
Walid worked as a delivery driver for a well-known restaurant in the port area. He had thought he noticed a fire on his way back one day. But it wasn't he was at the restaurant that everyone realized the magnitude of the situation and rushed outside to see.
He remembers one of the waitresses filming the fire one her phone. And then, a strong gust of air pushed him high into the air as the fire turned into a massive explosion that shook the city. The force threw Walid across the road and to the other side.
With teary eyes he retold that moment. "I can't describe the seconds that went by…. I got up bleeding, holding my leg, looking around me. It was rubble and chaos."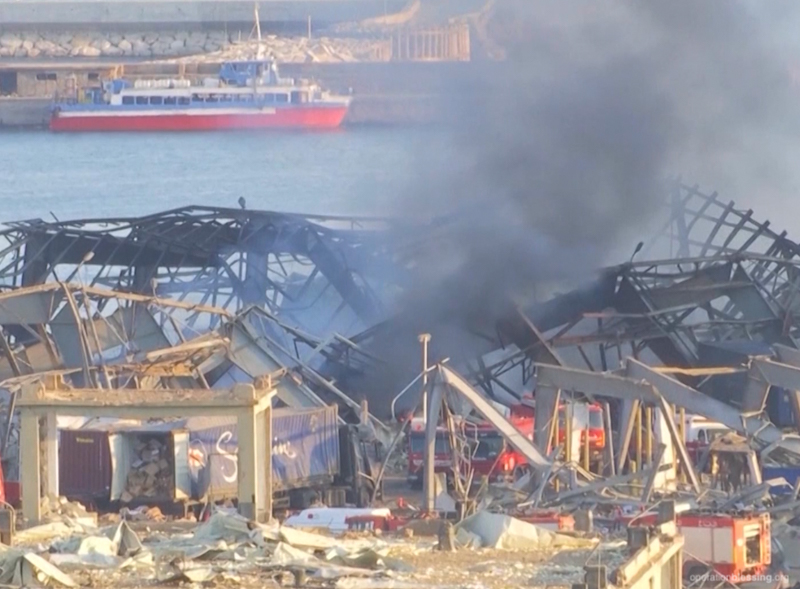 In the Aftermath of Disaster
Walid continued, lowering his voice so his daughters wouldn't hear his next sentence. "I saw bodies falling down from buildings around us, I saw flesh and blood all around me, I heard people screaming but it wasn't clear. My ears were damaged, but I could still hear panicking screams. The waitress that was filming a few seconds earlier was found dead meters away from the restaurant."
The scene around him was a nightmare, and everything on the street had been reduced to ashes. He remembers the injured moaning and calling out for help, but Walid was in bad condition himself. With the roads blocked, no assistance could reach them. Even the hospitals in the city were badly damaged.
Traumatized and injured with a severe head wound, he stumbled to where the ambulances could reach him. He even managed to help a few others who were worse off them him along the way.
Meanwhile, his wife Layla and his children were experiencing their own traumatic situation. Layla said, "He was so close to the explosion. It all happened in seconds and while we were stuck in the elevator terrified. I called him several times but he didn't answer, so I assumed the worst had happened. Two hours later, I was losing my mind, nothing was clear. The whole country was in shock. Even watching the news wasn't giving me an answer, until my husband called. I thanked God a million times for protecting him."
Eventually Walid received the treatment and stitches he needed, and made it home to his family. However, with the city in rubble, including Walid's workplace, they still needed so much help.
After the Beirut Explosion
That's where you stepped in! Thanks to faithful partners like you, we were able to quickly connect with our partner in that area, Heart for Lebanon. Through them, you sent help to the weary people of Beirut, like Walid. You provided his family with assistance repairing their home, food, hygiene supplies, and cleaning supplies.
A staff member from Heart for Lebanon told us, "We went to many homes in the past few months, most of the families have miraculously survived this terrible explosion. All have a story in which God has protected them." Thank you for being part of the miracle story for hundreds of these brave survivors.
*Names have been changed