Experience Christmas In Japan With This FREE Origami Snowflake Project
It's Christmas time in Japan! Follow along with Operation Blessing partners as we make a Japanese origami snowflake.
Similarly, you can find Christmas traditions all over the world. These holiday traditions come from just about every corner of the globe, from North America to the Far East. When it comes to Japan, origami is a great way to celebrate the holidays with their unique cultural art form.
Christmas In Japan And Origami Decorations
Origami is a tradition with origins in the Far East. The meticulous art of folding and manipulating paper to create designs has become a tradition in the "Land of the Rising Sun." Bring to this elegant craft the joy of Christmas and you have a new way to celebrate the holiday. Come learn how to make origami snowflakes and create a beautiful ornament or holiday decoration.
Origami Snowflakes
Now it is time to immerse yourself in this holiday craft project. There are a couple of ways you can do this. One way is to follow along with this simple video. You can do this here at the Operation Blessing website or directly on the YouTube platform. One advantage of using the video is you can pause the screen as you complete different steps. This allows you to work at your own pace without the pressure of having to keep up.
If you click over to YouTube you can use the time stamp as well. The time stamp has all the steps in an easy clickable format. At any time you can click on any part of the time stamp and go to that part of the video. Before you know it you are making Origami snowflakes inspired by Christmas in Japan.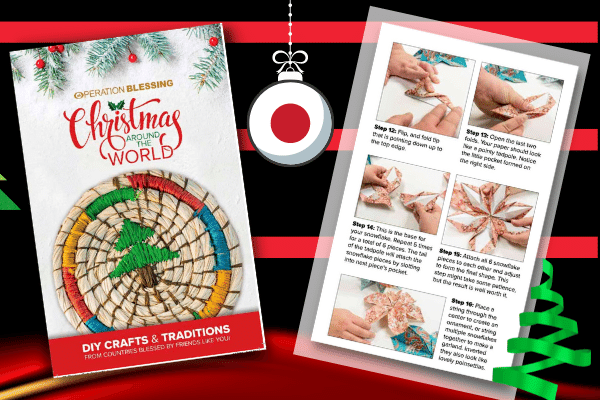 Time Stamp For Origami Snowflake Project
Here are the different steps broken out by when they occur in the video
00:00:09 First Steps: Paper
00:00:25 First Folds
00:00:37 Top Right Corner
00:00:49 Top Left Corner
00:00:55 Fold Triangle Corners
00:01:12 Folding Sides To Center
00:01:26 Folding Up And Left
00:01:37 Folding bottom Corners
00:01:47 Fold Over
00:01:53 Folding Backwards
00:01:57 Then Flip
00:01:59 Make A Tail
00:02:06 Fold Tail In Half
00:02:13 Repeat 5X
00:02:25 Insert Tail Into Pocket
00:02:31 Connect The Pieces
Want A Free Copy Of The Instructions You Can Take Anywhere?
Read below on how to get these instructions in print absolutely free. In addition you can get instructions for other great international holiday craft projects as well.
Christmas Origami And More In Our Free Christmas Craft Booklet
Get these instructions with our free Christmas craft booklet offer — Christmas Around the World: DIY Crafts and Traditions. This booklet comes complete with instructions for holiday and Christmas crafts made all over the world. Celebrate Christmas internationally in new ways with this FREE guide.
Click here to get your free copy of this Holiday Crafts Booklet FREE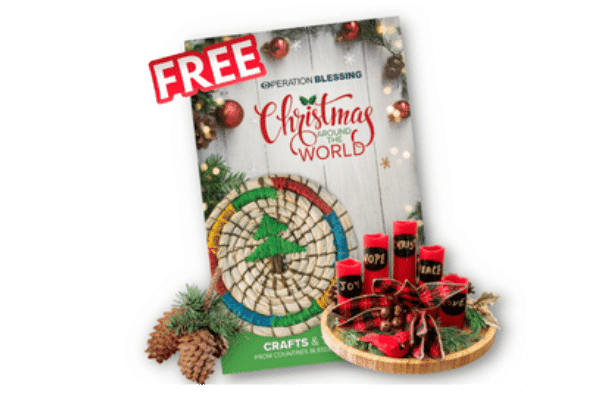 Works Cited
"History of Origami – How Origami Came About." Origami-Instructions.com, 2019, www.origami-instructions.com/history-of-origami.html.