HAWAII – Wildfires can be incredibly devastating, causing destruction to homes, communities, and the environment. In the midst of such crises, it's important for people to come together and provide help to those affected. With the help of friends like you, Operation Blessing is stepping up to make a difference in Maui, particularly in the town of Lahaina, which has been hit hard by a recent wildfire.
Operation Blessing Is in Maui
Since shortly after disaster struck, our relief team has been helping in Hawaii, and today we're in Maui working tirelessly to assist families in Lahaina who are grappling with the aftermath of the wildfires. One crucial aspect of this effort is getting critical supplies to the people who need them the most. These supplies are a lifeline for families who have lost so much.
Supply Management of Critical Supplies to Lahaina
Getting supplies where they are needed requires careful planning and coordination. Operation Blessing has decades of experience doing this. We have teamed up with YWAM, another group dedicated to making a positive impact, to ensure that critical supplies are brought to Lahaina from the Hawaiian mainland. These supplies are crucial for helping families after the Lahaina wildfire.
Managing these supplies is no small task. Operation Blessing has made sure that the supplies provided to YWAM are received safely and stored at a temporary holding facility where they're being protected and made available for distribution to families affected by the wildfire. This strategy ensures that these essential items reach those who need them the most.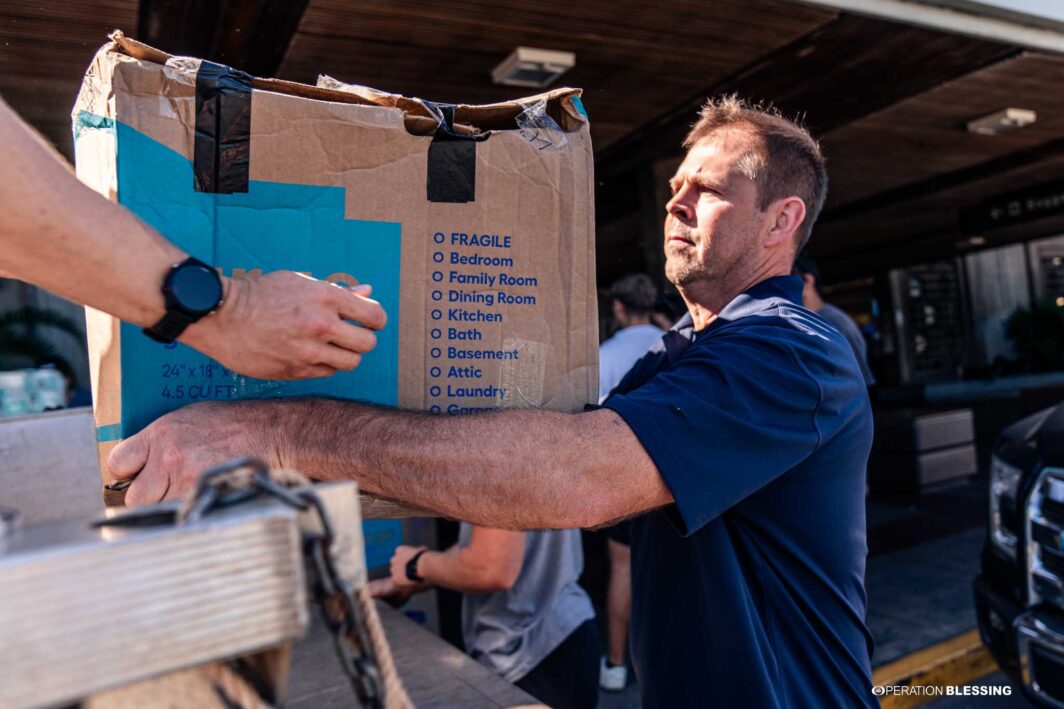 Clean Water Issues
Natural disasters like wildfires can cause additional problems beyond the immediate destruction. One such problem is the scarcity of clean water. The Lahaina wildfire caused significant water source contamination, making it difficult for families to access safe and clean drinking water. This is a major concern for the community's health and well-being.
Using Water Filtration Units to Help Lahaina
Operation Blessing has taken a proactive approach to address the clean water issue in Lahaina. The organization has brought water filtration units to a community center that is a lifeline for many families. These water filtration units are essential to help people get drinkable water.
The community center staff have taken on the responsibility of distributing clean water through these filtered water points. The goal is simple but crucial: to provide consistent access to clean and safe drinking water. This is a critical step toward helping families recover from the Lahaina wildfire and get back on their feet.
A Special Thanks to Operation Blessing Partners
In times of crisis, every helping hand counts. Operation Blessing is grateful for our partners who have joined forces to make a difference in the lives of families affected by the Lahaina wildfire. The organization acknowledges the support it has received and sees it as a result of God's divine guidance. It's a reminder that even in challenging times, there are opportunities to do good and help those in need.
Partner with Operation Blessing to Help Lahaina
The work of Operation Blessing is far from over. While progress is being made, there is still much to be done to help Lahaina families recover from the wildfire. If you're looking for ways to contribute, you can partner with Operation Blessing by visiting www.ob.org/disaster-relief. Your support can help more families and show the people of Lahaina and Maui that you care.