FLORIDA – Disaster relief arrives after Hurricane Ian as Operation Blessing goes to Linda Piper's house in Port Charlotte, Florida. Thanks to the love of friends like you, they arrived to remove debris from fallen trees as well as destroyed furniture. With your support, volunteers also helped lay down tarp where the roof was blown off by the hurricane.
Linda recounted her harrowing experience in the storm. "This hurricane is different from other hurricanes. It just wasn't going to stop. I have a tiny bathroom, and I had to prep the bathroom with comforters, pillows, the dog bed, anything I can think of for comfort and protection." She continued, "I could hear rain and wind and everything inside my house. I've been praying, 'Lord God, you said that you will never leave me nor forsake me.'"
Upon the dangerous storm's departure, she assessed the damage to her home. Water drenched her carpets, damaging her walls and ceiling fans. The majority of her roof was gone, her trees were flattened, and her fencing was ripped apart. That's where your compassion stepped in to make a difference.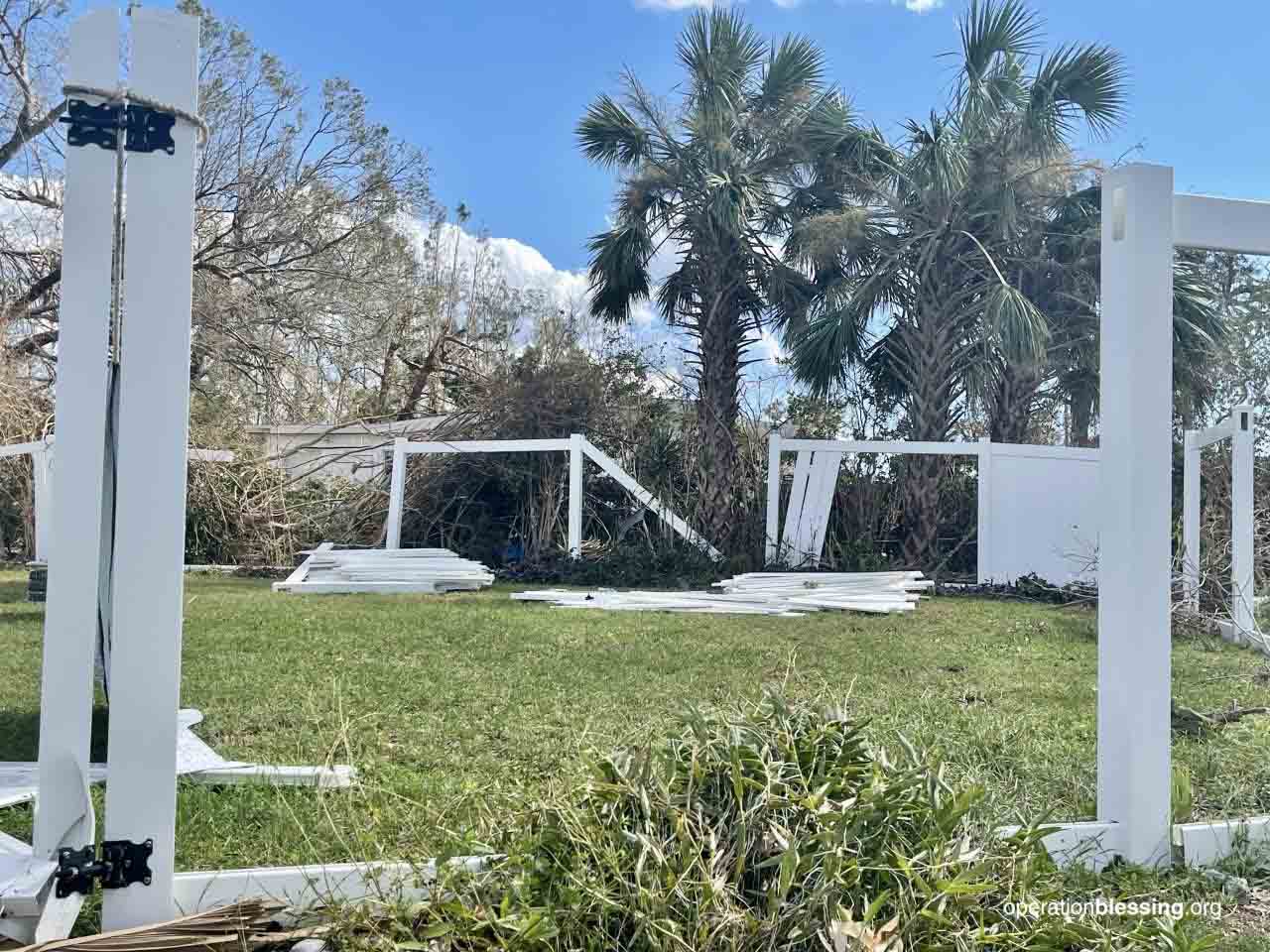 Disaster Relief Arrives After Hurricane Ian Damages Her Home
Following the devastating impact of the category 4 hurricane, she is solely putting her trust in the Lord to provide for her in this difficult season. Thanks to Operation Blessing's generous partners and volunteers, helped arrived at Linda's property.
She detailed the work of the disaster relief team. "Operation Blessing showed up today. They worked super hard; they cleaned my yard; they tarped my roof; they took saturated, rotten furniture out for me. They moved stuff for me so that it's in a more protective area."
Linda is extremely grateful to Operation Blessing and to friends like you for sending the resources and volunteers to her home in her time of need.
Visit ob.org/obdisaster to help victims of disaster now.
To volunteer with Operation Blessing as a disaster relief worker in Florida, visit ob.org/volunteer.