TURKEY – Ayesha was asleep, snuggled with her grandchild in Turkey, when her house started shaking. She and her family would have a short time to escape from the rubble as the world around them collapsed. They clung to each other, afraid to move. "It felt like Judgment Day had arrived," Ayesha said. "Everything was falling to the ground. We were scared and waited for the earthquake to stop."
When the shaking subsided, Ayesha and her family escaped to the outdoors. Their homes were destroyed. The hours that followed were horrifying. The monstrous 7.8-magnitude earthquake had left miles of destruction in its wake, and the aftershocks just kept coming. "Many people were trapped under the rubble," she said. Among them was her brother-in-law, who perished in the quakes. Now homeless, Ayesha and her husband, children, and father- in-law moved into a tent the government provided.
But Operation Blessing family members like you immediately took action and sent critical aid their way! When our team arrived at Ayesha's tent village, we found the residents struggling with difficult circumstances. Ayesha and her neighbors only had access to water through an old pump. After the earthquake, they were afraid to drink the water from it.
Water For Earthquake Survivors In Turkey
Our water engineer confirmed the water wasn't safe, and with your help he gave each family, including Ayesha, a water filter. He showed them how it worked and assured them that it would make the water safe for them to drink and use for cooking. Ayesha and her family were grateful. She accepted your love and passed it along to others in need. "I even give clean water to people who don't have it."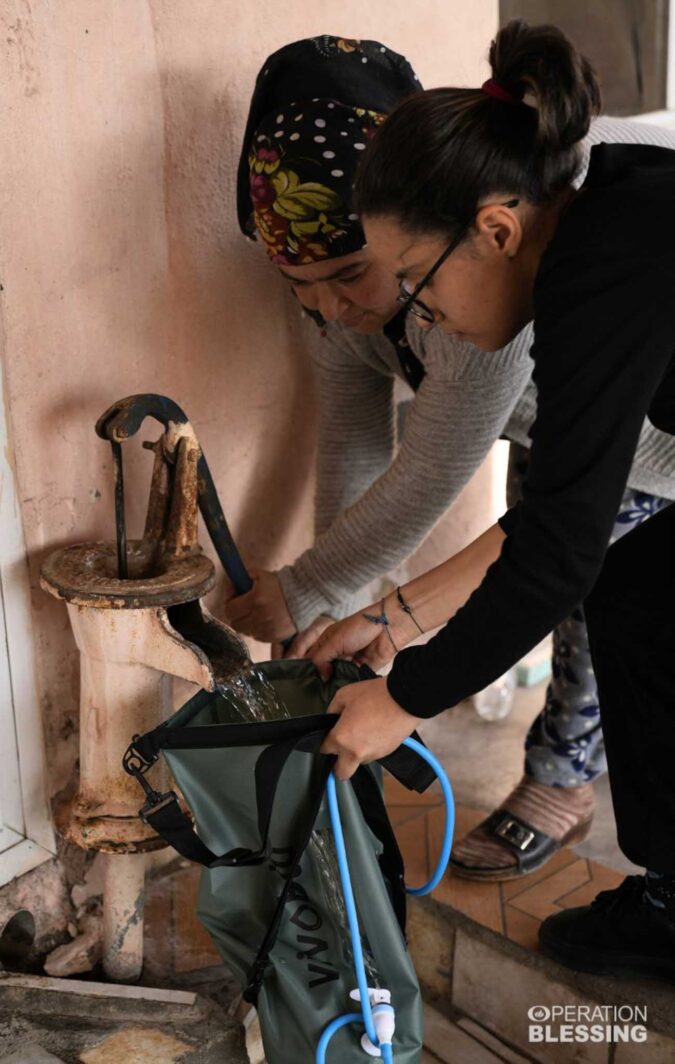 You also blessed the community through food and compassion. Ayesha could feel your arms wrap around her from the other side of the world through the actions of our team on the ground. "Even though we don't speak the same language, they communicate with us through body language," she said. "We are fully aware of their positive thoughts and actions."
Ayesha continued, "I didn't see anyone else from foreign countries other than Operation Blessing come to help us. They provided us with food and water, brought toys for our children, and they helped us a lot. We love them very much."
The road to recovery and healing will be a long one for the people of Turkey, but they have felt your love in so many ways— through food, water, hygiene supplies, medical care, and most importantly, compassion. Thank you for sending your compassion around the world to meet them in their darkest hours.