PUERTO RICO – In the aftermath of Hurricane Fiona, masses of Puerto Rico residents are without even the most basic necessities. Beyond massive flooding of their homes, roads, businesses, churches, and schools are deeper ongoing problems. The lack of power and access to clean water and supplies is presenting hunger challenges for many Puerto Ricans. One of the biggest challenges is the need for food for Hurricane Fiona victims.
Food Insecurity Issues Following Hurricane Fiona
Compounding the food insecurity issues from Hurricane Fiona is the lack of on-hand provisions for many people on the island. Lillian Doval Estepa, director of a nonprofit help center in Puerto Nuevo, Puerto Rico said, "Most of the people were not prepared."
Since the storm, she and her team have been working hard to provide food to Hurricane Fiona survivors. They have served hundreds of meals to hungry people who do not have the supplies or facilities to prepare their own.
The situation is so dire that the center workers were forced to go door to door asking for food donations before Operation Blessing arrived. This is a difficult position to be in, since even people who have food must ration it to sustain themselves as the island moves toward recovery. But your generosity changed all that!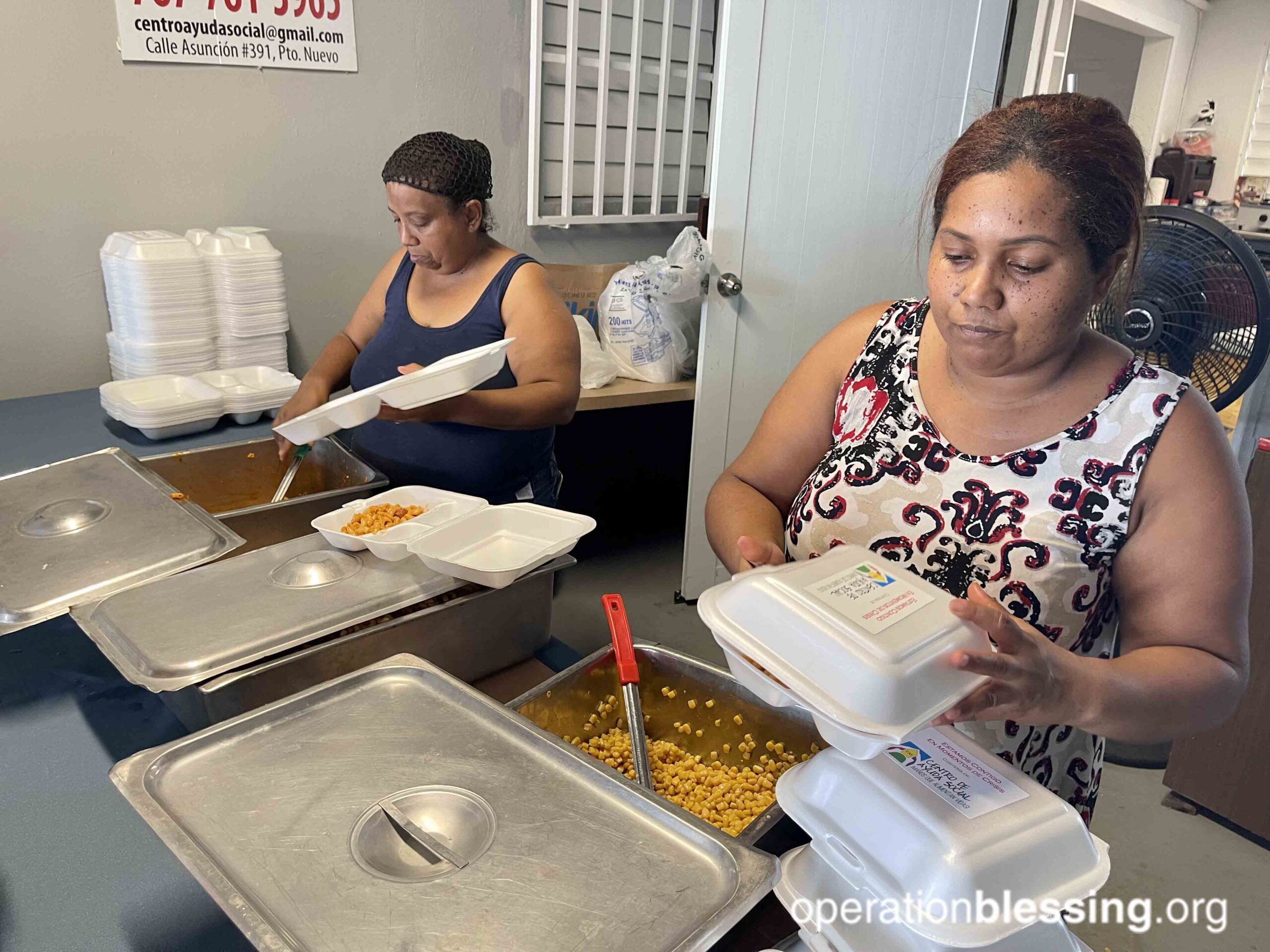 Operation Blessing Donors Provide Food for Hurricane Survivors
The endless generosity of Operation Blessing donors has helped to provide food for Hurricane Fiona survivors. Your partnership helped provide ample food and supplies to hungry people whose lives have been decimated by Hurricane Fiona. You helped provide groceries, cleaning supplies, and other essential items to help people get back on their feet. This includes giving hurricane victims access to hot meals. Hot meals help provide comfort to people facing a long road to recovery as the island must rebound from the second massive storm in five years.
Lillian and so many other people are very grateful. She says, "It's the best thing you can do, because when you feed a person, you give them love, and they feel it." Thank you for sharing your love with people suffering in Puerto Rico. Even a simple hot meal can help provide solace to those facing so much devastation after the storm.
You can give a special gift to bless disaster victims today!