HAWAII – Since raging wildfires decimated Lahaina, Hawaii last week, tensions are high as Maui fire victims look for a reason for the disaster and as search crews continue combing the area in search of missing persons. Sadly, the death doll continues to rise, and more than 1,000 people are still missing. Governor Josh Green says the search has only covered about 45% of the massive burn zone so far.
Providing Supplies for Grieving Families in Lahaina
As families grapple with grief over lost and missing loved ones, their suffering is made worse by the struggle for survival. With more than 11,000 people displaced when their homes were destroyed, there is a desperate need for basic necessities. Thankfully, friends like you are there for them through Operation Blessing.
Our disaster relief team is on the ground in Lahaina searching out and responding to those in greatest need. In partnership with a well-connected network of local churches and other organizations, we're supplying the relief efforts with critical items for more long-term relief, including water filtration systems, tents, clothing, hygiene supplies, tarps, lanterns, generators, grills and propane for cooking, and more.
Clean Water is Critical for Maui Fire Victims
As soon as team members arrived in the city, we immediately encountered a group of people struggling without clean water, and our staff quickly secured a set of water filtration units from Air Mobile Ministries and provided them to families.
"These machines will take the dirty water and make it extremely clean; it gives people the ability to make their own clean water," said Air Mobile Ministries Rescuer Joe Hurston. "They can take their water, whatever the source, and make it clean." Joe continued, "Most importantly, they can get that water when they need it, and they can get it for their neighbors. It empowers people to be able to give clean water."
Wildfire survivors are facing contaminated water because the city was essentially incinerated, including major infrastructure such as water systems. Maui resident Edward shared, "It's so contaminated, we have to fight for bottled water and clean air." But with the help of filtration systems provided by compassionate supporters, families can drink water and cook in safety without fear of getting sick.
"Just to have a machine like this, to know that everybody is drinking healthy water, is going to mean a lot to these families…" said Edward. "It means a lot to us that people like you reach out to us in our time of need. We're so thankful! Thank you!"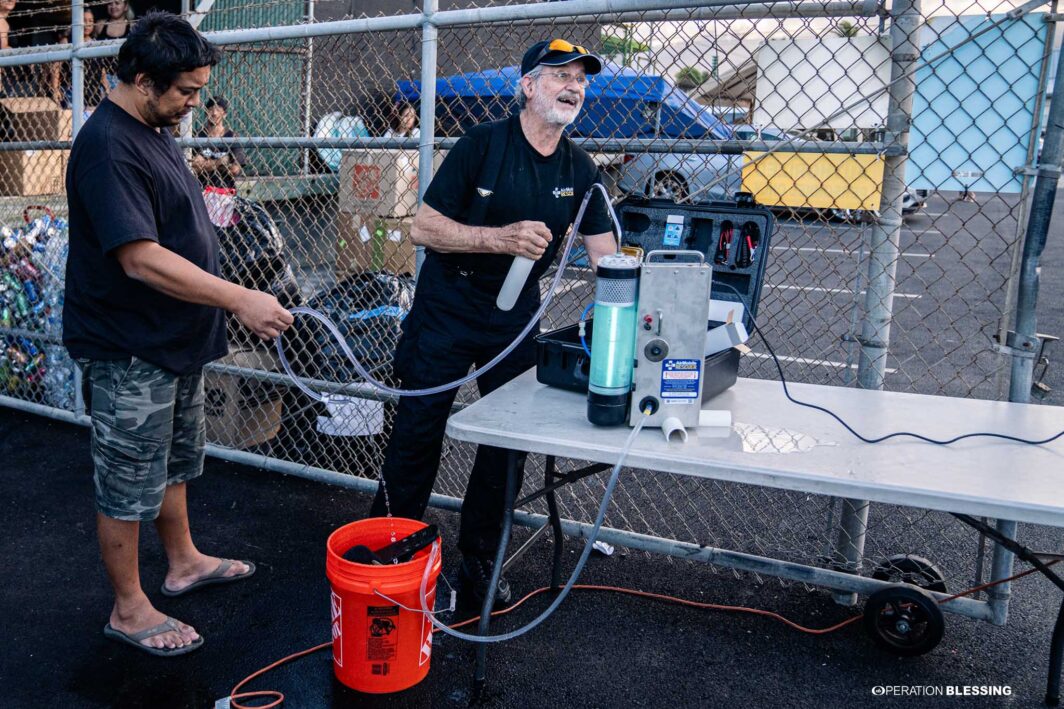 More Help is Coming
Soon, Operation Blessing will be able to give even greater news to wildfire victims by distributing a massive shipment of supplies covering a wide variety of needs. With resources in pitifully short supply on the island of Maui, we procured the items on Hawaii and shipped them to Maui in partnership with YWAM. Thankfully, they'll be in the hands of the people very soon.
Stay tuned for more information about Operation Blessing's Hawaii response. Friends like you are making a difference! Please continue to pray and give as you are able. To donate to disaster relief efforts, visit: https://www.ob.org/disasterrelief/