TEXAS, USA – As smiling widower and veteran, Allen, approaches his home amidst cheers, encouraging signs, and bright balloons, the meaning of the words "Extreme Blessing" could not be more obvious. This deserving elderly man had lost nearly everything to Hurricane Harvey, but thanks to supporters like you, and volunteers from Operation Blessing and The Home Depot, his story had a happy ending.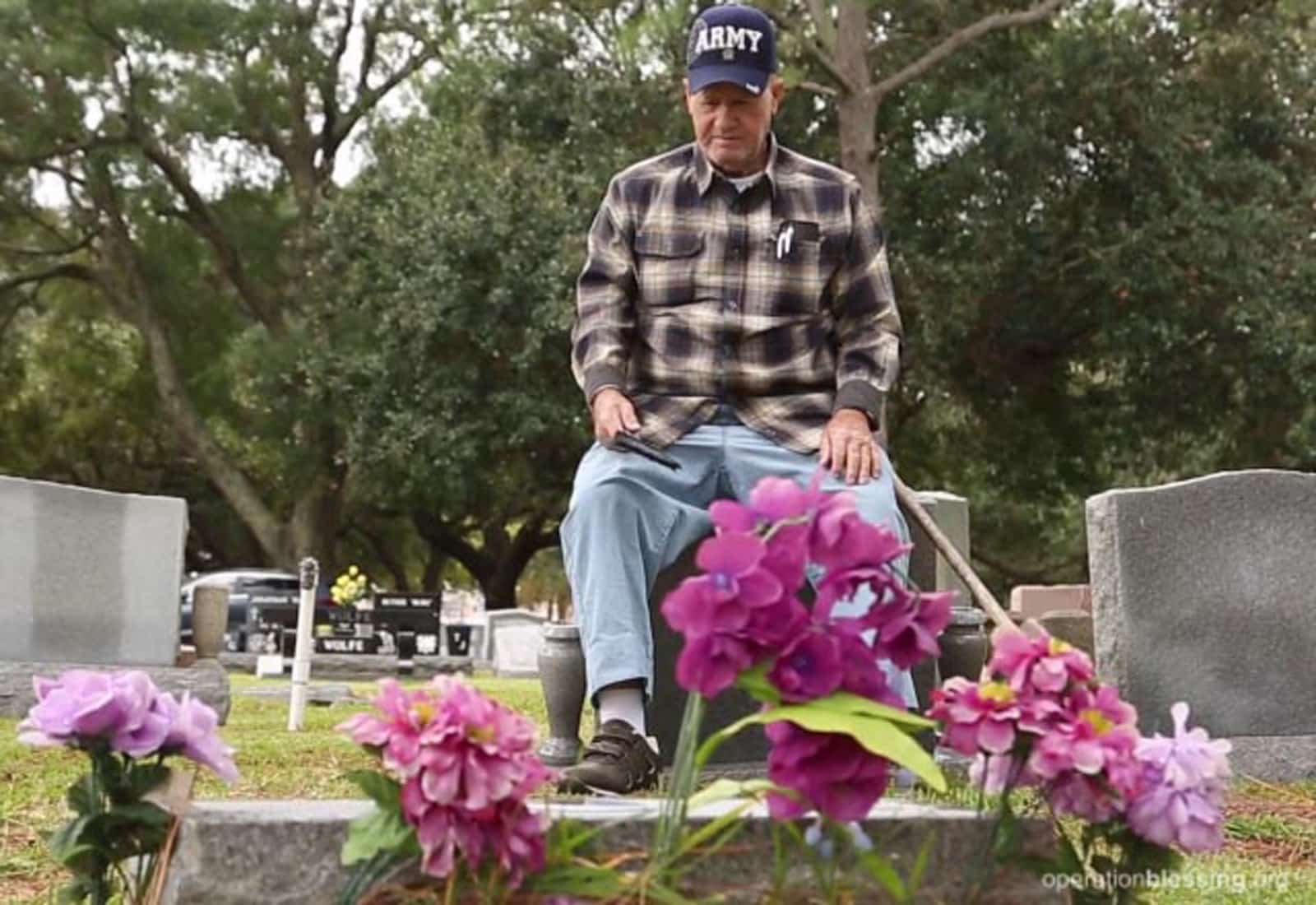 Allen lost his wife of 55 years a mere year and a half ago. He still visits and tends her grave regularly, and still mourns her loss. Then, when Hurricane Harvey hit his coastal Texas area in late August of 2017, he lost even more. His home flooded so severely that it had to be stripped to the studs. His only salvageable piece of furniture was a flood-soaked wooden chair, and his only privacy a piece of cardboard propped against the studs in the bathroom.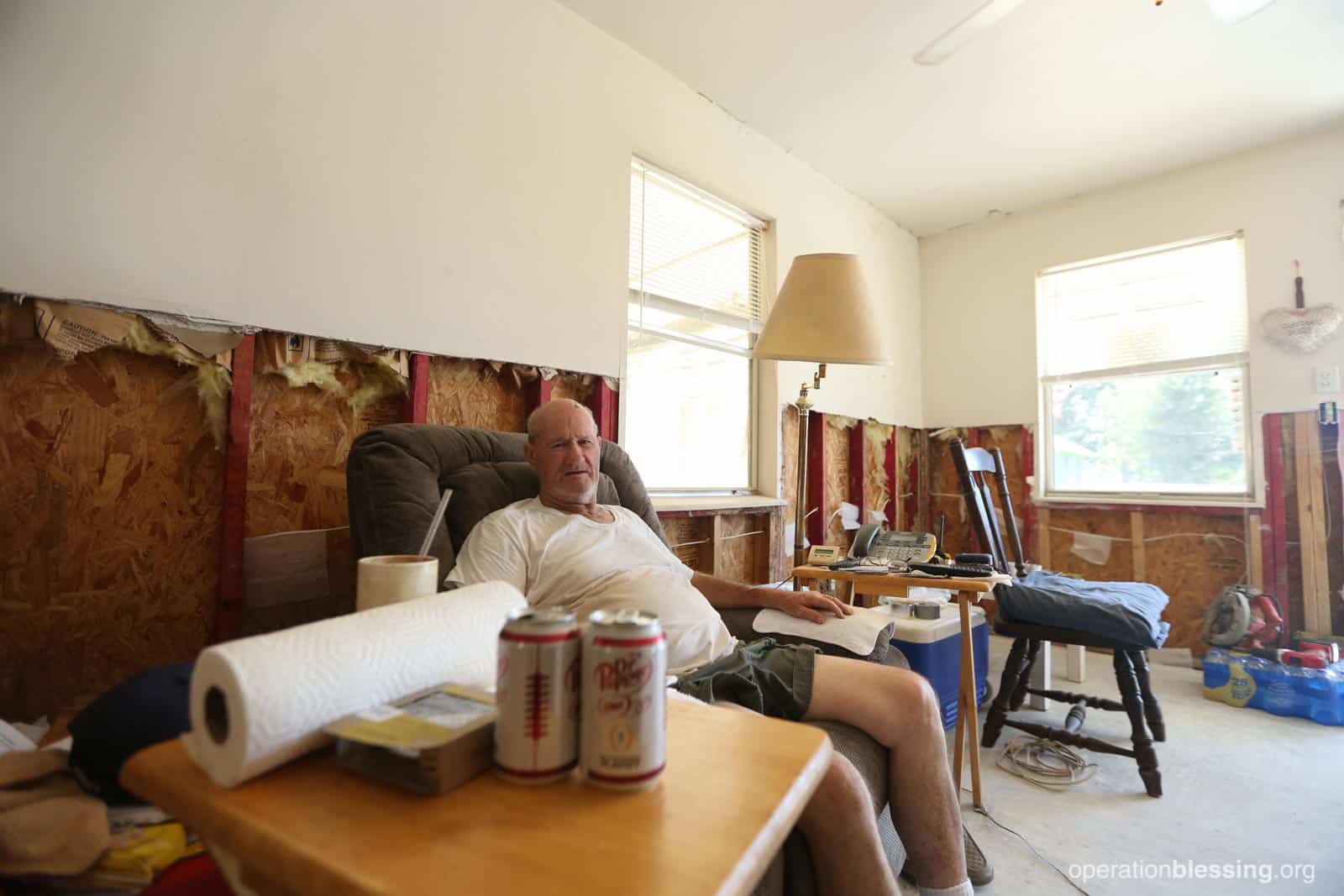 Operation Blessing stepped in to help Mr. Allen by sanitizing his home and adding new walls and electrical wiring. But they had even more up their sleeves for this deserving elderly man. Allen was chosen as one of a handful of hurricane victims to receive an "Extreme Blessing" home makeover from Operation and partner, The Home Depot.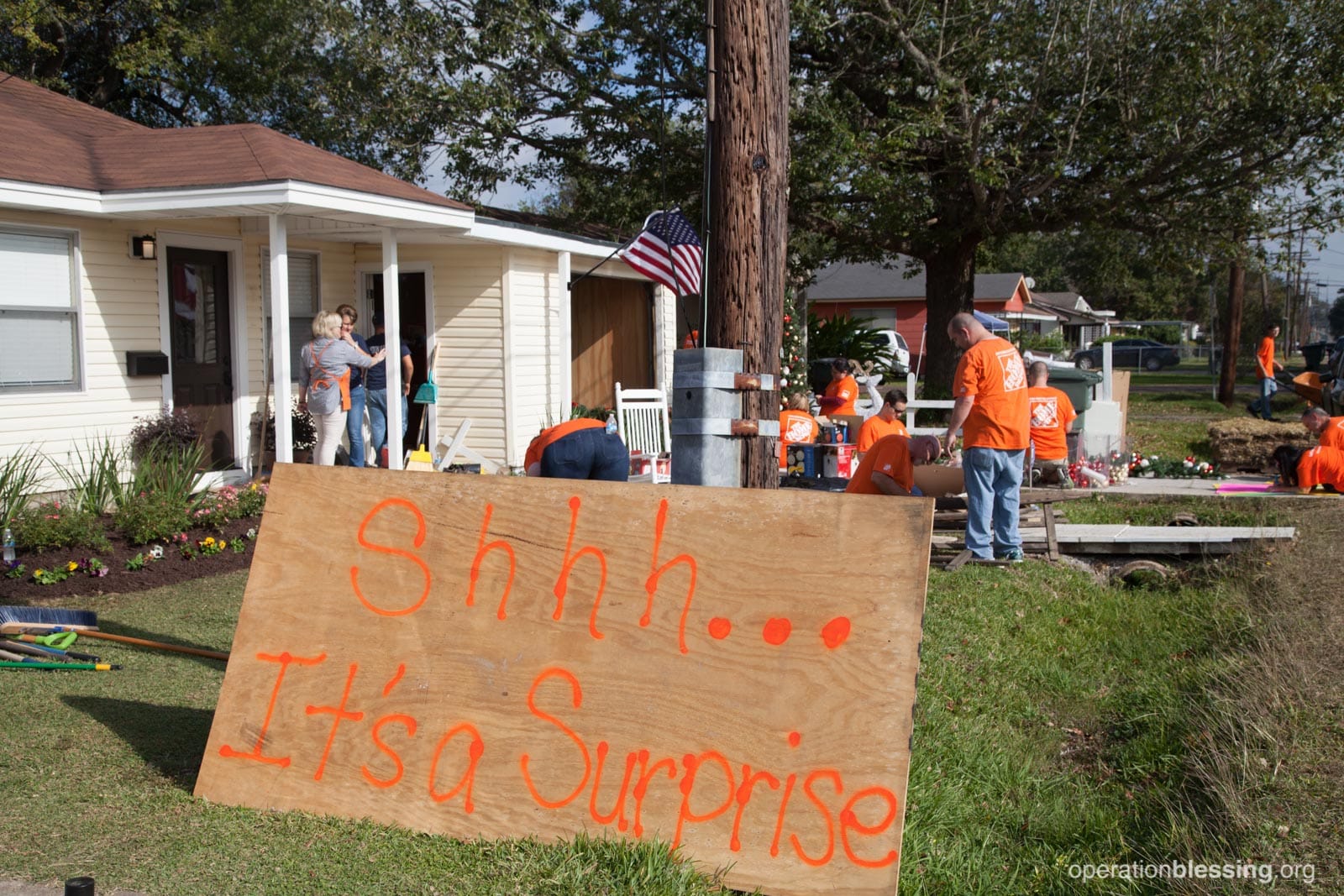 However, Allen didn't know this. Operation Blessing VP of U.S. Disaster Relief and Programs, Jody Gettys, offered to bring in extra volunteers to work on his home if he would stay away for two and a half weeks at a hotel OBI provided. She knew this would be difficult for Allen, who loves to be at his home, but managed to persuade him, despite repeatedly stressing that she didn't want to get his hopes up too high, and that she wasn't sure how far they'd get. All of which was part of the big surprise in store for Allen. When Allen returned, in fact, his home would be not only completely rebuilt and remodeled, but even redecorated!
Two and a half weeks later a crowd of Operation Blessing and Home Depot volunteers cheerfully awaited to surprise Allen with the big reveal of his new home. They waved bright colorful signs saying things like "Texas Strong" and "Bless This Home." Amy Fernandez was one of the many volunteers and workers involved in the project. She said that Allen became like a grandfather to her.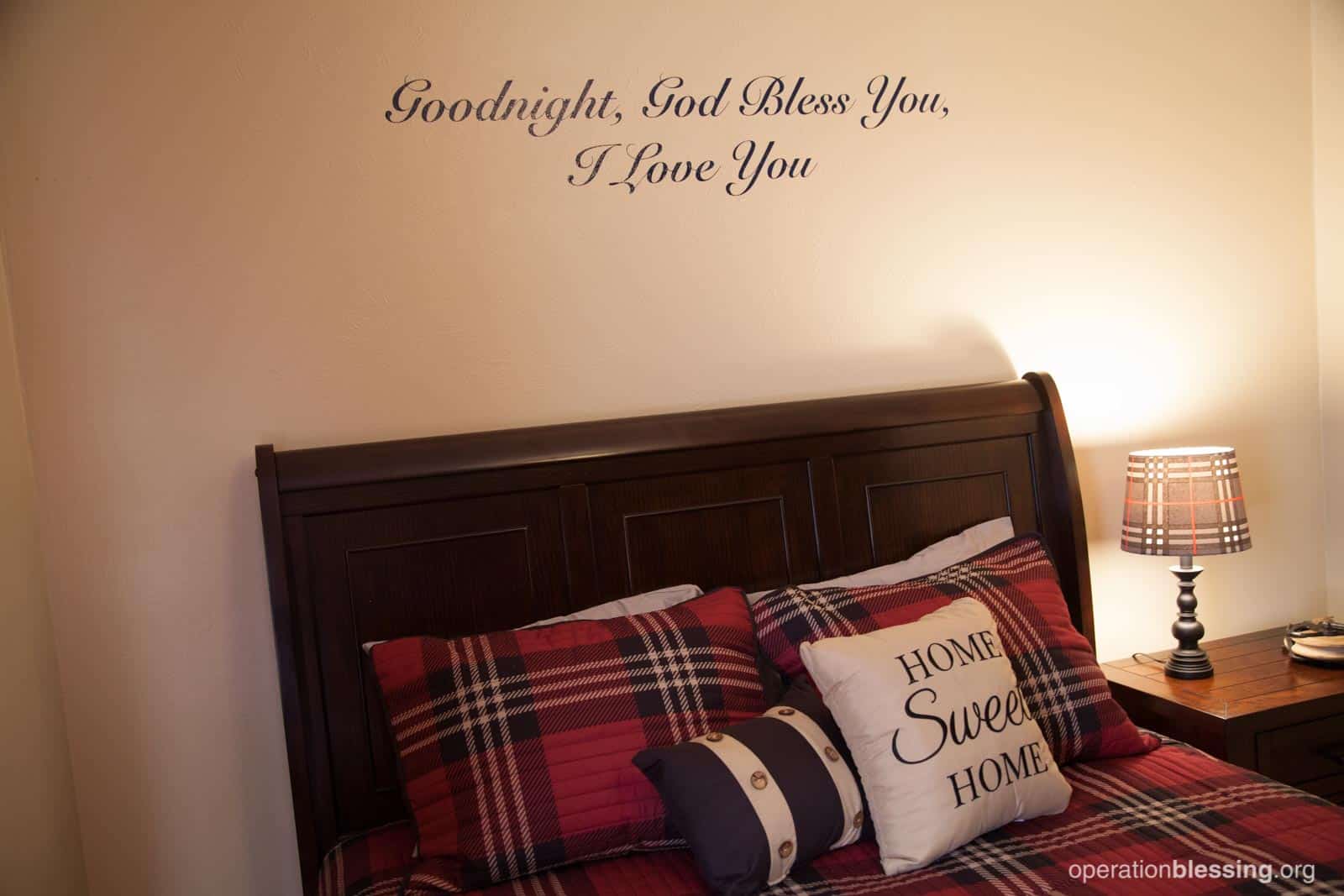 The remade house came complete with new furniture, flooring, and appliances. Much thought, love, and care went into redecorating each room of Allen's home. The workers incorporated special memories and touches for Allen, like family photos and some of his army memorabilia.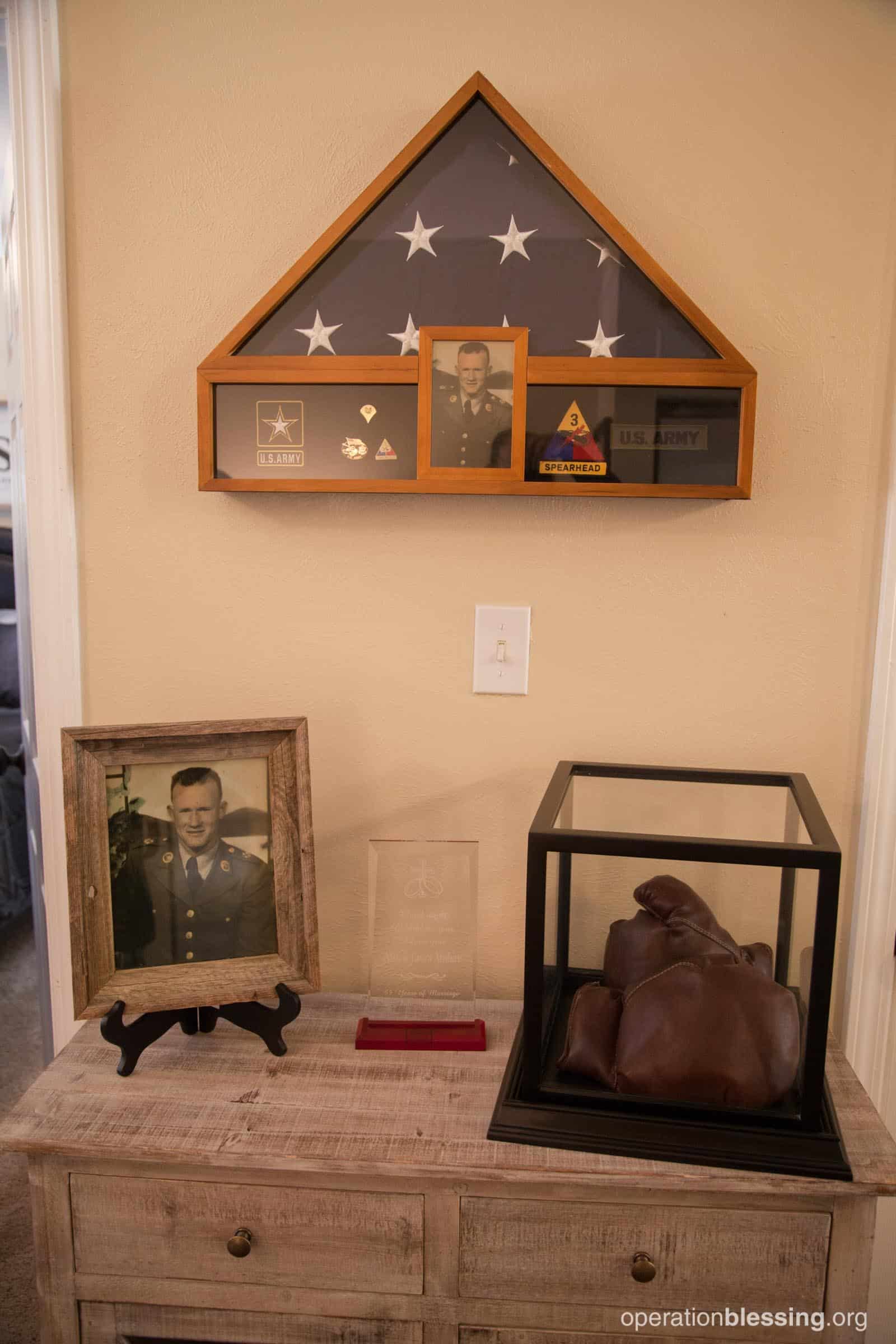 Beyond the normal decorations, since the home makeover took place in November, the team even decorated Allen's house for Christmas! He was excited, and looked forward to hosting his family "at home" for Thanksgiving.
The team also gave special attention to the outdoor portion of Allen's home, and topped it off with a new grill and patio furniture so that he can cook and host outside.
Allen excitedly toured his new home along with the many volunteers who were so happy to share this amazing surprise with him. Nothing can bring back Allen's wife, but restoring the home he shared with her has gone a long way in restoring his spirits and giving him hope for the future.