FLORIDA – In the darkest hours, God can shine an unexpected light. And for one family in Florida, that life-sustaining beam was from, in fact, a lighthouse.
When it looked as though their lives were falling apart, Matthew and Jennifer received help and hope from supporters like you—through the hands of our food distribution partner, Lighthouse Gospel Mission. Lighthouse Gospel Mission blesses people's lives by providing hunger relief in Florida and help to people battling food insecurity.
Matthew was no stranger to hard times. He described being homeless and without a car before meeting Jennifer. He had also struggled as an addict before finding freedom through Lighthouse's Faith Home, an 18-month residential Christian discipleship program. There, he discovered hope in Christ and began to move toward holistic health.
When he and Jennifer got married, they had such hope for the future. They both loved big families. Although they had older children from past relationships, they also dreamed of having children together. Matthew was doing his best with a full-time job that he was thankful to find after completing rehabilitation, and Jennifer worked at a home improvement store. Even so, it was a struggle to support their family. Jennifer shared, "We needed every dollar and then some."
Not long after getting married they got wonderful news—they were expecting a child! Soon, however, Jennifer realized something wasn't right. Upon visiting the doctor, she learned that her pregnancy was in jeopardy. Jennifer ended up losing her unborn child and needing emergency surgery. This also resulted in her missing a month of work.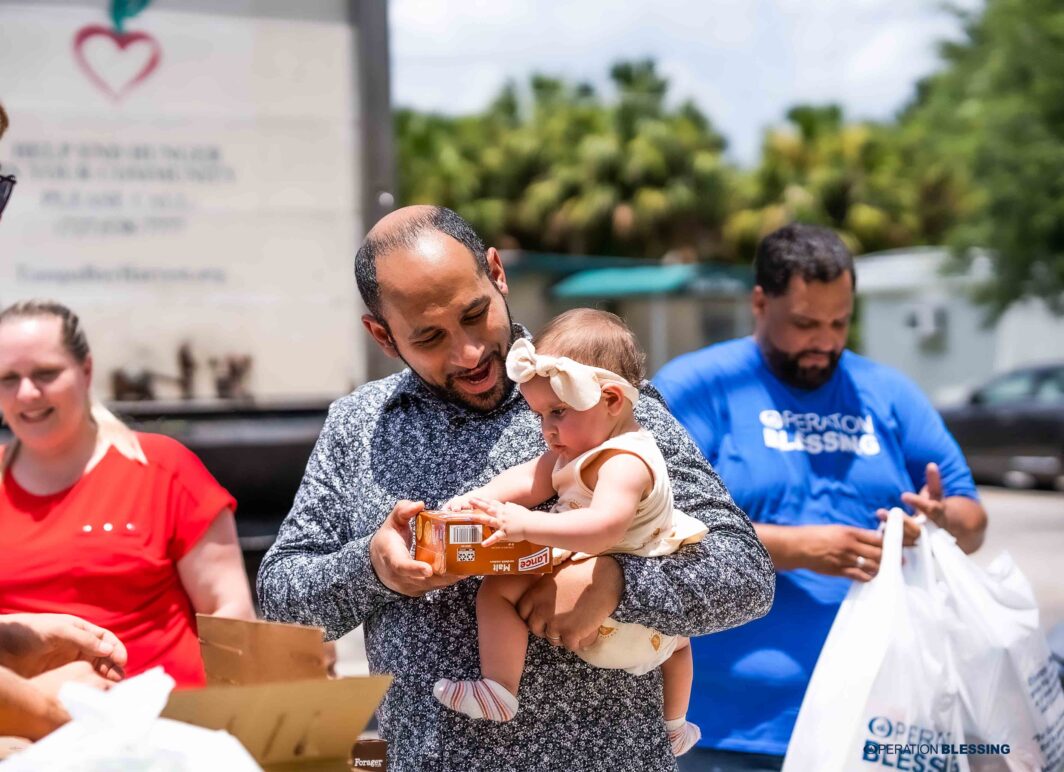 Partnering To Provide Hunger Relief In Florida
What was supposed to be the honeymoon period of their marriage had become a nightmare. Jennifer struggled psychologically, and Matthew was burdened with being the man who was supposed to provide— yet couldn't do enough to take care of those he loved.
They asked their pastor for help with the necessities they simply couldn't afford, and the minister's answer changed the whole picture: "Whatever you need." He told them about Lighthouse's partnership with Operation Blessing, through which the kindness of faithful donors like you helps provide close to 30,000 pounds of wholesome food and basic hygiene products in their area every month.
Matthew told us how they felt when they first received this assistance. "There was not a need or a want for anything," he said. "We filled up our pantries and cabinets." The whole experience was such a blessing for Matthew's family. And to top it all off, since that tough time God has blessed them with two beautiful daughters: Aubrey and Eleanor!
Today the family is in a better place, thanks to friends like you. Thinking back on their lives during that period, Matthew positively gushed with gratitude. "It was amazing to know other people are there for you through Operation Blessing and the boatloads of food," he said, "and hygienic stuff we really did need. And we didn't have to ask."
Thank you for blessing families in need in the U.S. and around the world!