FLORIDA – Hurricane relief efforts are underway across Florida after the devastation of Hurricane Ian. Operation Blessing teams are on the ground partnering with local churches and humanitarian groups to reach residents in greatest need.
Operation Blessing went to Calvary Assembly of God in Port Charlotte, Florida to meet with Senior Pastor Daniel Kolenda. "I understand that the storm hovered over the area for several hours, which I think traumatized people. And so now the infrastructure's been compromised. People are not able to get fuel and food and things like that, and there's no electricity. I know there's a lot of physical needs. Homes are damaged," he said.
This Port Charlotte church has been serving their community since 1960. Pastor Daniel says the majority of his neighbors are retirees who can't physically begin the road to recovery alone. He said, "I think what we need to do now, as a body of Christ, is focus on helping people."
Operation Blessing and Calvary Assembly of God are teaming up to meet the needs of the people in the community.
"I got a call from Operation Blessing, and I thought, my goodness, this is a divine appointment, because you guys have the the resources and the expertise, and we have the need," said Pastor Daniel. He continued, "We're looking forward to these next few weeks when we can really make an impact on this community."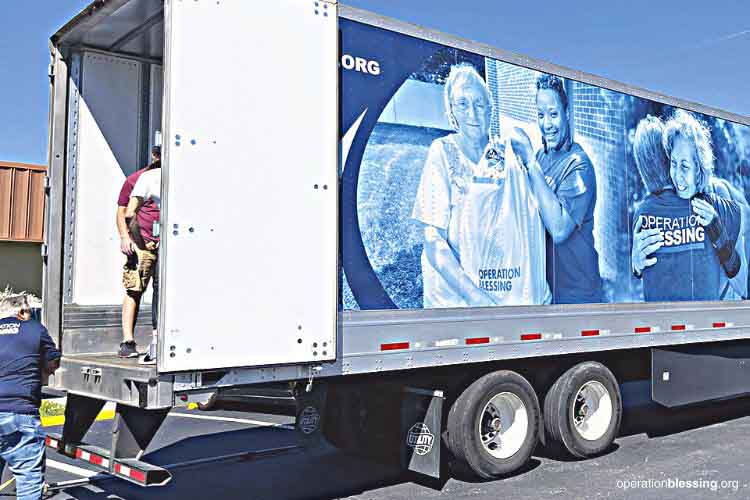 Partnering for Hurricane Ian Relief Efforts
With the help of friends like you, our teams set up their base of operations at Calvary Assembly of God's church facilities. Pastor Daniel said, "Well, Operation Blessing is going to come in here with supplies, and with tarps and people that will go out into the neighborhoods and actually put that on the people's roofs for them."
He continued, "If they've got nasty debris in the house that needs to be hauled out to the street, they'll go in there and pull it out and put it on the street for them. Or let's say they don't necessarily have a problem at their house, but they need some supplies."
Pastor Daniel strongly believes that with the support of the Operation Blessing family, we can greatly impact his community for the Lord. He said, "I would like to thank the Operation Blessing partners for the sowing that they've done, because you've sowed into good ground, and now there are people in need who are reaping the harvest of what you sowed."
Operation Blessing has already begun volunteer relief work in the most devastated communities. To volunteer with Operation Blessing as a disaster relief worker in Florida, visit ob.org/volunteer.
Visit ob.org/obdisaster to help victims of disaster now.