FLORIDA – Volunteers have joined Operation Blessing's disaster relief efforts after catastrophic category 4 Hurricane Ian swept through coastal Florida. Calvary Assembly of God Church in Port Charlotte, Florida serves as a base of operations, housing equipment and supplies volunteers will need. We sent out one team of Ian volunteers to do chainsaw work and another to do roof tarping.
Ian Volunteers Are Making a Difference in Port Charlotte
Ian volunteers are coming back with amazing stories of how God has used them in this volunteer experience to help struggling communities. Team Leader Brianna Shpak shared how much of a blessing it was to serve with Operation Blessing in this capacity. "I mean, seeing it on TV is one thing, but when you're here in person and you see the houses that are ruined and the gates that are ruined in front of people's houses, and you can feel that everyone's spirit is kind of down [it's a world of difference]," she said.
Though it was her first time serving in disaster relief, Brianna said she would gladly serve with Operation Blessing again, and she encouraged others to do the same. She said, "It's so amazing just to see how the neighbors reacted to us even coming out here. I've just loved being a part of this whole thing that we're doing right now."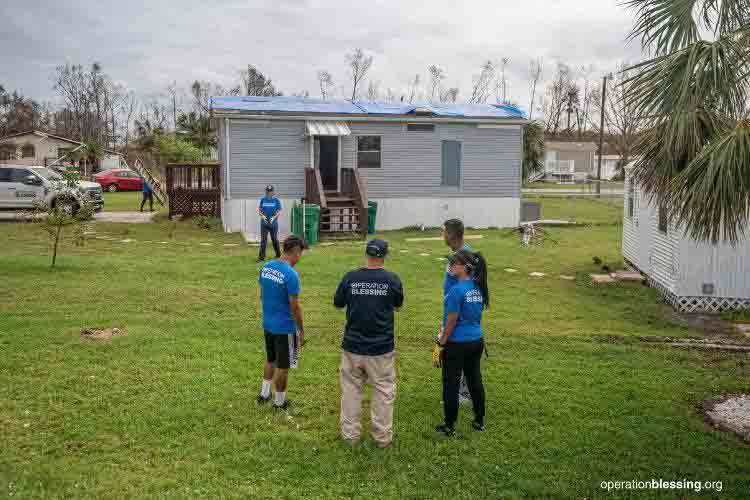 We hope that you'll join us too, because the need is still great, and we need volunteers like you. The support of partners and volunteers fuels the Operation Blessing mission to demonstrate God's love by alleviating human need and suffering in the United States and around the world.
To volunteer with Operation Blessing as a disaster relief worker in Florida, visit ob.org/volunteer. You could be the difference for someone who is hurting and in need of a helping hand.
Visit ob.org/obdisaster to help victims of disaster now.