PERU – Angie spent her days helping her mother sell chicken at a local market in Peru. But her life changed forever when she and Chemo found out they would be having a baby; they had no idea of the danger Angie would face!
As her pregnancy progressed, Angie was dedicated to keeping up with visits to the obstetrician. For her first ultrasound, Angie had to travel a great distance as the equipment was not available at her local health center. Thankfully, all was well with the baby.
"The first time I had an ultrasound, my baby was only four weeks old. They only said everything was okay," Angie recalled. Time passed, and Angie was due for another ultrasound. Sadly, Angie and Chemo simply couldn't afford the exam. Without an update on her baby's health, Angie began to worry about her precious baby.
Ultrasound Brigade in Peru
Thankfully, help came when Operation Blessing donors like you sent an ultrasound brigade to Angie's local health center. The program offers free ultrasound services to expectant mothers in need in Peru.
It was a true blessing for Angie, quite possibly saving her life and her child's! "My doctor told me I needed an ultrasound, and that it was going to be my lucky day because Operation Blessing had brought an ultrasound. I was going to be able to see how my baby was, and for free, since I didn't have money to get one. And I also wanted to stop having doubts if my baby was okay," Angie told Operation Blessing staff.
After the ultrasound was complete, a doctor recommended she get another specialized one as he was concerned about the images he saw. "The doctor told me my baby didn't have enough amniotic fluid and was small. She might be in danger. I was worried, and you all supported me," Angie said.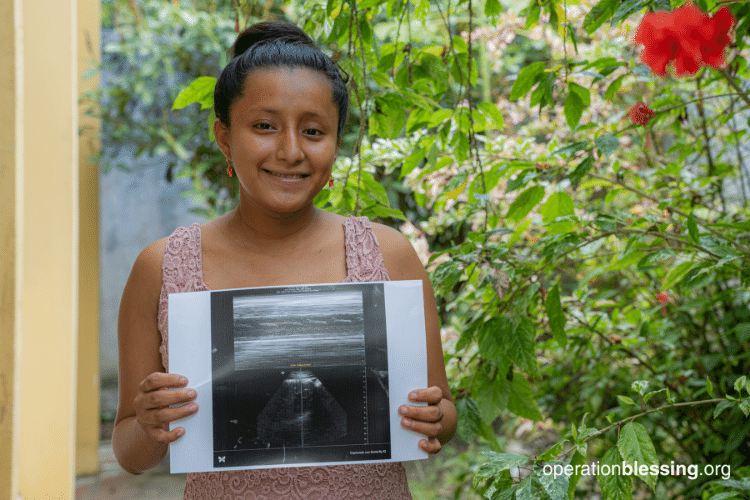 Help For An Expectant Mother In Need In Peru
Thanks to Operation Blessing partners, Angie's ultrasound costs were taken care of, and doctors were able to catch the problem in time to provide her help. Not long after, Angie was admitted to the hospital because of how dangerous the situation could be. A day later, she safely gave birth to a beautiful baby girl whom she named Jaciel.
After Jaciel's birth, Operation Blessing staff visited the young family to check on them and deliver a newborn baby kit to help them care for their precious little girl. Because of your generosity, critical help was provided to this expecting mother in need in Peru. Operation Blessing was able to help this mother detect the danger in time—and support her through the entire process.
Knowing that his daughter is well has meant so much to the brand-new dad, Chemo. "I am grateful for you all, because of the ultrasound that allowed us to see how our baby was. I am so happy now that my daughter is okay. Thanks to you all, my daughter is here with me and alive."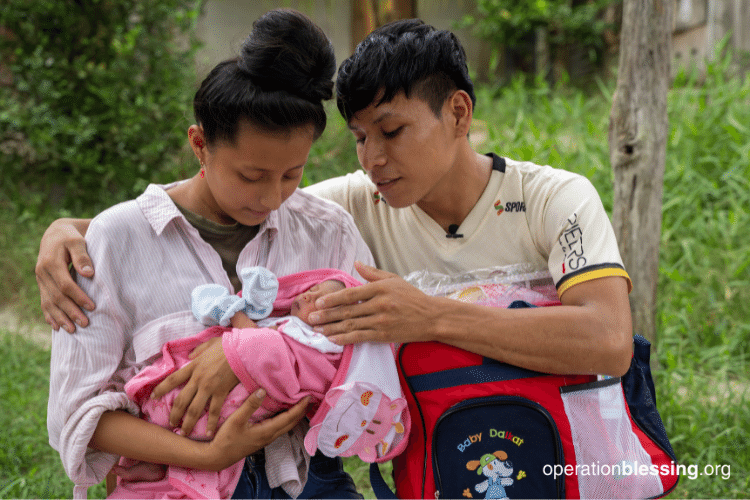 Thanks to you all, my daughter is here with me and alive

-Angie
"Thank you for everything!" The life-changing work you make possible through Operation Blessing brings hope to those in need around the world. Thank you for your heart to bless those less fortunate with the vital medical services they need to grow healthy and strong. May God bless you for your kindness!