HONDURAS – A good education can be hard to come by, especially in developing nations and in island villages like Boca del Rio Viejo. Good citizens in this community were doing their best to teach the local children outdoors, because funds for a school were out of reach.
Students like 5-year-old Josselin had to endure long hours in the sweltering summer sun, trying to stay engaged while the heat pressed on their outdoor "classroom." Add to that the remarkably short attention span of little ones and the lack of play spaces to break up the day, and you can imagine how difficult it was for the children to stay focused and remember what they'd learned.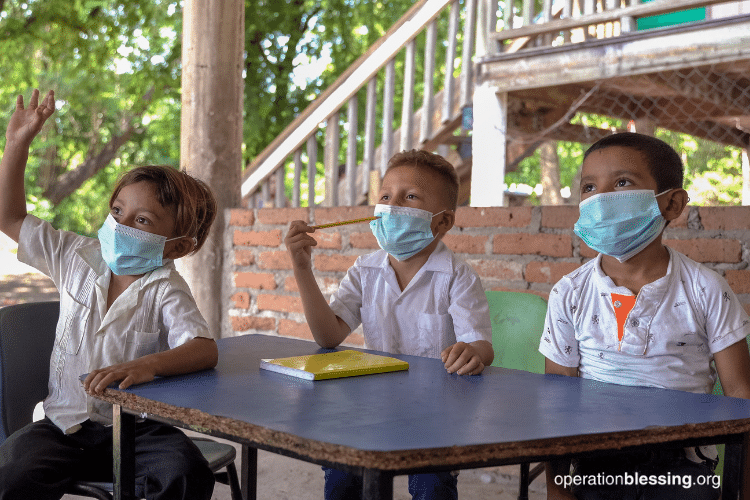 A New School In Honduras
Thankfully, friends like you helped them with the finances needed to build a brand-new school—complete with a restroom and playground! Now, the kids can learn and play safely, and they couldn't be happier with their new school in Honduras. When asked how she felt about her new school, Josselin said, "I am very happy. We have new notebooks for learning. Everything is new, and at recess we go outside and have fun playing games."
Her mother was so grateful, saying, "The people that donated are such a blessing! They gave us a new school for our children, and we will soon have water in our homes."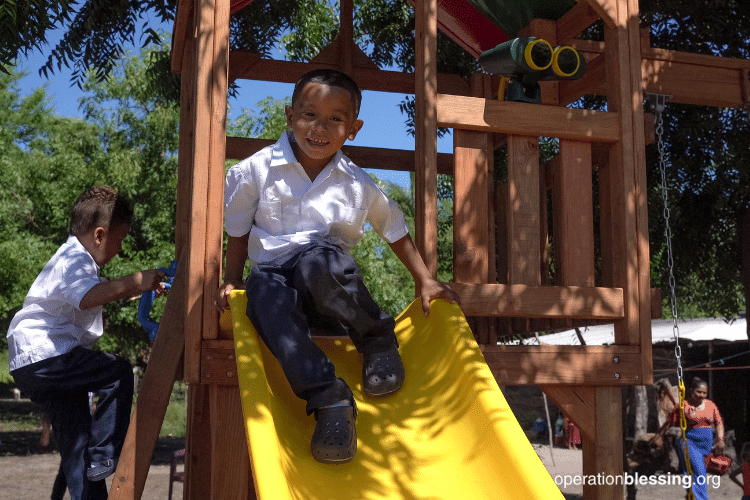 The new school in Honduras was built with every need of the community in mind. It's elevated off the ground to protect it against flooding. It has designated spaces for various activities, including a teaching area and proper bathroom facilities. The new school also has plenty of room so that even more students can attend classes. And the playground outside has a slide, swings, and a lookout tower—with binoculars for the children to look through!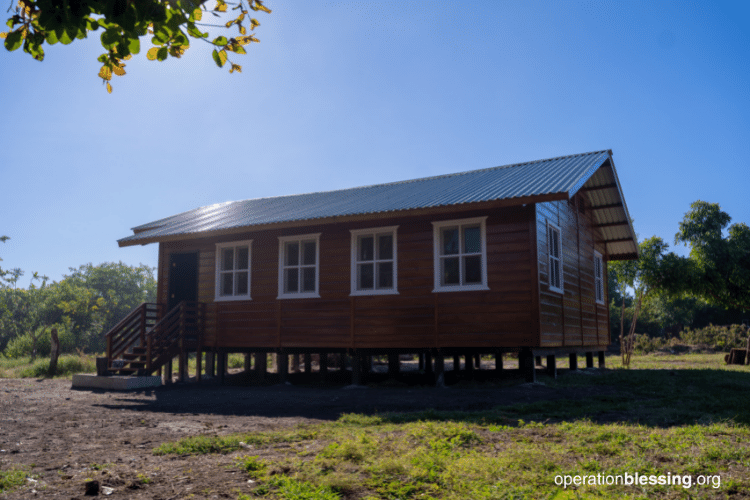 A Community Water System
Although many are excited about the new school, the village still faced other issues, especially in accessing clean water. But that won't be a problem for long! Operation Blessing—because of friends like you and hardworking community members—has begun developing a community water system.
This community water system is complete with a powerful pump, miles of piping, and a chlorinated storage tank, this new system will provide clean water access to 117 homes, two schools, and one church. Soon, residents will no longer have to deal with the dangers of unsafe water. They'll be free of waterborne illness and able to put into practice the hygiene and sanitation training they will receive from the Operation Blessing team.
Thanks to caring partners like you, the people of Boca del Rio Viejo can look ahead toward a whole new future with better educational facilities and an alternative to unsafe water!