POLAND – Operation Blessing sat down with Ania Kozack to hear her story of escape from violence with her younger brother. As is the case with so many other Ukrainians, Ania Kozack and her brother were forced to flee their homeland.
Ania relayed the shock when a Russian missile hit a home nearby. While war raged round them in their home country and on their street, she realized they were in grave danger. When they looked for refuge, they realized there were no safe places in Ukraine. This put them on their journey to reach the Polish border and safety from harm.
A Place Of Respite After A Harrowing Journey
Ania and her brother found themselves in an unfamiliar country. Operation Blessing was there to greet them and give them some respite from their difficult and tragic situation. Accordingly, the Operation Blessing tent provided them a welcoming place to rest and begin planning their next steps. They were also provided with a meal and a hot drink. Operation Blessing helped connect them with a local church partner to get ongoing support.
Simple things can mean a lot to a brother and sister who have had to leave everything due to events beyond their control. In this case, a sister who has very little and must take care of her younger brother. The difference offerings of kindness are making cannot be emphasized enough. Ania herself sums it up best when she says, "Human kindness is like one of the things that's helped me going on."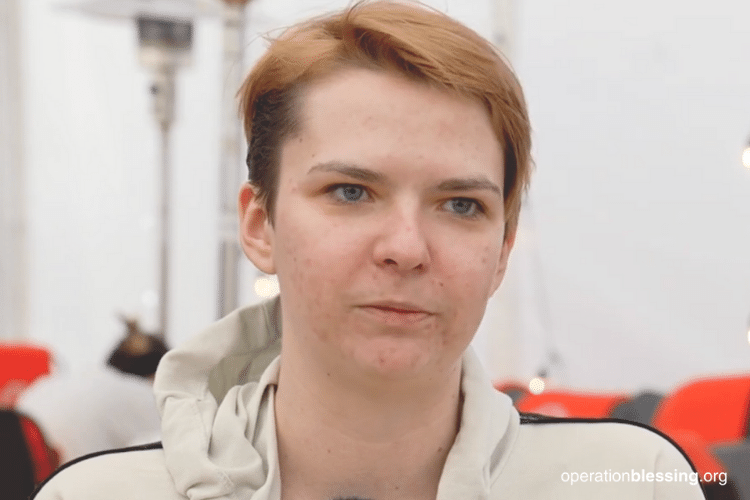 Human kindness is like one of the things that's helped me going on.
You Make This Kindness Possible
Thanks to the generosity of friends like you, Operation Blessing has offered a place to rest, hot meals, and critical supplies to aid many families like Ania's in their journey. Additionally, we've continued pumping semi-trucks full of supplies into war-torn Ukraine. Please continue to pray for the nation of Ukraine and find out how you can help crisis victims by visiting https://www.ob.org/crisis