PHILIPPINES – Josephine's home lay in ruins. Just two days earlier, she and her family had evacuated in response to news of the coming super typhoon, hoping against hope that there would be a home when they returned. But when they went back, Josephine fell to her knees and wept. The house was there, but she could hardly recognize it. "The storm tore our whole roof off. Inside, years worth of property and appliances were destroyed," she said. "Nothing was salvageable, and everything was washed out."
Super Typhoon Rai utterly devastated parts of the Philippines. Torrential rains and heavy winds demolished homes and destroyed local businesses, displacing more than half a million people. Tens of thousands of residents were left homeless on Josephine's island of Leyte alone. They had no option except to live in makeshift tents along the road. For families like Josephine's— with no stable income—all hope seemed lost.
But thanks to friends like you, help came quickly to those in desperate need! Generous support from our donors made it possible for Operation Blessing to leap into action. Our staff partnered with local government to help survivors of the storm by providing critical relief items that included food, sleeping mats, and blankets.
And the Operation Blessing family didn't stop there. Compassionate givers like you heard of the remaining needs of now-homeless families in southern Leyte and did something about it. Teams determined which communities had the worst damage and returned with much-needed roofing materials, stools, plywood, and sacks of cement. Now, families struggling to make ends meet could rebuild their homes with the free materials. Josephine was ecstatic. "I have no words. I'm just really happy that Operation Blessing is here, reaching out to island people like us."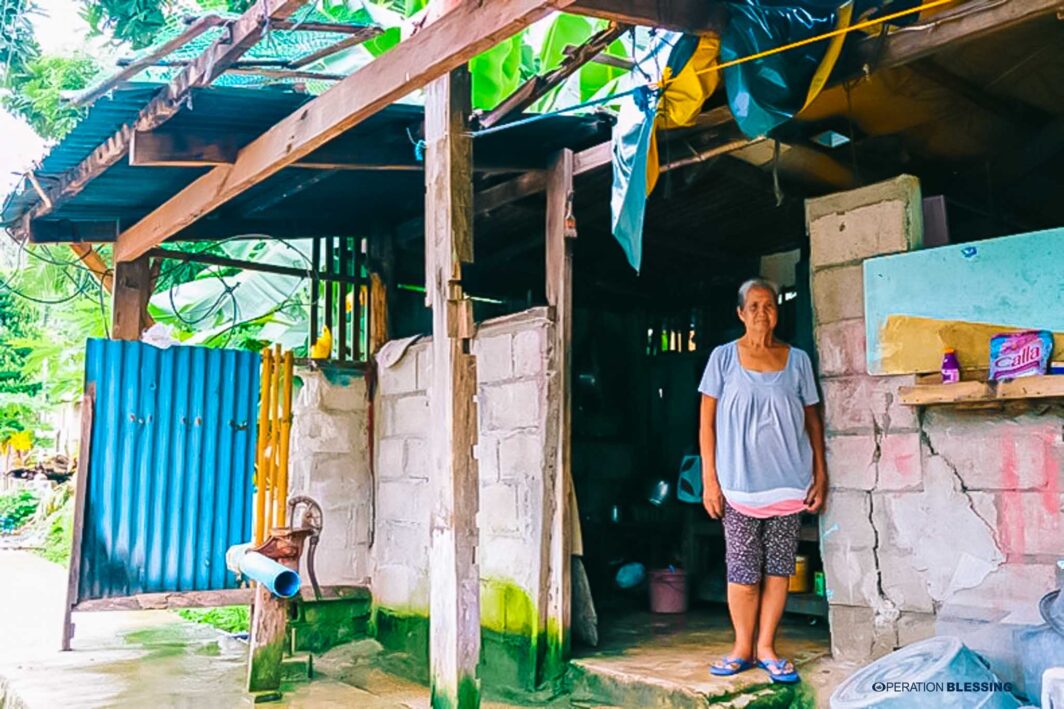 Recovering From Super Typhoon Rai
Josephine's family weren't the only ones whose lives were radically changed by the help. Many others were also given the resources to begin recovery because of the generosity of our partners.
Rosie and her husband, Rodrigo, were fellow typhoon victims. With a voice weak from stress and grief, 70-year-old Rosie shared her experience: "My husband and I were in Manila to visit our children at the time, and we did not expect to come back to the ugly sight of our ruined house after Typhoon Rai slammed into our hometown."
What made matters worse for them was the fact that Rodrigo was already permanently injured. He'd lost his toes in an accident and was thus unable to get around easily to work and provide for his family's needs.
His wife said, "He was impaired and unable to continue his work as a carpenter because of that. It's really hard. I don't know how and where to start on recovery."
But faithful friends like you helped them! After receiving assistance, Rosie extended her gratitude to those who made this possible. "Thank you so much for these God-sent blessings. I am grateful and excited. I hope you will reach more people who are in need."