MISSISSIPPI – Operation Blessing is responding after a deadly tornado struck Mississippi Friday night (03/24/23), devastating homes and businesses across multiple communities.
The National Weather Service gave the deadly tornado a preliminary EF-4 rating. That means the storm potentially had wind gusts up to 200 miles per hour. The tornado lasted more than an hour and left behind a 170-mile path of destruction in Mississippi.
The Federal Emergency Management Agency reports that at least 25 people died in Mississippi, 55 people were injured, and two thousand homes were damaged or destroyed. The terrible situation drove a meteorologist at a local station to offer up a prayer on air during the storm.
"Dear Jesus, please help them. Amen."
Teams Responding to Deadly Mississippi Tornado with Relief Supplies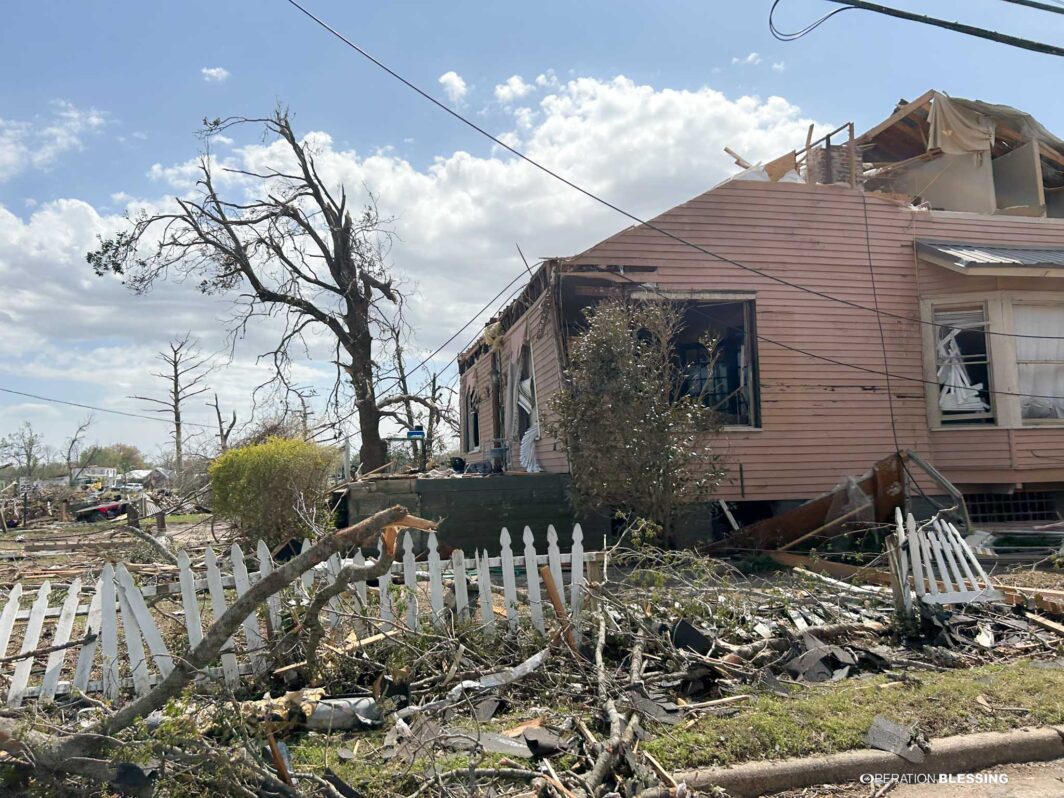 The monster tornado leveled most of the town of Rolling Fork, Mississippi.
Mayor Eldridge Walker said, "I'm not only just the mayor of this community, but I've lost personal friends. I'm also the local funeral director. Now I'm having to meet my families—those who have lost loved ones—and help them make it through this traumatic time."
Jessica Davis says she was on the phone with her mother Wanda when the tornado hit Rolling Fork. She says her mother drove to a local store for shelter. Tragically, she never made it out alive.
Jessica said, "I'm hurt—nothing but hurt 'cause everyone lost something, whether it was a loved one, home. Everyone lost something."
Yet, in spite of the tragedy and the huge task of moving forward and rebuilding from this disaster, many residents took time Sunday morning to go to church.
The mayor also spoke on matters of faith. "This is the Bible belt. And we were all taught that a family that prays together stays together. This is a family, a family of unity, a family of strength. And this is what we need to make this community come back once again."
President Joe Biden issued an emergency declaration for Mississippi early Sunday. That makes federal funding available to the hardest-hit areas, and relief teams are beginning to arrive and help the storm victims.
Operation Blessing assessment teams are on the ground identifying needs and building partnerships to send in relief. Today (03/27/23), the ministry is sending a shipment of bottled water, emergency meal kits, and cleanup supplies to Bethel Church in Amory, Mississippi.
To keep up with our latest efforts in Mississippi, please visit https://www.ob.org/tag/tornado-relief/. To donate to disaster relief efforts, visit: https://www.ob.org/disasterrelief/