INDIA – A few years ago, Durga began experiencing severe pain in her jaw. Thinking it was a toothache, her parents took her to a local dentist in India who pulled a few of her teeth. But the pain did not subside. Instead of a bad tooth, Durga had a tumor growing rapidly in her jawbone.
Next, her parents took her to a government hospital in a nearby city, but the doctors were unable to help. She needed tumor surgery—surgery her parents simply could not afford.
As day laborers, they often were unable to find work. When they did, they barely earned enough to meet their most basic needs, like putting food on the table. The swelling in Durga's jaw worsened every day until her entire jawbone became deformed. She could no longer talk or even eat properly, but she continued to help her mother prepare the meals for their family.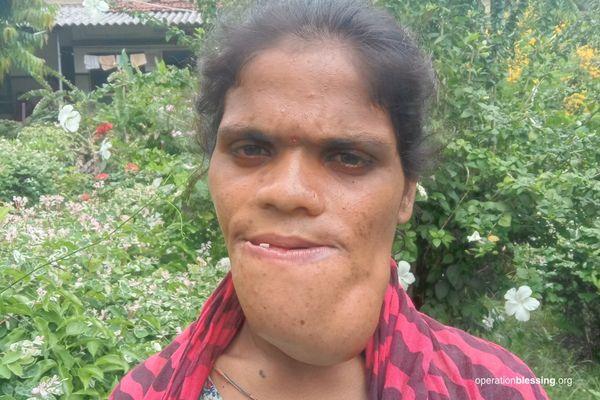 The Miracle Of Tumor Surgery In India
Durga kept her face covered with a cloth. "I've lost all my hope. My life has become more and more troublesome," she said. "People look at me with scared eyes. Many times, I cannot ignore them."
Within a few months, the tumor more than doubled in size. The prognosis was grim. Without surgery, she could die. Then friends like you came to Durga's rescue and provided the support she needed to become whole again! Over the next year, she underwent a series of life- changing surgeries to remove the tumor and rebuild her jawbone.
Today, Durga smiles. She no longer hides her face in shame. She has been given a new life thanks to supporters like you!
"Despite all the sad times I have been through, I am alive," said Durga, as she reflected on all the challenges she had to overcome. "I work. I drive. I travel. I help in doing all the household work."
She's so grateful for tumor surgery. Her beautiful smile says it all!