HAWAII – Operation Blessing is in Kona, Hawaii near fire-stricken Maui. As part of our wildfire relief efforts in Hawaii, we have been gathering critical supplies to take to families who have lost everything. This has required us to traverse the island to procure what is needed. Sadly, the impact area in Lahaina is devoid of most resources due to the widespread destruction of the wildfire.
Working with YWAM Accelerates Wildfire Relief
Our wildfire relief efforts in Hawaii are being done with the partnership of Youth with a Mission (YWAM). YWAM is helping us deliver the supplies to people in need on the island of Maui. Partnerships with organizations like YWAM help us get supplies into the hands of the community faster.
Christophe Ulysse is part of the leadership team at YWAM. He shared with us accounts of how destructive the wildfire was. "It was just absolutely devastating to see a town [be destroyed] that's been such a historic town, such a beautiful place that many of us know and love." He continued, "it's just incinerated in many parts, just completely burned down to ash.'"
Partnerships Make the Difference for Wildfire Relief Efforts in Hawaii
Operation Blessing is working with a network of churches and other partners in Maui who have direct connections to wildfire victims in need. We are securing critical supplies from other locations and sending them directly to Maui by means of a partnership with YWAM who have secured a boat to transport the supplies.
Once on Maui, the supplies will be distributed to suffering wildfire survivors by our network of on-the-ground partners. Christophe sends his thanks, "Thanks so much to Operation Blessing and all the donors, because they were able to get us the resources, and we were able to get it to our friends at ground zero."
We also send a special thanks to our generous Operation Blessing donors. Your love and support are making it possible for us to help people who have lost everything. Because of you, we are able to send over much-needed supply items like:
generators
gas grills
tents
tarps
rope
clothing
diapers
flashlights
batteries
As you can imagine, these items mean the world to Hawaii wildfire victims who have lost everything from their homes. Many only have the clothes on their backs and lack access to even the most basic necessities. Food and clean water are now things families desperately need, as even the water is contaminated due to the breadth of the destruction.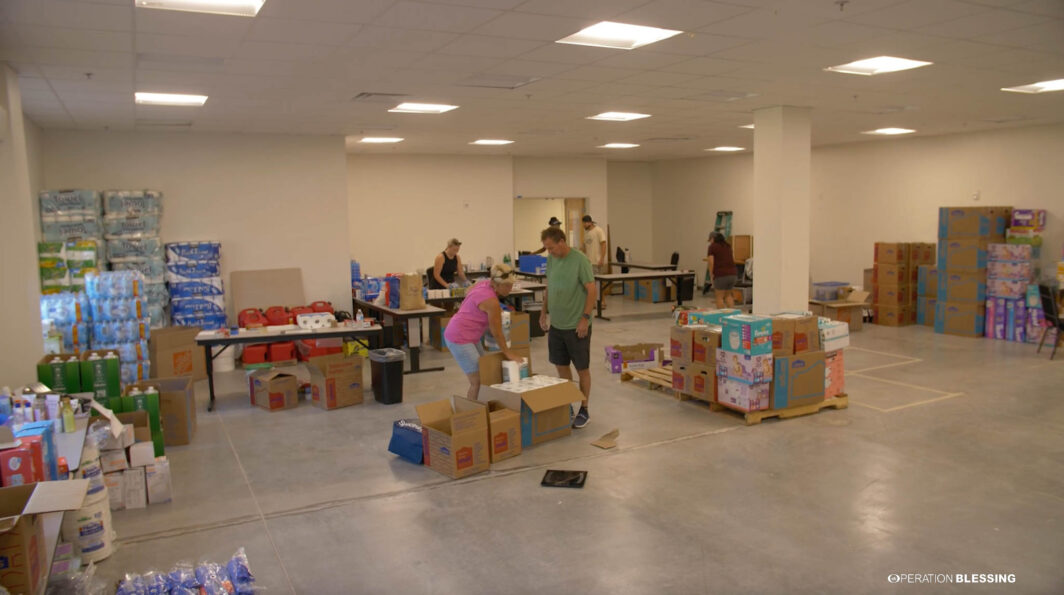 Clean Water Is an Essential Part of Relief Efforts
Christophe helped us understand how serious the situation is for disaster victims. "The water is being contaminated because everything was incinerated. So getting water, food, and the basic necessities for life for the people that have been affected [is paramount]." Along with basic supplies, we are also sending water filters for residents to have clean water.
Christophe said, "This is going to be a major blessing for the people that have been affected with now having water that is unclean to drink, unclean to bathe in." He continued, "I just want to, from the bottom of my heart, say thank you so much for all of the partners in Operation Blessing. You're getting it [relief] to the people that live here, the people that are here for the long haul."
Friends like you are making sure Operation Blessing is on the ground during a crisis sending aid to those in need. You can join us in helping the suffering when you visit https://www.ob.org/disaster-relief today.