PERU – Carving wood is a passion of Wilson's. Growing up along a river in Peru, he has memories of seeing his uncles craft a variety of items from balsa wood. Wilson continued the family trade and learned to make canoes and boats for a living. Now a husband and a father in Peru to five children, Wilson says his goal is to provide well for his family.
He began making handicrafts out of balsa wood to sell to local shops. Sadly, his carving skills were limited. He didn't know how to paint, so he delivered his products plain and unadorned. The low price he earned was barely enough to feed his family.
"Providing for a family of seven is very hard," Wilson told Operation Blessing staff. "I haven't done any studies, and I'm not a professional, but carving these animals out of balsa wood allows me to help my family. There were days when it wasn't enough to eat, but even so, I try to work in other things. When they call me to help build a boat, I go. I will do anything so my family can be okay."
Training Helps A Father Provide For His Family
Then Wilson learned that, because of your kindness, Operation Blessing was in the area, holding wood carving workshops. Topics included painting and finishing, various carving techniques, and even balsa wood reforestation. Wilson started going to the classes to improve his craftsmanship. 
"I didn't know how to use paint before, but now I know! I give my products a better finishing detail. With this, I can increase my selling price and earn more for my family," Wilson exclaimed. "Nobody else has ever come here to teach us anything. Operation Blessing came to us and taught us something we never knew we could learn."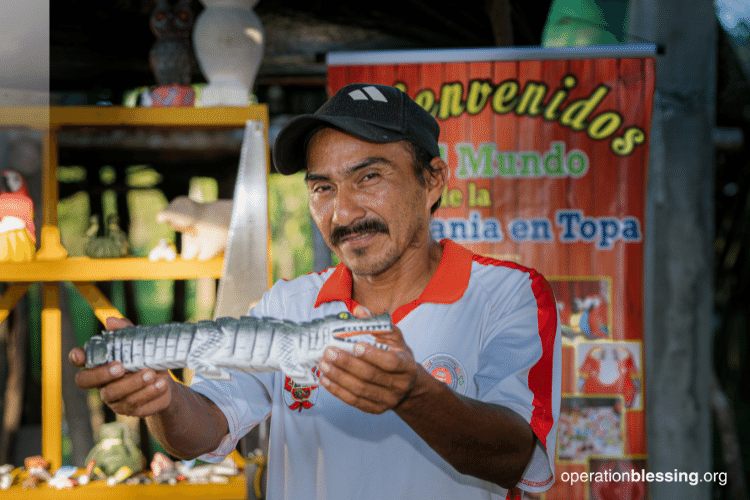 In addition to skills training, you helped provide Wilson with the materials he needed to expand his balsa wood carving business. This gift included supplies of wood, paint, carving materials, and other items.
With his new skills and tools, Wilson is able to improve the quality of his products, increase his profits, and better provide for his family. Gloria, Wilson's wife, is very grateful for the help you sent through Operation Blessing.
She shared, "With these materials, you are helping my husband and our family. With this, my husband can start again. This is a blessing from God—thank you so much!"
A Grateful Father Can Now Provide For His Family
Thank you for blessing families in need around the world including this grateful father in Peru. Your generosity makes it possible to equip struggling families with the training and skills needed to earn more income and consistently provide food for their loved ones. May God bless you for your kindness and compassion!
---
Nobody else has ever come here to teach us anything. Operation Blessing came to us and taught us something we never knew we could learn. – Wilson