---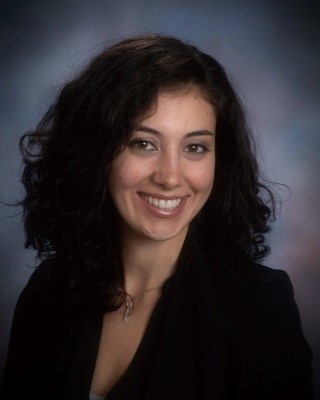 The following report comes to us from May-Lee Melki, daughter of the co-founder of our partner, Heart for Lebanon. She shares deep from her heart on the anniversary of the Beirut explosion about the tragedy that struck her nation and the ongoing challenges they still face. We know you'll appreciate hearing how our partners have reached out during this tragic time, in part, thanks to you.
---
This might not be the first article you read that reflects back on the events of August 4, 2020. For every resident in Lebanon and every Lebanese globally, 6:07 PM on Tuesday, August 4, 2020 marks the darkest day they can recount, the day of the Beirut explosion. The people of Lebanon collectively experienced one of the largest non-nuclear explosions in history. One that destroyed their capital, killed over 200 innocent civilians, thrust over 300,000 individuals into homelessness, and left an entire nation traumatized.
A year later, facts about the cause of the Beirut blast are scarce and the site of the explosion remains as is: an abandoned disaster scene that leaves many questions unanswered for the families of the victims and the Lebanese people as a whole. Many Lebanese who work in Beirut even have to drive by that scene on a daily basis, reminded that somehow their lives must continue despite the heartache.
Whatever you read about this day after the passing of 365 days, and whatever we all try to communicate about the tragedies of what happened a year ago and explain the heartache of our people, we will never be able to relay the permanency and gravity of the loss, hurt, and grief that millions of Lebanese continue to live in while also still living under the same circumstances and corruption responsible for the tragic explosion in Beirut.
Partner on the Ground: Heart for Lebanon
To put things into perspective as to what that meant for Operation Blessing partner on the ground, Heart for Lebanon, the ministry's Beirut offices and headquarters are less than 3 miles away from the epicenter of the blast. Most of the Heart for Lebanon Beirut team lives within that same radius and can share individual experiences of loss on that day. One team member tells about the miraculous way she was spared by running late to a wedding that she was going to attend less than a mile from the explosion that evening. A number of team members suffered damages to their apartments, and many more lived through the horrifying experience of long hours of survival check-ins from friends and family. As one team member explained it so well, "The explosion did not happen at the Beirut port, it happened inside every single apartment in Beirut."
For me personally, it had been exactly a week since I left Beirut to pursue a law degree in the states. I had moved my travel date up from August 4th to July 29th. If I had not, I would have been driving along that exact route headed towards the airport that day. As for my grandmother, May Abboud Melki, she took to her piano immediately after seeing her damaged apartment, with no words to express herself other than to play a tune of Auld Lang Syne before the 78-year-old mustered up the strength to think through how to move forward.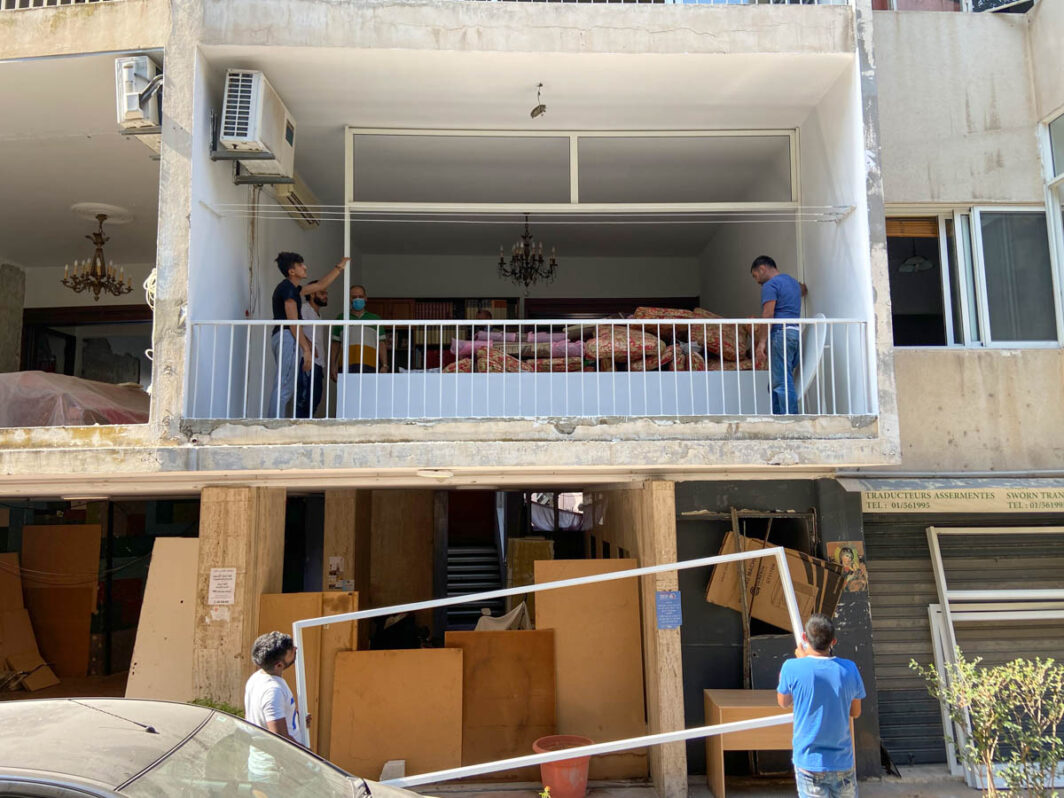 The Restore Beirut Initiative
On August 5th, teams from the Bekaa and the South of Lebanon came to support the response on the ground in Beirut. The response was organic, it was raw, and it was difficult because it was the first time that every person working was both a victim and a first responder.
Heart for Lebanon spent the first several days cleaning up debris, then began supporting churches and Christian schools that were affected, and any families connected to those institutions.
I'm thankful to say, that because of our partnership with Operation Blessing, your support quickly came through to help us in our efforts. You provided encouragement for us and vital disaster relief supplies to victims in need during this difficult time.
As families were referred to us by church members and affiliated schools, our "Restore Beirut" team assessed material damage to their homes, secured living spaces, and tried to restore a sense of safety. We ensured that all doors and windows of damaged apartments were restored for security reasons. One such family was Walid and Layla's family.
A team member told me the story from her recent visit to Walid and Layla's home: "During our visit, Layla was in her living room watching TV as she prepared a Lebanese dish for her family. When Walid started telling us about what happened that day, Layla started to get emotional, she got so emotional and repeatedly kept saying how she still cannot believe that her husband is alive. She said, 'He was so close to the explosion, it all happened in a matter of seconds. I called him several times, but he didn't answer so I assumed the worst had happened. Two hours later, I was breaking down, nothing was clear, the whole country was in shock, and watching the news wasn't giving me any answers, until my husband called suddenly. I thanked God a million times for protecting him. If you knew how close he was, you'd definitely understand what I went through.' We knew exactly how close Walid's work was to the explosion—it was only a few feet away from where nearly 2,700 tons of ammonium nitrate had just exploded."
Every family that the Restore Beirut team visited had a miraculous testimony to share, a story in which God protected them. The losses "should have been far greater" one team member said to me. "When you walk along every street and you hear the clinking of glass and the mass destruction that ripped through an entire city, and that was heard across the country, you cannot but declare it a miracle."
Reaching Out to Explosion Victims in Beirut
As referrals were made from church and school networks, the Restore Beirut team also started connecting with families in need as they moved about the city. Out of the 95 units that were restored by Heart for Lebanon, most of those connections were made by a Restore Beirut team member who noticed a family in need and asked if they could help.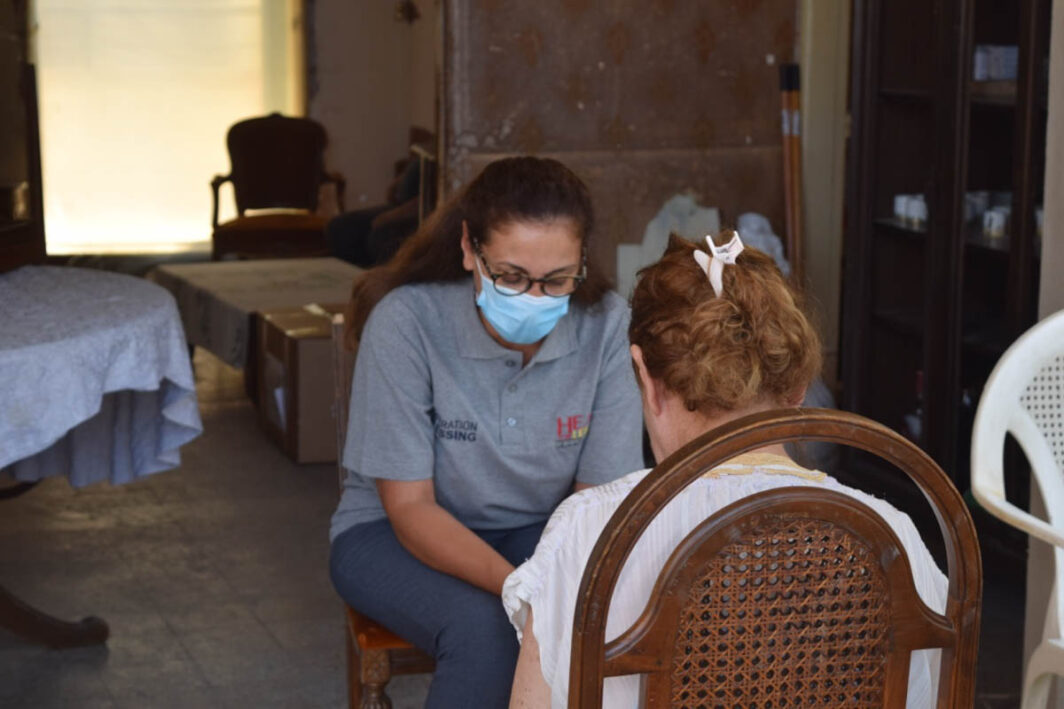 One such relationship was built with Carol. On August 4th, Carol was on the balcony with her 6-year-old granddaughter Katrina watching the flame rise from the Beirut port. A few minutes later, Carol heard what sounded like fireworks and explained to Katrina that there was nothing to worry about—until the explosion got louder. The next few moments stretched long and chaotic.
Carol said, "My daughter and I carried Katrina and ran downstairs trying to find refuge, we thought that a war had just started. Cynthia, my daughter, was barefoot, she walked over shattered glass for almost a mile. She kept on having surgeries to reconstruct the damage done to her feet until December 2020." Our team shared many visits, prayers, and conversations with Carol as we restored her apartment.
As for the team themselves, a week after the blast and after 7 straight days of over 10 hours of work picking up glass, and salvaging people's belongings from whatever was left, the Heart for Lebanon team gathered and sang songs of praise in a damaged living room. A team member shared with me that it was at that moment that the tears came rushing through. The shock had subsided, and the tears did not stop.
Camille Melki, Heart for Lebanon founder said, "We should all allow ourselves to cry, but the hardest thing for me has been my inability to do so. I have been asking God repeatedly, when God? When will those tears come rushing down? When will I truly be able to feel again after this paralyzing shock?"
The tragic stories continued with every apartment the team went into. However, it was as if the Lord had gone before them and people's hearts were somehow ready to give praise to God for the miracles of whatever they had left. After doors and windows were sealed, churches were rebuilt, and schools became functional again, the Restore Beirut team continued to minister to the needs of these dear people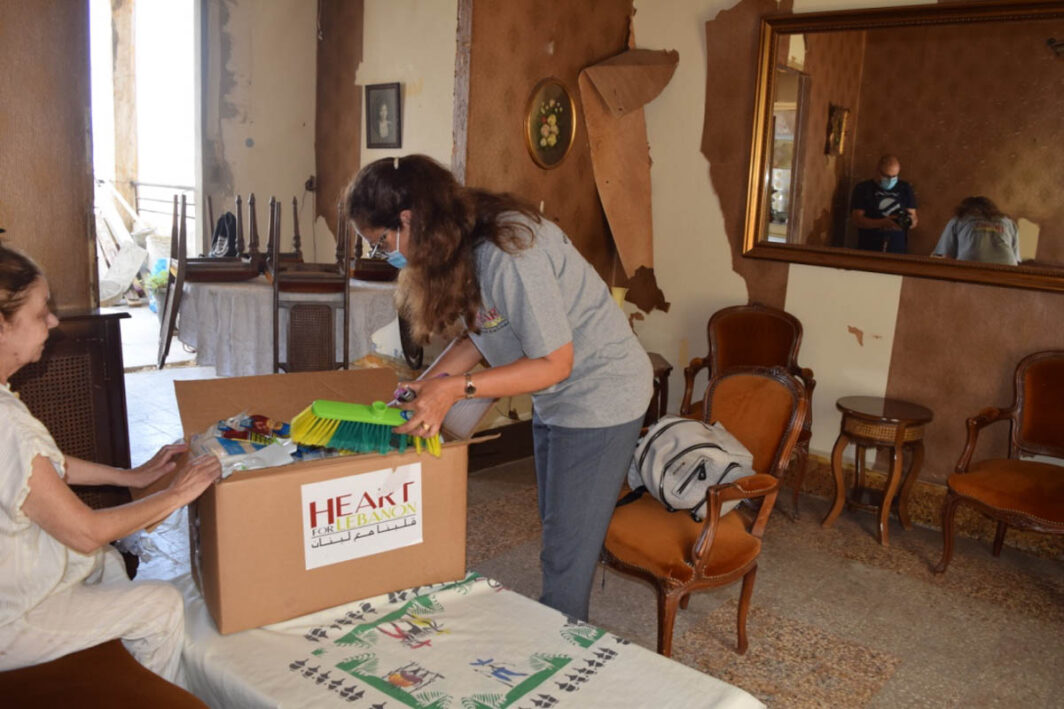 Beirut Blast Anniversary – August 4, 2021
Today, there are so many ongoing needs—many created or exacerbated by these man-made atrocities and negligence. Today, Beirut has not been restored. Click here to learn more about the ongoing crisis in Lebanon.
But today, there are stories of God's miraculous encounters that saved lives. Today, for every survivor of the Beirut explosion, there is a story that points to God, the One who is merciful and who heals. Today, stories of restoration are not of windows and doors, but rather of people and souls.
It is hard to find goodness amid evil and hope in the midst of despair. The stories of tragedy from one year ago are still with us. However, with your help, our team showed the love of Jesus Christ in tangible and meaningful ways to hundreds of families. The people of Lebanon live to tell the heart wrenching stories of August 4, 2020, but also the miraculous stories of August 4, 2020—stories of Christ's abundant love, mercy, and grace.
___________
We at Operation Blessing would like to thank our supporters for reaching out to victims of the Beirut explosion with love and support. While the nation still struggles, your thoughtfulness and kindness helped to bring healing during those darkest of days.
*Names changed to protect identities