THAILAND – Grandma Aon has been raising her grandkids alone ever since their parents abandoned them. Six-year-old Malik is grandma's little helper.
She said, "Grandma loves me and my brother. She takes care of us. I love Grandma. I obey her and help her clean our house."
Grandma often provided for her grandkids by raising chickens until the flood washed away her poultry farm.
She told us, "I was very stressed. I have nothing to invest to buy more chickens. And I thought, who will hire me? I did not know what to do."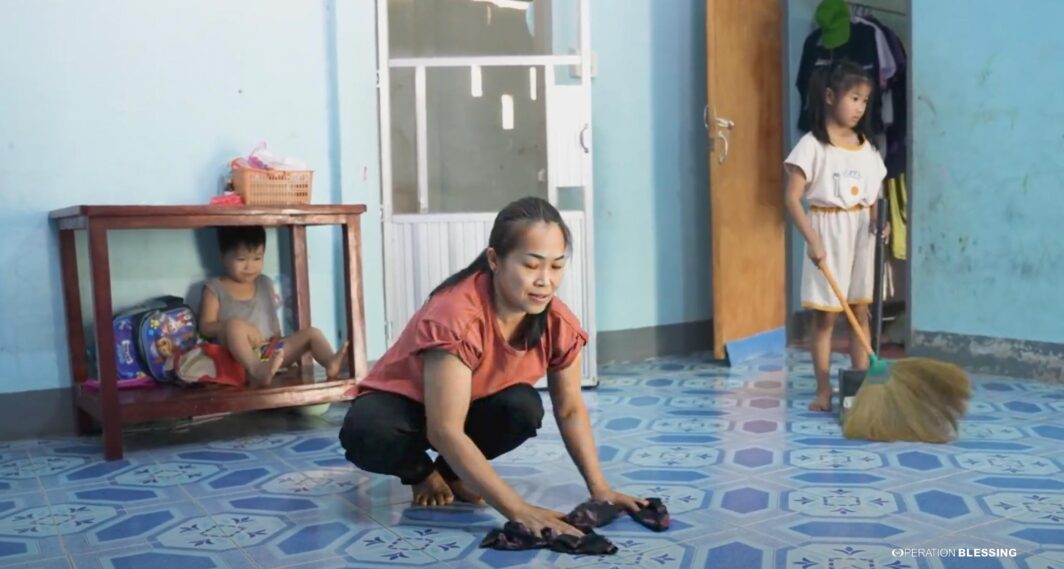 A Desperate Prayer for Help
Soon Grandma ran out of money to buy food. All she could afford to feed her grandkids was a little boiled rice.
Malik said, "Grandma put salt on the rice for me because we had no money. She told me to eat first, and she would eat what was left. When I saw Grandma cry, I would wipe her tears and say, 'Don't cry. God will be with us.'"
Grandma and Malik are Christians and prayed to God for help.
She said, "I prayed and asked Him to provide money so I could raise chickens again. One night I had a dream about some people from Bangkok who would teach me about raising something."
Chickens for Grandma: Operation Blessing Provides Livestock & Training
A few days later, their church pastor shared that Operation Blessing from Bangkok had offered to help. First, we provided her with the training she needed to run a business. Then we gave Grandma 300 chickens along with feed and other items needed to raise them. Finally, to help the family until their chickens were ready to sell, we provided some food supplies.
Malik celebrated, "I'm glad Grandma has work to do and has an income. I clean and fill the water buckets for the chickens, and I also feed them. I am glad that I can help her."
Grandmother's chicken farm is doing well. She's been able to raise and sell nearly 700 chickens since the business started. And she says that her family no longer goes hungry.
She said, "God answered my prayer. God has brought his people to care for me. I have peace and joy now. Thanks for helping us."
You can be part of more stories like this when you partner with Operation Blessing at www.ob.org.