Disaster Relief Kits with The Home Depot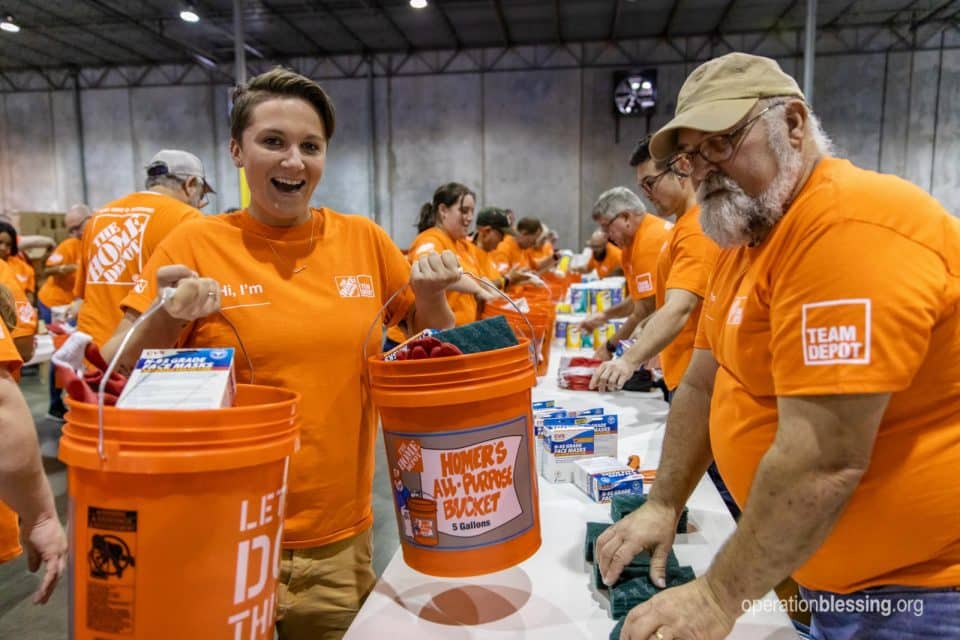 USA – Report from Anthony Lloyd, Senior Director of Operation Blessing's U.S. Disaster Relief
Operation Blessing joined The Home Depot at our Ocala, Florida Warehouse with one goal – assemble 3,000 disaster relief kits in record time. As the Home Depot associates began pouring in the front door, you could feel the anticipation build. This was going to be a day to remember.
The cheerful mood continued to grow to a crescendo during the famous Home Depot cheer! Annette, The Home Depot's spokesperson, shouted, "Gimmie an H." The associates rallied with a booming, "H." "Gimmie an O." The associates answered, "O." Then Annette tossed colorful pieces of laminated paper in the air while the team thundered each letter, spelling Home Depot. With a final shout Annette asked, "What does that spell?" "Home Depot!" The crowd erupted with applause.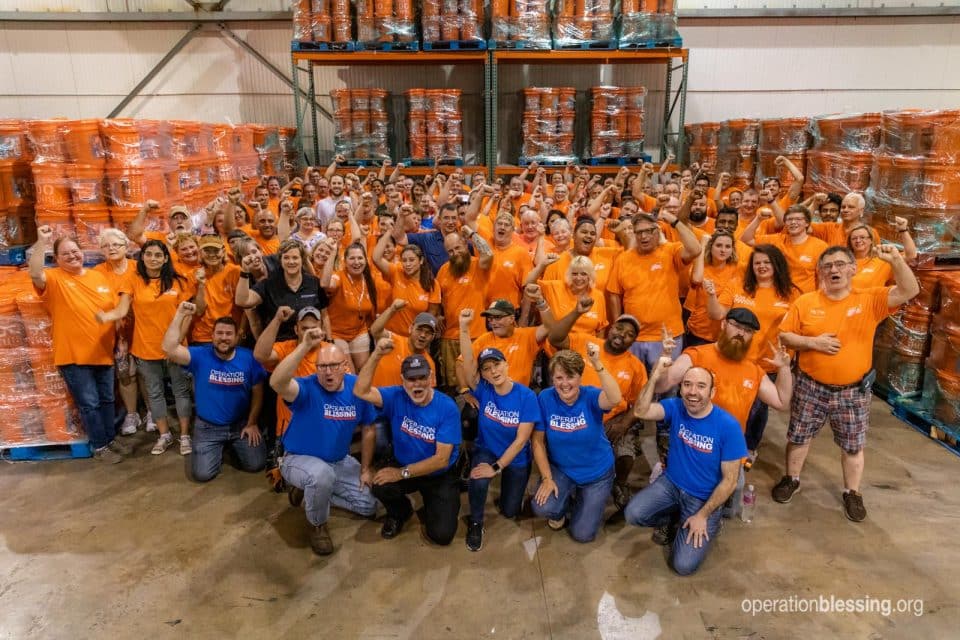 Next was morning orientation, where Shannan Hurley prepped the crowd for the day's events. During that time, Operation Blessing's Tom Wiley shared a story about his personal experience where these kits blessed families devastated by Hurricanes Florence and Michael. Then Ken Dixon, District Manager for The Home Depot, thanked the volunteers for their help. He also shared his own story about the importance of helping families in times of disaster.
As the volunteers hurried to their stations, ready to assemble their kits, I was left with these thoughts. This work is important, it matters. Even though we're about to have a lot of fun, the impact these kits will have on families is powerful.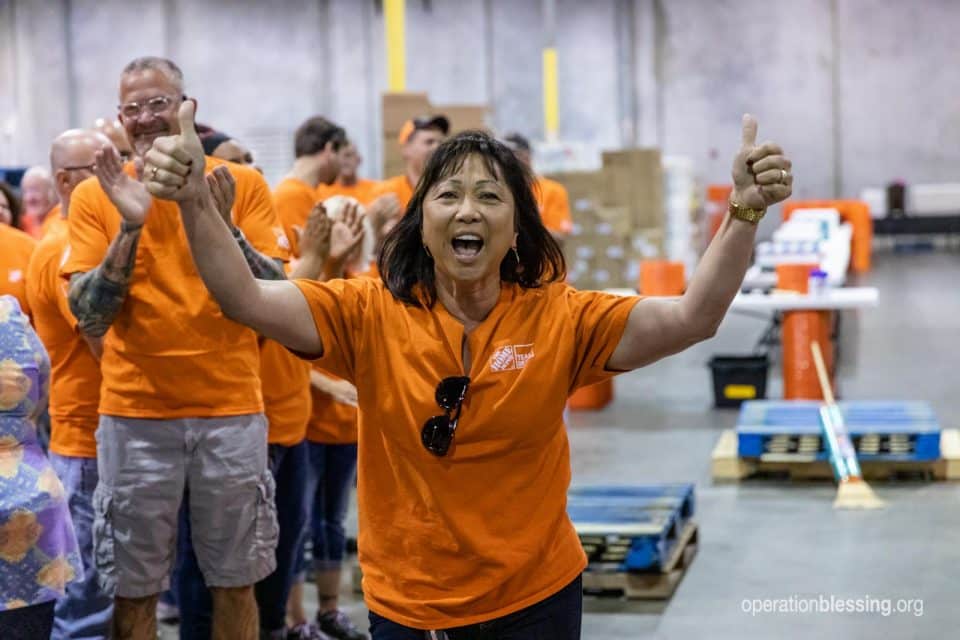 With music playing on the loud speakers and shouts of joy ringing in the air, 104 associates from 10 different stores in the north/central Florida area began their mission. Two teams, one goal – assemble 1,500 buckets first.
There was such excitement as the associates began filling those Home Depot buckets with disaster relief supplies you had to shout to be heard. Cleaning supplies, trash bags, gloves – that's what went in these buckets: items helpful for hurricane relief and flood relief. But what went on top was a message of hope, and love. Associates wrote messages on these bucket tops to remind devastated families there are people who care.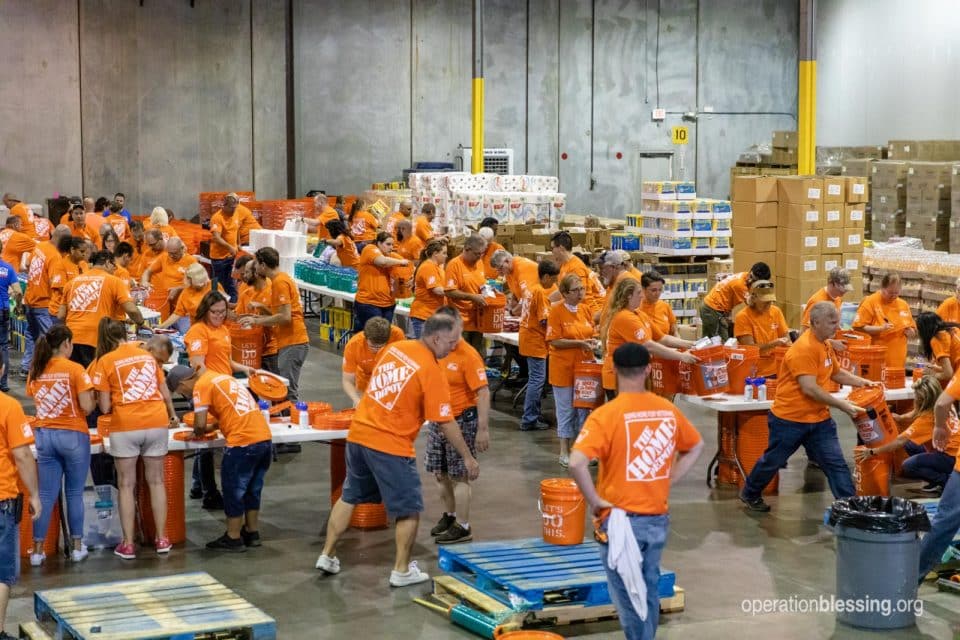 As buckets went whizzing by, associates hammered lids and shrink-wrapped pallet upon pallet of disaster relief kits. You could look across the sea of hard-working volunteers and see high fives and hugs amidst all the work getting done. This was a place of joy.
Even though Sheila Griffin's Team 1 came out on top, the spirit of camaraderie was in the air! After Team 1 finished, they graciously helped Kevin Walker's Team 2 get their kits assembled. With loud horns blaring and shouts in the air, they got all the buckets finished in only 1 hour and 5 minutes! We were delighted by how quickly these teams got this work done. And so were they – because next came lunchtime.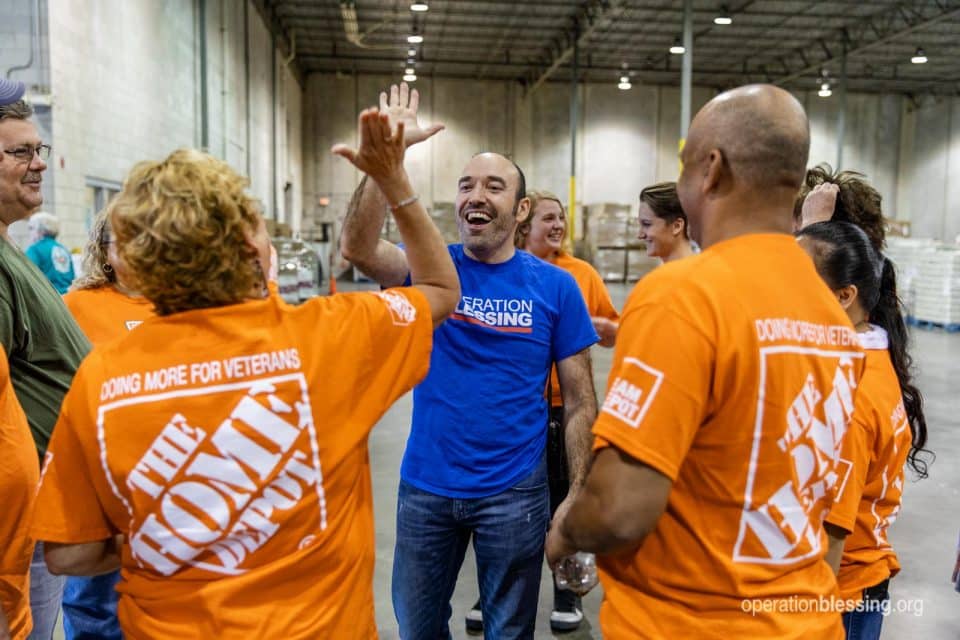 Thank you so much to The Home Depot and everyone who makes these events possible. And thank you to you for supporting Operation Blessing and making it possible for us to serve disaster victims in times of need! To help even more people, visit our disaster relief fund or sign up as a disaster relief volunteer. And enjoy more pictures from Team Depot Day here.
HOW YOU CAN HELP

Your support is critical to providing relief for the hungry, water for the thirsty, medical care for the sick, disaster relief for those in crisis, and so much more.
Click here to make an online donation today
and let your gift make a significant impact in the lives of those who urgently need it.

Print Friendly