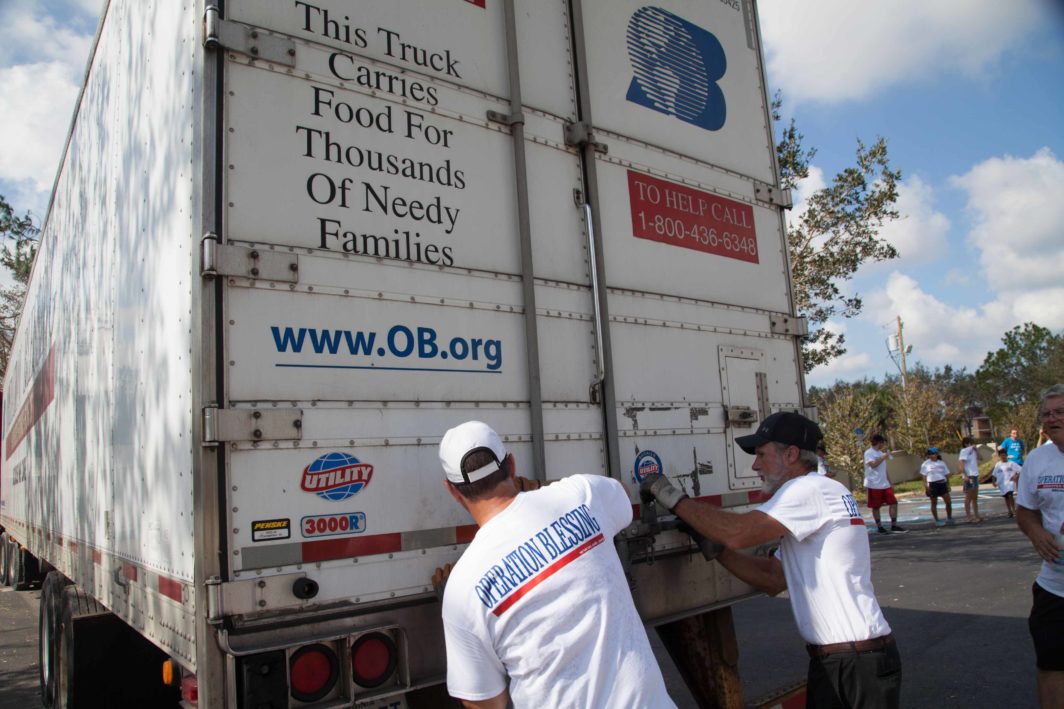 Operation Blessing partners are true heroes who reach out to hurricane victims during their darkest hours with compassion, love, and hope. Because of friends like you, Operation Blessing can offer hurricane relief to areas devastated by these storms. Your donations allow us to provide for immediate hurricane recovery needs including:
Emergency food
Water
Supplies for shelters
Medical care
Cleaning Supplies
Hygiene Facilities
Infant Care Items
Medications
Your donations also enable us to keep warehouses full of these supplies, ready to deploy at a moment's notice into areas struggling to restore normal life. You make it possible for our hurricane relief and recovery logistics staff to get care and support to the people who need it most.
Long-term Hurricane Relief Efforts
You also meet the hurricane relief needs after a storm damages an entire community. Often people forget about natural disasters after the initial media hype dies down. But Operation Blessing stays until the job is finished. Communities require extended care to undo the effects of storm surge, flooding and high impact winds. Your faithful friendship and help provide:
Damage removal
Home rebuilding
Help revitalizing the local economy
Assistance getting individuals back on their feet
---
Operation Blessing's Track Record of Hurricane Relief
Operation Blessing has a decades-long track record of successfully getting aid to victims and communities suffering after a hurricane. The following section provides information about our relief efforts during several recent noteworthy hurricanes.
---
For most of the world 2020 was a challenging and tumultuous year. Sadly, the hurricane season was no different. With a record number of hurricanes, the destruction during 2020 hit hard. In the United States many residents in the Gulf Coast faced storm after storm, with little time to recover in between. So many tropical systems formed, that they exhausted our normal alphabet names and moved into Greek letters. Even late in the season, hurricane activity threatened lives and destroyed property in Central America with Hurricane Eta and Hurricane Iota.
Operation Blessing responded to needs as they arose after the storms. The generosity of our partners helped us provide relief to victims of:
Hurricane Ian
Hurricane Fiona
Hurricane Isaias
Hurricane Laura
Hurricane Sally
Hurricane Delta
Hurricane Eta
Hurricane Iota
Below you'll find individual stories of how your kindness helped provide hurricane relief efforts for people in need.
Hurricane Ian
Hurricane Ian proved to be one of the most destructive and deadly hurricanes to hit Florida in recent times. A category 4 storm, it did immeasurable damage to many parts of the state. Flooding, power outages, and casualties were left in the wake of this powerful and ominous storm. Operation Blessing has been involved in many phases of the Hurricane Ian Relief effort. This included making preparations to help parts of Florida even before the storm made landfall.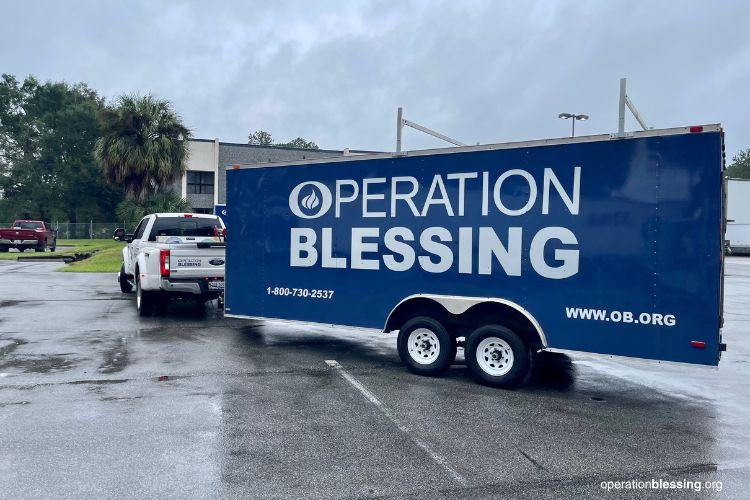 Preparations For Hurricane Ian
Even before a storm like Hurricane Ian hits, Operation Blessing begins preparing. Supply warehouses are stocked continuously so that food, water, and cleaning supplies are available to people when they need them. Our staff is trained and develops clear and efficient plans about how to reach the most people and utilize existing organizations to get assistance to them as quickly as possible. For Ian, Operation Blessing was on the ground in central Florida, beginning to prepare well before the storm made landfall. We mobilized staff and supplies so we could be ready to assist the minute the storm winds and flooding subsided.
As a result, we were one of the first disaster relief organizations on the scene. After a storm, people quickly find themselves in places of isolation and difficulty. Life is disrupted. Many are without power and trapped in their homes. Flooded roads block access to businesses, restaurants, and markets. Supplies are completely cut off. With a storm like Hurricane Ian, every second counts. Operation Blessing was able to start reaching people as soon as it was safe to do so.
Assessing Hurricane Ian Damage
One of the most difficult things to see after a major storm is its impact on families and individuals. The news often only shows very brief damage reports of destroyed homes and impassable roads. At Operation Blessing, we recognize that behind the battered homes are people who need help. Every flooded road means that a community is unable to get the food and supplies they need. Statistics cannot relay the true amount of difficulty on the ground during a hurricane recovery of this scale.
The damage from Hurricane Ian was considerable. As Operation Blessing staff began their relief efforts, they saw first-hand the extent of the damage in these communities. Endless landscapes of decimated buildings and homes foreshadow what will most likely be a long recovery. So much of the infrastructure that communities depend on to live has been inexorably damaged. Life may not return to normal for some time in the foreseeable future.
Hurricane Ian Disaster Relief
The story of Hurricane Ian Disaster Relief involves more than just going from community to community to relieve those with the greatest need. It is the story of kindness and gratitude shown to our staff who have been working to improve the situations of Floridians hit hardest by the storm. Linda Piper is just one of those stories.
Linda lives in Port Charlotte, Florida. During the hurricane, she and her dog hid in her bathroom, where together, they weathered the storm. As the winds blew, Linda reminded herself of God's promises. Thankfully, she and her dog survived the storm. Parts of her home did not. Bot the inside and outside of her house had been badly damaged.
Then Operation Blessing showed up to help. Staff and volunteers removed the debris and supported Linda in this difficult time. They helped her begin the early steps to recovery following the natural disaster damage from Ian.
Call For Hurricane Ian Volunteers
The lifeblood of hurricane recovery efforts depend heavily on volunteers. When we put out the call for Hurricane Ian volunteers to help us, we were overwhelmed by the response. Many selflessly relieved victims of Hurricane Ian's destruction. Without our volunteers, we would not have the ability to reach the number of people we needed to help.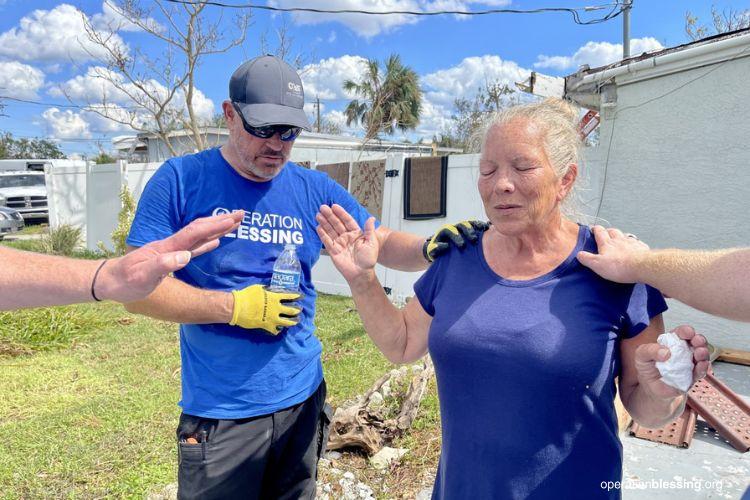 Hurricane Fiona
---
Hurricane Fiona was the most devastating hurricane to hit the island of Puerto Rico since Hurricane Maria in 2017. High winds and catastrophic flooding did substantial damage to the island. Many were left homeless and without power. As millions became isolated without access to resources, Operation Blessing stepped in to help with the relief efforts.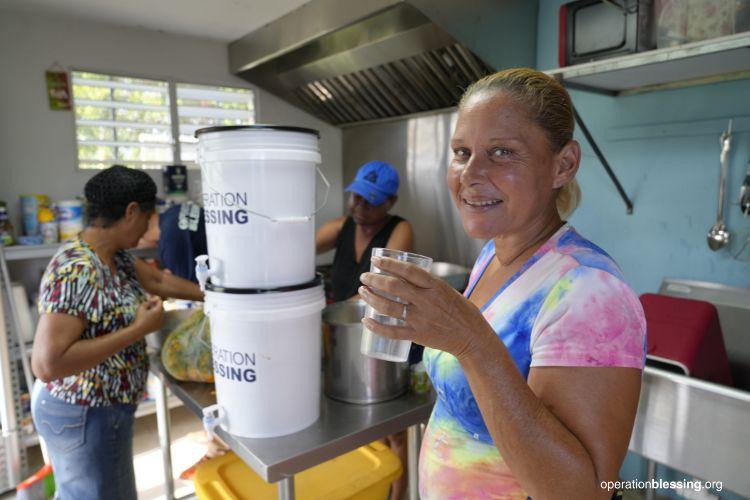 Hurricane Fiona Relief Supplies
After Hurricane Fiona struck, many people were without basic necessities like power and water. Millions had no light in their homes at night. Marketplaces and businesses were also darkened by the power outage. In the early days of the relief effort, Operation Blessing stepped in to give light to people who were without power. With the help of our local partners, we distributed solar lamps to people living in Ponce, Puerto Rico.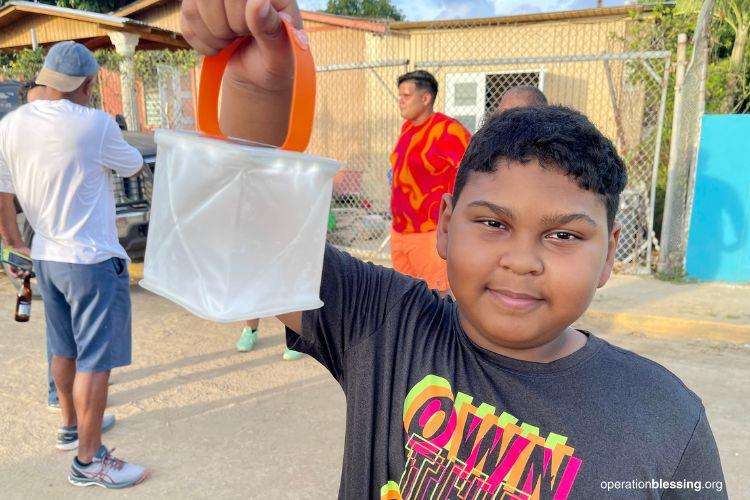 Providing Food For Hurricane Survivors
When a massive natural disaster strikes a populated area, it creates a number of obvious problems. But many times, these problems cascade into additional challenges that put people in even greater situations of need. In Puerto Rico, the powerful winds and flooding knocked out the power and shut down access to stores, restaurants, and other businesses. Many people could no longer cook in their homes. Some lacked adequate food supplies to do so even if they had power.
As a result, a number of people faced food insecurity. Under normal circumstances, these individuals had the resources to purchase and prepare food, but this was not the case following Hurricane Fiona. People could not purchase or prepare food. After the storm, Operation Blessing supplied local relief partners with what they needed to help fight food insecurity in the hardest hit areas of Puerto Rico, cities like Puerto Nuevo.
In Puerto Nuevo, many people were not prepared when the storm hit. The situation escalated when combined with lack of power and lack of access to supplies. Many people who normally had jobs, supplies, and access to food preparation facilities faced hunger. The situation overwhelmed local nonprofits. Then, Operation Blessing came alongside a local nonprofit to supply them with the supplies they needed to feed people who were hungry due to the effects of the hurricane.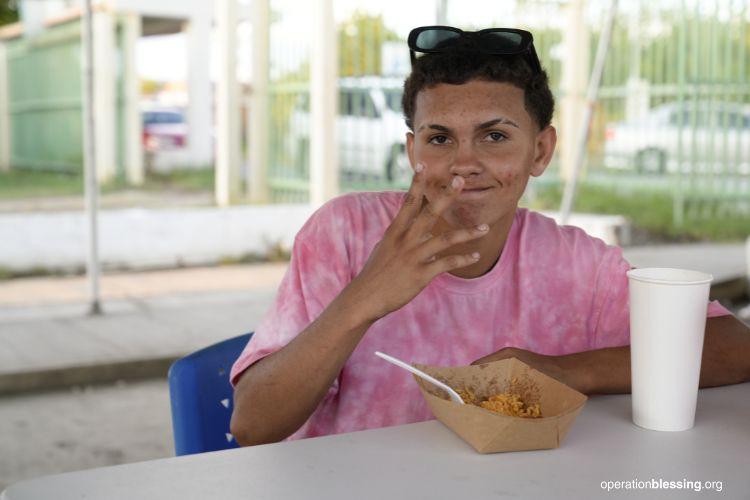 ---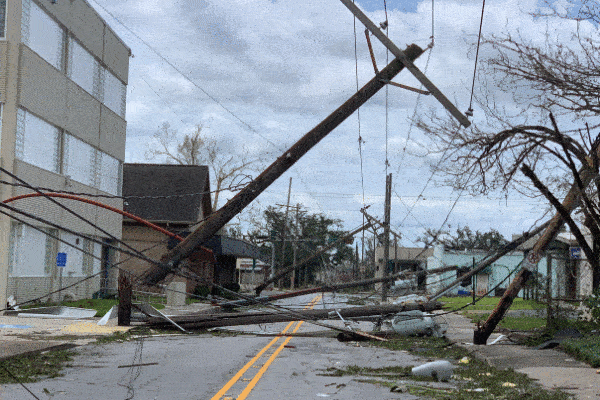 Hurricane Laura
One of the earlier hurricanes of 2020, Hurricane Laura, brought massive damage to the Gulf region of the United States. Laura stands as a good example of just how much has to be recovered after a powerful storm descends unto an area, and Operation Blessing remained on the scene long after the storm. These articles about Hurricane Laura show the human side of how your partnership with Operation Blessing helps people when they are facing such a struggle.
Hurricane Laura Preparation & Deployment
Due to the massive size of hurricane systems, our modern meteorological equipment allows us to predict the onset of these weather phenomena days, if not weeks, in advance. This enables many residents time to evacuate and prevent loss of human life. It also gives Operation Blessing time to deploy. While we prepare disaster supplies throughout the year, the period when a hurricane begins its approach offers us time to finalize those preparations and move into position to help the embattled area.
"Preparing for Hurricane Laura Disaster Relief" chronicles the efforts taken by a disaster relief organization during the calm before the storm. This part of disaster relief involves planning and moving equipment and supplies into position just outside the predicted disaster zone. This way we are able to begin providing relief to people in need expediently after the hurricane passe.
---
One thing that remained constant throughout the recovery after Hurricane Laura and other storms of the 2020 hurricane season was the need volunteers. Disaster volunteers form the backbone of our storm response. These faithful and compassionate individuals coming to the aid of people in need make a huge difference. From hauling away debris to distributing supplies, our volunteers provide tremendous support, love, and encouragement for embattled victims. This offers them a ray of light in their darkest hours, and gives them hope that life might actually return to normal.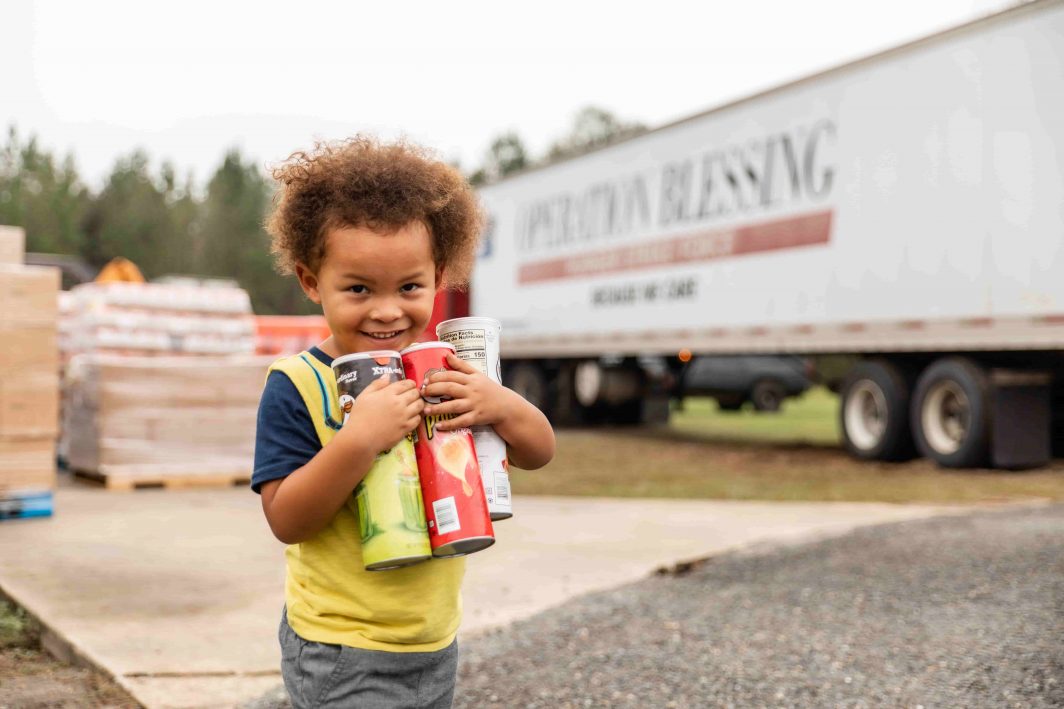 Hurricane Sally
Hurricane Sally struck in early September 2020. Like Laura it passed through the Gulf of Mexico, terrorizing residents in the Gulf Coast of The United States. As with Laura, the generosity of partners and friends like you provided us with the resources to help people in the region.
Here are some of the stories of how your love made a difference.
"Up Until Today, We've Been On Our Own."
If you ever had any doubt about what one donation, one volunteer, one prayer, or even one bag of ice could make, this article is a great read.
When Sally tore through the Gulf region, many people were on their own. Keep in mind this was 2020. Between lock downs, disease fears, and an active hurricane season, resources were pressed thin. The concern of spreading the virus made a disaster response particularly challenging. But thanks to you, Operation Blessing found a way.
"Up until today, we've been on our own." Pastor Josh Lipscomb said these words about his community in the Pensacola area. There, the vast majority of residents found themselves without power. And no power meant no refrigeration. Meanwhile, Florida is still hot and humid in early September. The combination of COVID and storm panic meant the grocery store shelves laid empty. Simply put, no refrigeration meant much of their food would be ruined. However, YOU did not let that happen. Your contributions showed up in the form of Operation Blessing Hurricane relief.
Our relief efforts provided many vital supplies, but most importantly, ice! This ice helped local families to keep their food from spoiling. You might not consider that a bag of ice could help someone in dire need, but it did. Such a small gift can make a huge difference.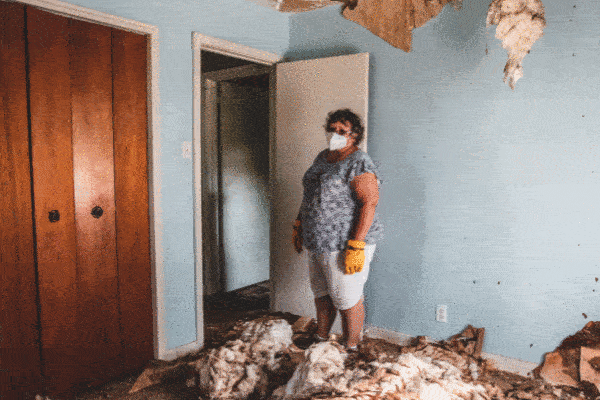 Hurricane Delta
Here's a quick background on hurricane names. The names are preset each season to represent each of the 26 letters of the alphabet. That's enough to cover all of the storms in a normal hurricane season. However, in 2020 so many hurricanes struck, that the later ones were actually given Greek names.
Once again, the communities in the Gulf needed help. They had already faced multiple hurricanes, and they were still battling COVID. When we asked for contributions and volunteers again, you did not hesitate. You were there to help. Your steadfastness provided food, water, and critical disaster supplies to people bewildered by a 2020 that showed no mercy.
Hurricane season 2020 did not taper off as the late summer or even the early fall months arrived. Storms Iota and Eta struck Central America later in the year. Particularly, Hurricane Eta at category 4, did untold damage to the region. Massive flooding decimated whole neighborhoods. People already in the chaos of the COVID-19 pandemic, found themselves without homes. Most had little to no resources. That is where you reached deep and continued to give.
Your love arrived in an overflow of blessings. Because of your kindness, we were able to provide essentials for hurricane victims who had lost nearly everything. We were able to provide:
sleeping mats
bedding
hygiene kits
diapers
food
clean water
Thank you for being the difference to Hurricane victims.
---
Hurricane Dorian in the Bahamas
Hurricane Dorian demolished the Bahamas. Tearing through the islands in 2019, the combination of flooding, precipitation, storm surge, and massive winds did more damage than any other storm to hit the islands since hurricanes have been recorded. Fortunately, Operation Blessing partners made it possible for us to quickly reach out with storm preplanning efforts, hurricane relief efforts, and of course our trademark long-term hurricane recovery initiatives.
By no means easy due to the challenge of getting supplies to the island, this relief effort was a labor of love thanks to a great outpouring of compassion and support from friends like you. Your gifts became blessings to the men, women and children suffering after Hurricane Dorian.
Hurricane Florence Relief
In September of 2018, Hurricane Florence made landfall in the Carolinas of the United States. As with many hurricanes, the amount of destruction and heartbreak proved massive. Hurricanes are so large it is difficult to conceive of storms that are the size of 2 or 3 states in width ranging thousands of feet high—or the resulting power and damage.
Nonetheless, every individual impacted by a storm like Florence has a story to tell. Here is a link to an article that talks about the impact of this storm on one family and Operation Blessing efforts to help people in need.
Relief after Hurricane Maria
Hurricane Maria lives in infamy after devastating the island of Puerto Rico in 2017. It's considered the worst storm to ever hit the island. This storm caused thousands of deaths, and it created the need for one of the most concentrated hurricane relief and recovery efforts in history. It left many residents without power and clean water for months, and the negative impact of the storm is still felt into the present day.
As our Operation Blessing friends and partners, you undertook the staggering effort to help provide solar lights, water, food, supplies and more to the people of Puerto Rico. The following article demonstrate the generosity and dedication of Operation Blessing friends.
Hurricane Harvey
Hurricane Harvey in 2017 did tremendous damage to Texas, as it devastated the Houston area with flooding and high winds. Your support of Operation Blessing provided extensive supplies and equipment to help those in need. These relief efforts are critical to bring stability back to a community after a hurricane.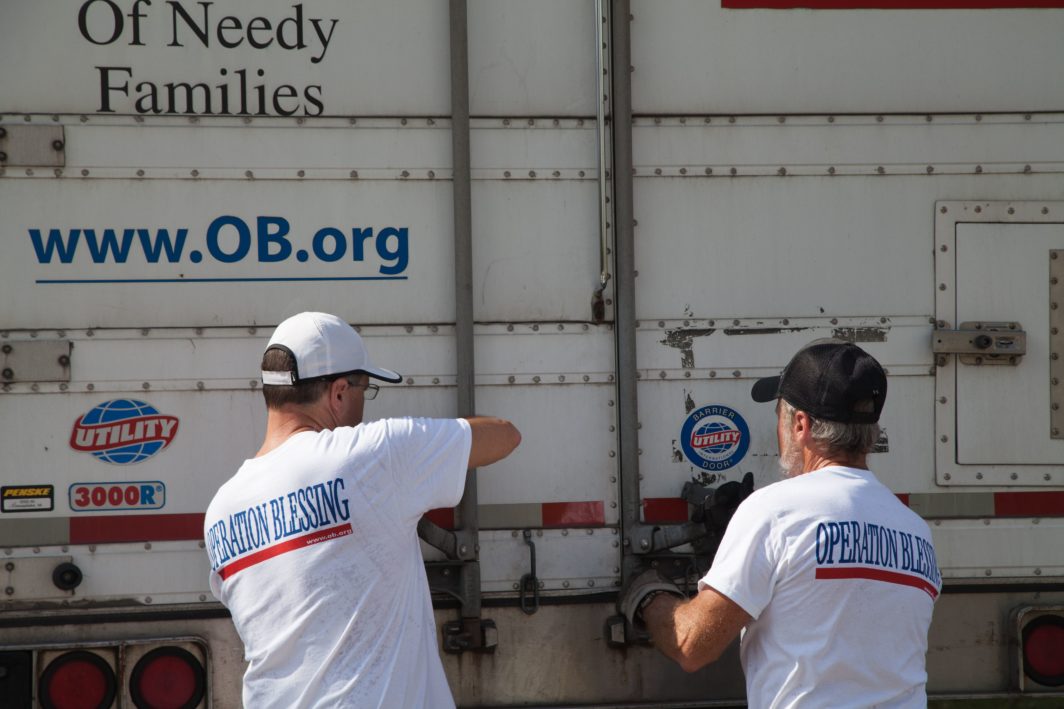 More Information about Hurricane Relief
Check out these additional resources about hurricanes, hurricane preparedness and hurricane relief in the age of social distancing.