EMERGENCY MANAGEMENT
Operation Blessing is known for our quick response, compassion and ability to meet the unique needs of a community during times of disaster. Our approach is to come into a community and ask, "How can we serve you? What is your greatest need?"
In the U.S., we have several areas of core competencies that include:
Coordinating volunteers and setting up volunteer base camp infrastructure
Transportation: Fleet of 19 tractors and 64 trailers
Volunteer Strike Teams including: Medical, Dental, Heavy Equipment, Food Management and Crane Strike Teams
Medical & Dental clinics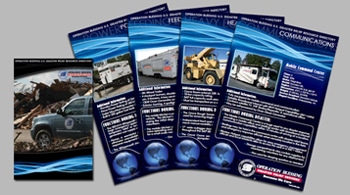 For more information on how you can partner with Operation Blessing during times of disaster, please contact us at 757.226.3858.
Click on the image to the left to download a pdf copy of our resource directory that showcases Operation Blessing's resources and the type of equipment we can provide to help serve emergency management and the community during times of disaster.
PARTNERING AGENCIES
Operation Blessing often joins arms with other Disaster Relief agencies in order to provide an effective disaster relief response to those in need. Together, we combine our unique skills and areas of expertise to provide strategic relief and hope to devastated families and communities. By working together, we can offer a coordinated response, avoid duplicating services, and build on each other's strengths, resulting in the best delivery of care and services for victims of disaster.

CORPORATE & STRATEGIC PARTNERS
Corporate & Strategic Partners are important to the success of Operation Blessing's disaster relief operations. Working together, we are able to leverage our combined resources and expertise to provide critical resources and hope to communities worldwide.