MEXICO – Glady's heart ached as she watched her young children, Emilio and Damari, struggle to survive without a reliable water source. The battle to find clean water in Mexico was all Glady had ever known. She had grown up in Montebello, a small village of 28 relatives in the Mexican state of Chiapas. For this small community, maintaining a ready supply of clean water was a lifelong burden. They desperately needed help from someone like you to find clean water in Mexico.
Glady was just 8 years old when she began helping her family carry water from a distant well— the only source available to them. The well was miles away and often difficult to reach. "As a girl, I started carrying three liters of water," Glady said. "The journey would take me one hour at least, and it was very complicated, full of grassy, uneven terrain, very slippery at times." Even worse—during the dry season,the difficult journey was often made in vain. The tired family, including little Glady, would reach the well only to find that it was completely dry. The family would return without any water to replenish their quickly diminishing reserves.
Still, returning with water was only half the victory. The well's water supply was greasy, dark, and contaminated with harmful bacteria. The Montebello community didn't know how to properly sanitize the water before drinking it or giving it to their children. Glady's son, Emilio, would often become sick after drinking the contaminated water. As a single parent, she felt helpless in the seemingly endless struggle to provide clean, safe water for her little ones. The weight of obtaining this essential necessity for survival seemed a permanent fixture in the life of Glady and her community. Montebello needed a miracle.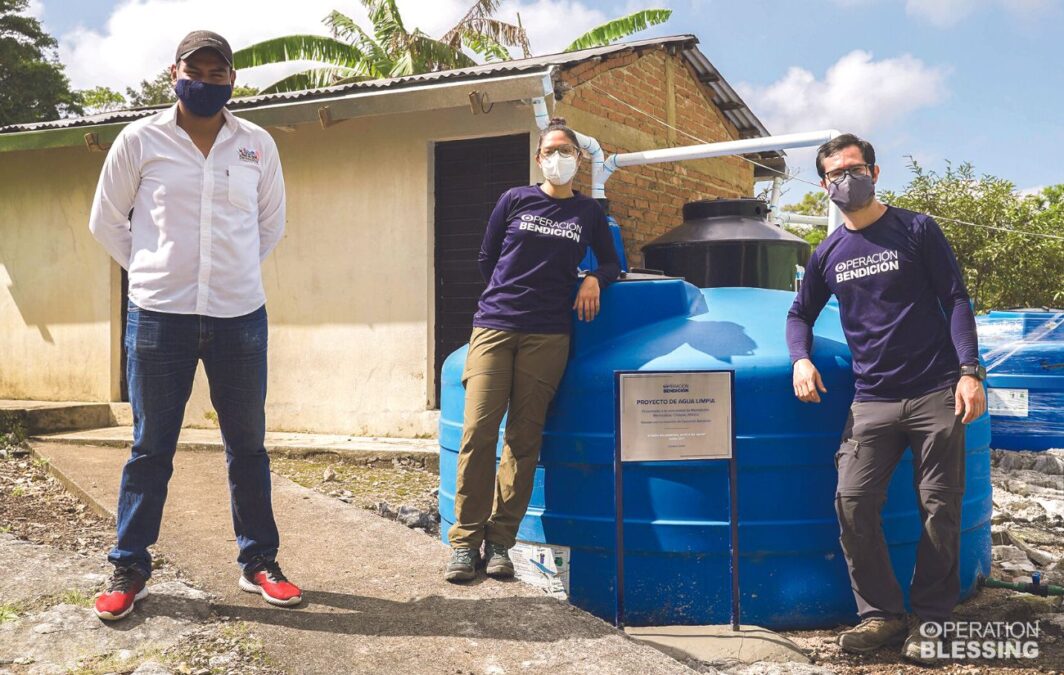 Operation Blessing Helps Glady Find Clean Water In Mexico
When Operation Blessing became aware of the hardships endured by the precious families of Montebello, we worked quickly to bring much-needed help to Glady and her neighbors. With help from friends like you, we provided a rainwater harvesting system for each family. Then, your faithful support empowered Operation Blessing to educate the community on how to properly treat their water supply. A water committee was formed, and the women of Montebello were encouraged to participate in learning long- term solutions that would guarantee safe water for themselves and their families.
Your generous giving not only brought a new standard of health to Montebello but also helped Glady grow into a leader within the community. Once shy and reserved, Glady became secretary of the newly formed water committee. Now, she joins Operation Blessing managers while visiting new communities benefiting from similar water programs to share her knowledge and experience. Glady even joined the board of counselors regarding water in her regional government!
"It's been marvelous," Glady said. "I don't struggle with lack of water anymore, and I also gained confidence to express myself."
The kindness of friends like you was the miracle Montebello needed. The impact of your generosity has been truly life-changing for Glady, her children, and their precious neighbors. You helped supply this community with the essential resources they need to survive and gave mothers like Glady the opportunity to thrive. The tears that once filled her eyes as she struggled to provide have been replaced with laughter and hope for a better future for her children.