KENYA – A small, one-room mud hut—that's all Dorcas could provide for her children. They cooked over an open fire, then slept on a blanket on the floor beside it. Smoke often burned their eyes. Dorcas' back and ribs ached from sleeping on the hard, uneven ground. "We could not afford a good house, because we had no money," said Dorcas. "I am all by myself, and no one is helping me."
Then the walls of the mud hut began to crumble. Rain seeped through leaks in the roof, and the cold wind blew through cracks in the walls. Covering the cracks with cloth or patching them with more mud proved only temporary solutions. Dorcas felt helpless, but what else could she do?
"It makes me sad when I see my children coughing because of the cold," she said. "Because I cannot afford to take them to the hospital for treatment." Dorcas wanted to give so much more to her three children still living at home—William, 16, Beatrice, 8, and Kitonga, 6. But as a single mother, there was no way.
She often walked for hours, searching for work, and she used what little she earned to buy food. Nothing remained to repair the walls or save up to buy a better house. So every day she sent her children to school, hoping that eventually they would grow up and find enough work to better their lives."My prayer every day is that God may give me a good house for me and my children," said Dorcas. "Then I can work and provide food, school fees, and other needs for my children."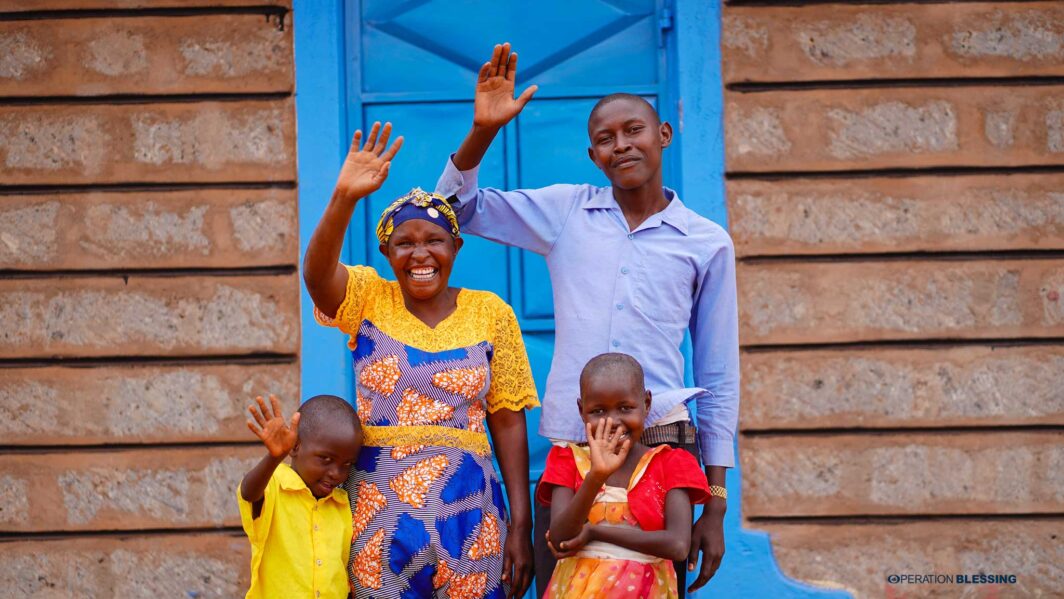 Lack Of Access To Clean Water In Kenya
Another problem they faced was access to clean water in Kenya. Some days Dorcas left early in the morning with a five-gallon can to draw water from a dam a few miles away. The journey took her five hours by foot and left her exhausted. She couldn't look for work on days she gathered water. Then, on top of everything else, her daughter Beatrice got sick from the water. "It was greenish in color, but it's all we had," said Dorcas. "When I took her to the clinic, I was told she had an amoeba because of drinking dirty water."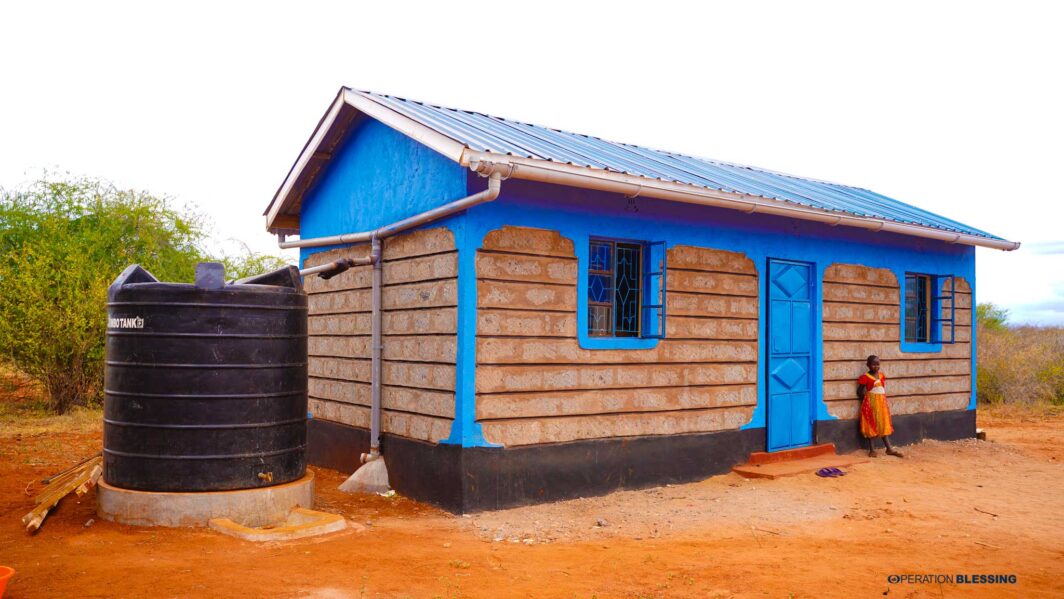 Then we heard about Dorcas' struggles—and friends like you responded and began building her a new home. But that generosity didn't stop there. Operation Blessing partners gave her a new kitchen, a bathroom, and beds. "The house is warm, and there's no dust either," said Dorcas. "It feels great to sleep on a mattress in a bed. I no longer have backaches. No part of my body is aching."
Supported by our caring partners, we also installed a rainwater harvesting system with a large tank and a filter so that Dorcas would no longer have to walk such a long distance to fetch dirty water. She and her children now have access to safe, clean water at home to drink without getting sick.
Dorcas is grateful for everything that the love and generosity of friends like you provided. "I prayed to God, and indeed, God hears and answers prayers. He answered my prayers, and I love Him so much!" she said. "May God bless you! Thank you for your help. It's God who made this happen through you!"