FLORIDA – Hurricane Ian wreaked havoc on the Florida coast, devastating homes and businesses. After the hurricane, Florida resident Alexandria returned home to find complete devastation. Now Operation Blessing is there to help with Hurricane Ian recovery.
"There are trees and cars in the roadways. There's a lot of debris and stuff everywhere. But when I actually drove to Fort Myers—that's when it really sank deep," Alexandria said. "There is about two and a half feet of water throughout my entire home, and it's not livable anymore."
Operation Blessing's disaster relief efforts include partnering with local churches to distribute cleaning supplies, food, and water. These items are critical to people who now find themselves homeless or without power.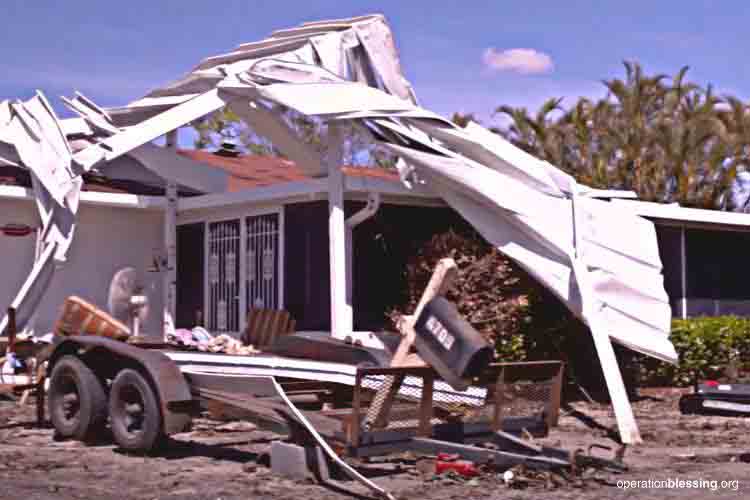 Providing Supplies to Help Recover after Hurricane Ian
"Receiving the bucket from Operation Blessing was just such a blessing! It took a huge weight off. The last thing I need to think about is cleaning supplies and trash bags and how I am going to get this stuff," Alexandria said.
She continued, "The smell was rancid, because the ocean water had sat in there for days before I could even get to my place. So the masks were perfect. The gloves were perfect, because most of my belongings were wet that were like three feet underwater."
As Alexandria went through the items our generous Operation Blessing partners provided, she was excited to use each product. "I could use every single thing in that bucket, and it was useful and needed and of good quality," she said.
With the generous support of Operation Blessing partners, our disaster relief teams are committed to giving Florida families what they need right now, as they take their first steps toward recovery.
Alexandria said, "To all the partners and Operation Blessing, I just want to say thank you, genuinely, from the bottom of my heart. What you do matters! So I just thank you; you're a blessing."
Visit ob.org/obdisaster to help victims of disaster now.
To volunteer with Operation Blessing as a disaster relief worker in Florida, visit ob.org/volunteer.