UNITED STATES – Thank you for reaching out to disaster victims of deadly tornadoes in Mississippi and Arkansas. Dozens of deadly tornadoes struck the United States this spring. First an EF-4 barreled through Mississippi for 170 miles. Then a week later, more tornadoes devastated the South and Midwest. All together they took over 60 lives and destroyed countless homes.
Thanks to your faithful support, we were able to quickly launch a disaster team to Mississippi, and then another one to Arkansas shortly after the second round of deadly storms.
In Mississippi, we met storm survivor Minnie, who compared her recent frightening experience to past events. "We went through storms, but nothing like this. It's a lot to take in. All of a sudden it just went quiet—I mean pin-drop quiet," she said as she fought back tears. "We didn't even have time to get down. It was just like—boom! And we all hit the floor right there in the hallway."
She was quick to acknowledge the hand of God in their miraculous escape. "He spared us!"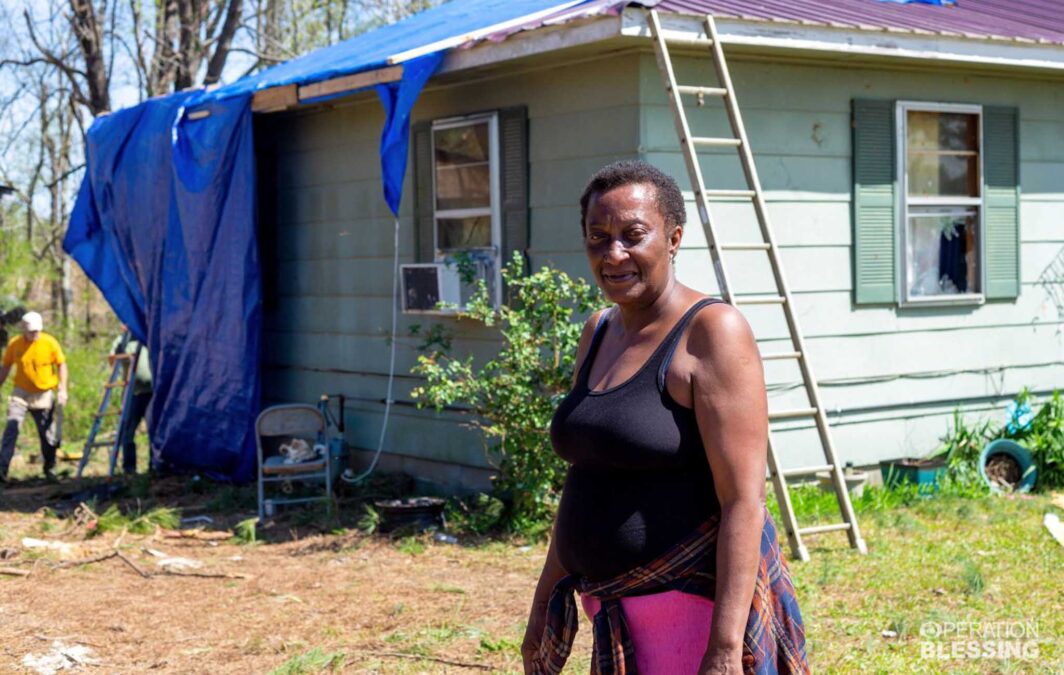 Yet, although her family members survived the storm, they struggled from the trauma afterward. "Right now, we need help," Minnie said. "You know, we need people to help us. First of all, we need prayers. We need each others' prayers."
You made it possible for Operation Blessing to send relief items to the affected areas, including water, emergency meal kits, and cleaning supplies. With your help, we deployed teams to both Mississippi and Arkansas. Between the two hard-hit areas, Operation Blessing was able to organize volunteer teams and offer hot meals, supplies, debris cleanup, chainsaw work, and roof tarping.
Our team helped Minnie's family to clear up a tree and debris from the storm and coordinated re-tarping her roof. She's so grateful to you for your love and assistance. "I just thank God for you, because you didn't have to do it. You could have been doing something else. But He sent you our way, and we thank you—we thank you so very much for that."
Generous friends like you are offering hope to Minnie and others who have suffered so much. We offer you our sincerest gratitude for being there for them during this difficult time.