INDIA – There's no question that coming alongside budding entrepreneurs can change lives and transform communities. In India, where approximately 70 percent of the population lives in villages, rural women play an essential role in supporting their families and communities. Yet all too often, they lack the support needed to help them break out of poverty.
That's where Operation Blessing microenterprise and skills training projects—along with your support—come into the picture. These special projects focus primarily on rural women in India, because they struggle the most among the poor. With the help of these groups, women have an opportunity to empower each other through encouragement, education, and financial assistance to achieve their goals for a better future.
Women Like Deepa For Example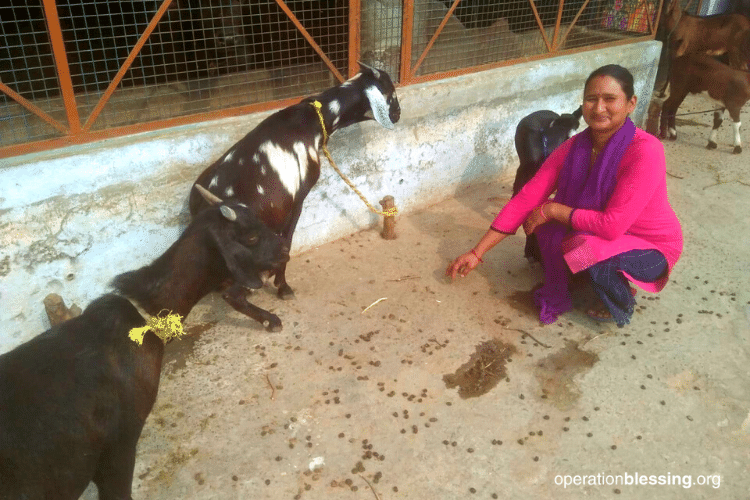 Deepa is a young wife and mother who lives in the remote village of Khatima in northeastern India, a region that's crossed by the Himalaya mountains. Her husband doesn't have a steady income, and their two-acre farm can't support this family of six. Watching her family struggle for years, Deepa knew she was their best hope.
Microenterprise And Skills Training Projects In India
Today, thanks to the generosity of friends like you, Deepa and her family are benefiting from skills training that has empowered her to run a small dairy farm. Along with the in-depth education on how to oversee her farm, Deepa has learned bookkeeping and other essential skills to run her business.
A small loan allowed her to buy two buffaloes and two goats, and within just a few months she was selling milk in her village — enabling her to help support her family and begin repaying the loan. She has also started growing organic vegetables on their property and making use of composting, to increase the quality and yield of her crops. Working with Operation Blessing has given Deepa and her family so much hope for the future.
"I am grateful to the field coordinators for the training I received under the Operation Blessing projects," Deepa said. Deepa is a shining example of what microenterprise and skills training projects in India can do to help the lives of people in need.
Our extraordinary partners made it possible for Deepa to lead the way in her village, change her family's future, and be an inspiration to her community. Thank you for making such a huge difference for these precious families in India!