PERU – Digna could feel it coming on—the telltale wave of fatigue, the shortness of breath—as she went about tending sheep and chasing her 2-year-old across the field for what seemed like the tenth time. For this young mother accustomed to physical labor and walking everywhere, these symptoms said one thing loud and clear: She was sick. And the nearest city was well over an hour's walk from her town.
San Jeronimo de Ullagachi is a lovely place with kind people, but for most of Digna's life it didn't have a health center. If residents became ill, they dealt with it themselves or braved the long trek to the city of Puno—where they arrived exhausted. "Every time I was sick, I would walk for hours," Digna said. "The health center was very far away. When I got there, I would feel worse."
But a few years ago, the situation changed for the better. Operation Blessing had seen the need in Digna's community, and compassionate friends like you helped fund the refurbishment of a local building, turning it into a fully equipped health center in Peru serving several communities in the area.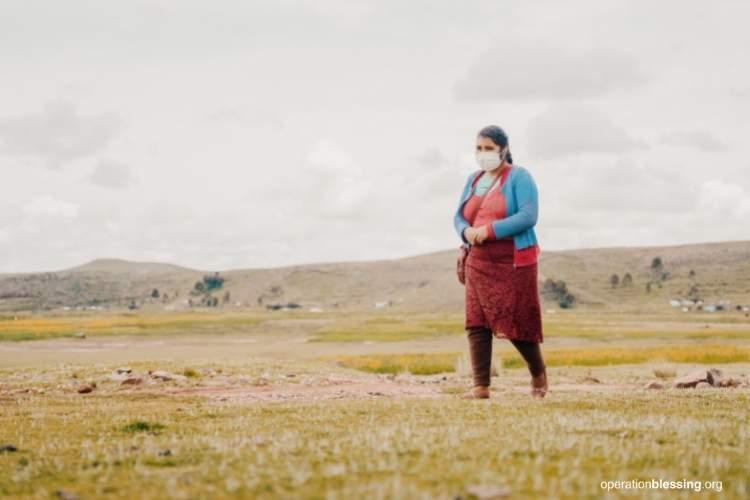 Facing Sickness With A Community Health Center In Peru
Now, Digna and others can receive quality care from competent health personnel right in their back yard. That means Digna and her little girl can face sickness without the overwhelming prospect of traveling for miles and further depleting their energy.
So when Digna wasn't feeling well this time, she just paid a visit to San Jeronimo Health Center.
"I had a fever, and my throat hurt," she shared. "They told me I had bronchitis. I was sick for days." But instead of being worried, Digna was thankful. "Now I don't have to go to another district for help."
Before the new center was built, seeking medical care would take Digna's entire day. On this occasion, however, she was immediately diagnosed with acute bronchitis—and you helped provide the free medication for her treatment. She said, "When I went to the health center, I knew that I would be fine. The doctor was nice; he told me what was wrong and what I had to take to feel better."
A couple of weeks later, Digna went back to the health center for a checkup and all was well. She offered her heartfelt appreciation: "Thank you, Operation Blessing! I don't have to walk for hours anymore. If my Sofia gets sick, I can take her by walking a few steps. I feel better now and thank God for all of you, because this is a lot of help for everyone here in San Jeronimo."