WORLDWIDE – Operation Blessing partners are speeding relief, comfort, and hope to millions around the world. Sometimes, however, getting to where the need is greatest can be an enormous challenge. Undaunted, your Operation Blessing teams use whatever mean necessary to transport food, medicine, and other essential supplies to the remotest villages and harshest disaster zones.
Here are just a few examples of the lengths Operation Blessing will go to bring your help to those in need, utilizing a diverse array of transportation methods and vehicles.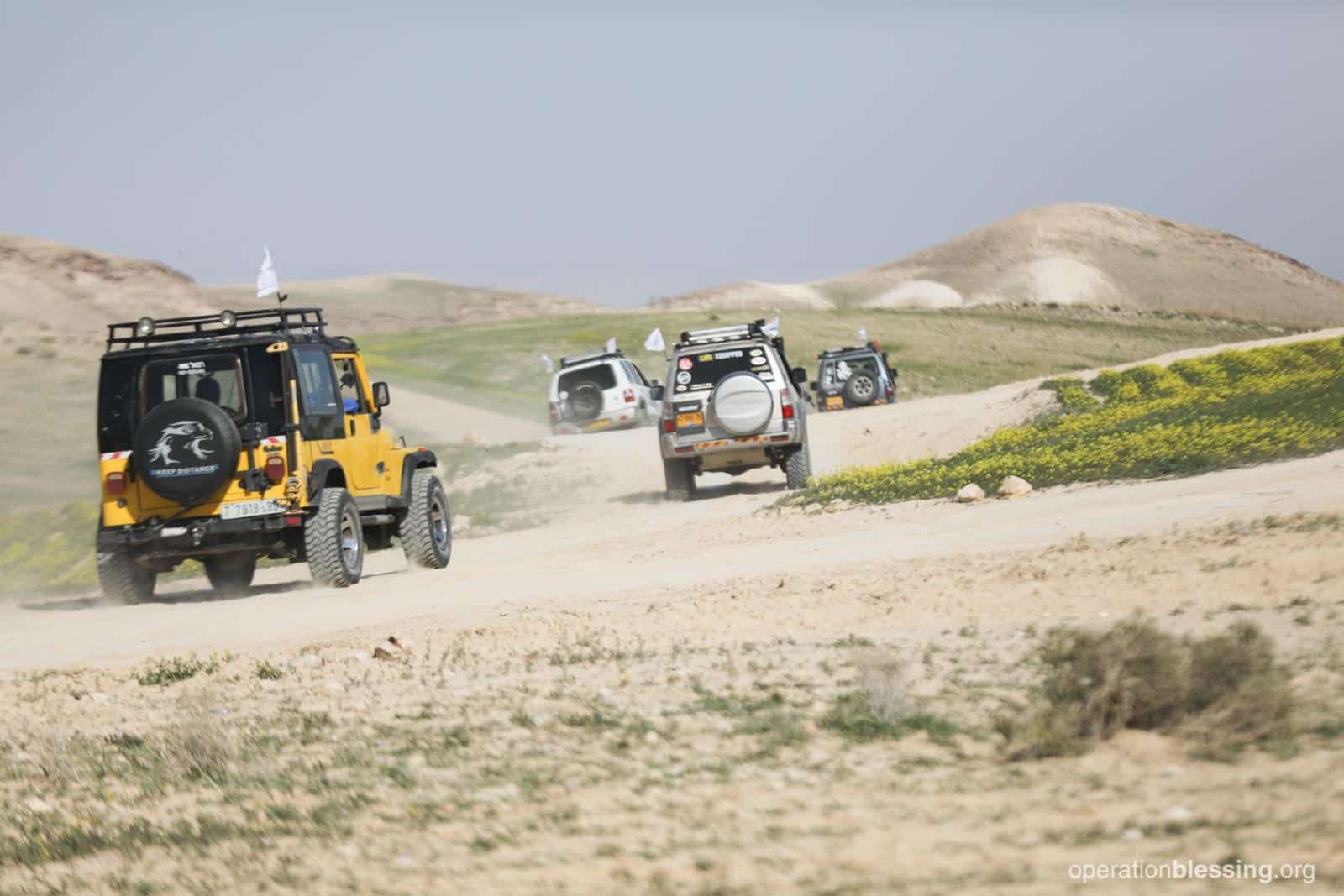 Reaching the Bedouins in the Judean Desert
Struck by drought, two Bedouin camps in the southern hills of Hebron were facing a severe food shortage. Operation Blessing enlisted the help of a local 4×4 club in Jerusalem, and soon a convoy of rugged off-road vehicles were making their way across the desert laden with supplies. In all, Operation Blessing was able to deliver enough food to supply over 800 people for an entire month.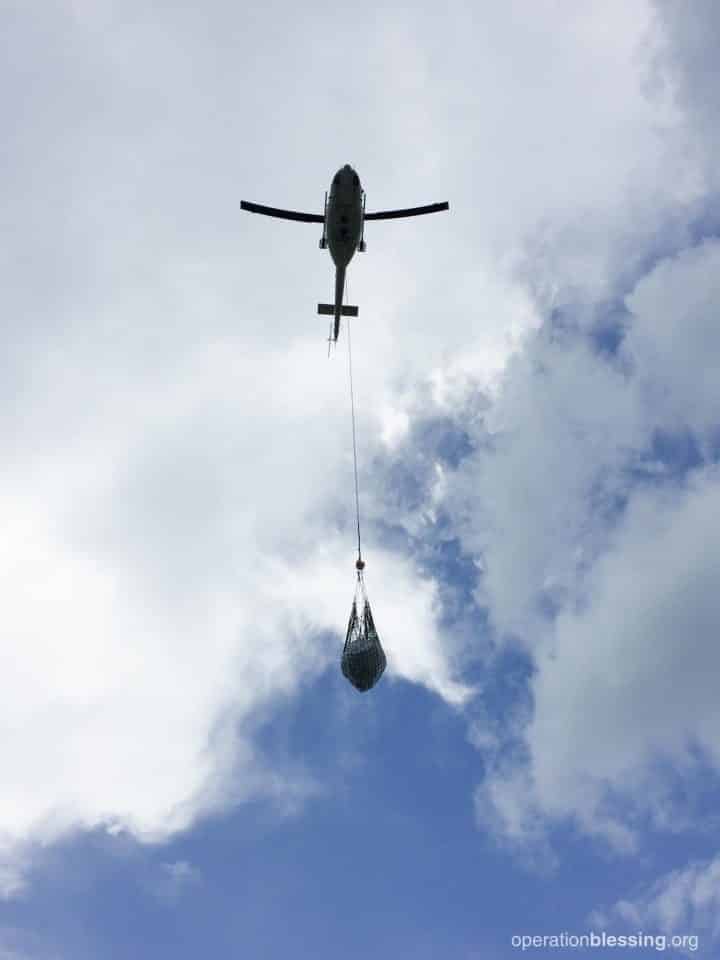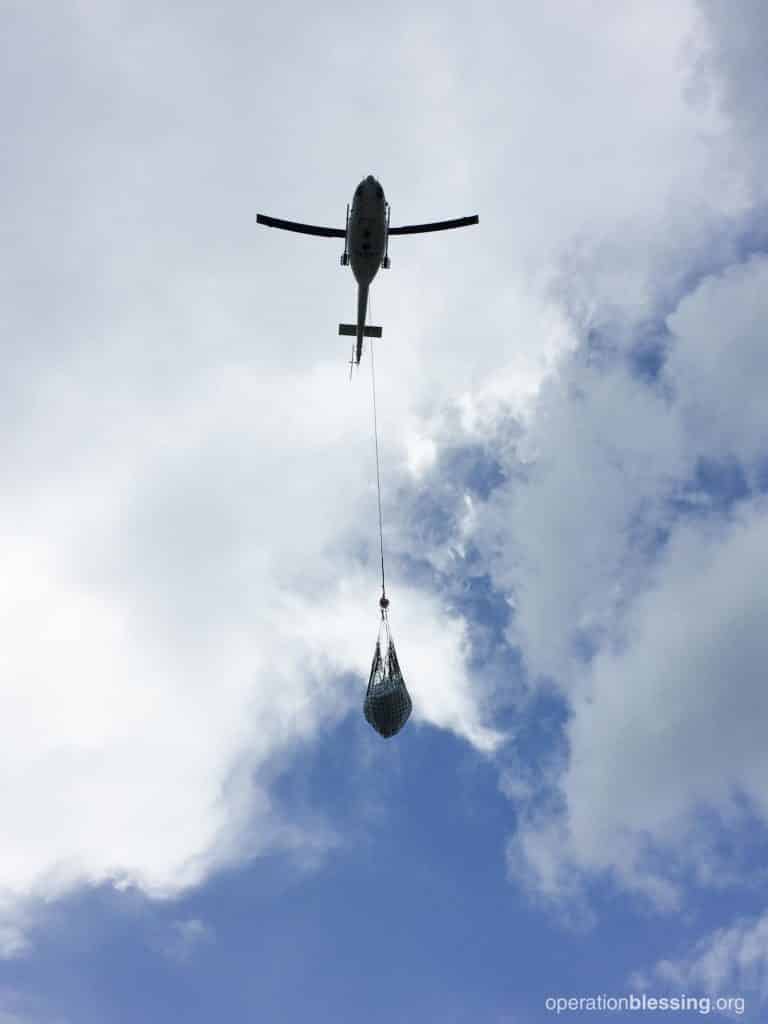 Help from the Air in Haiti
After Hurricane Matthew made landfall in Haiti as a category 4 storm, Operation Blessing took to the sky to bring relief, chartering a small plane to help survey the damage from the air and bring relief supplies to the badly damaged town of Jérémie. Though the tiny aircraft's small payload only allowed about 30 extra pounds of supplies, OBI made maximum use. One case of amoxicillin, containing 144 bottles of antibiotics, accounted for 22 pounds. Eight pounds was given to two chlorine generators and the salt required to run them for one week — enough to treat 68,000 gallons of drinking water!
Elsewhere in Haiti, the remote community of Bwa Pikan was cut off from the outside world and in desperate need of relief. Thanks to partners like you, Operation Blessing secured a helicopter and loaded a cargo net with food, hygiene supplies, chlorine to disinfect water, seeds to restart crops, medical supplies, and more. In all, the helicopter made three trips from Port-au-Prince to bring these essential supplies to the people of Bwa Pikan.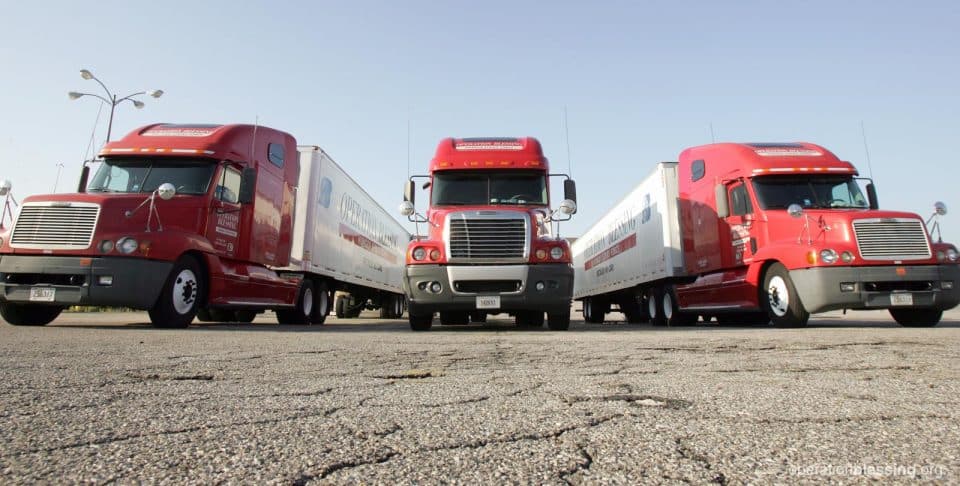 Hunger Strike Force
In the United States, Operation Blessing's Hunger Strike Force boasts a fleet of semi-trucks that are constantly transporting tons of food, hygiene items, and more to our network of food pantries and other ministries across the country. These trucks deliver millions of pounds of food to families in need each year thanks to partners like you.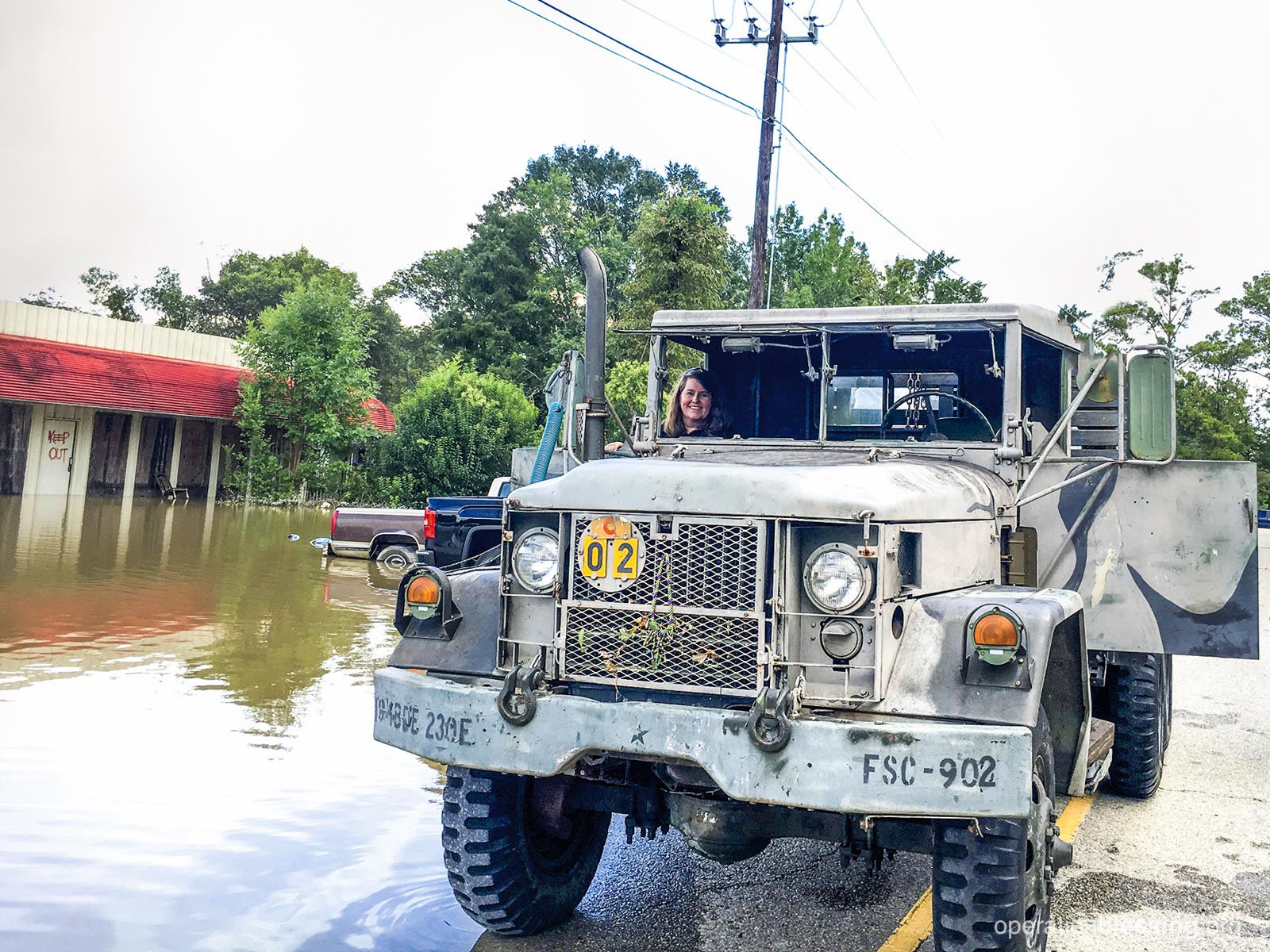 Driving Through Floodwaters in Louisiana
In August of 2016, prolonged rainfall caused widespread, catastrophic flooding across much of southern Louisiana. Operation Blessing's U.S. Disaster Relief team responded immediately, but the floodwaters were still so high that many areas remained virtually inaccessible. To get through, the team enlisted the use of a massive 6X6 Army truck. The truck plowed through the floodwaters to reach isolated communities with relief supplies, including much-needed drinking water.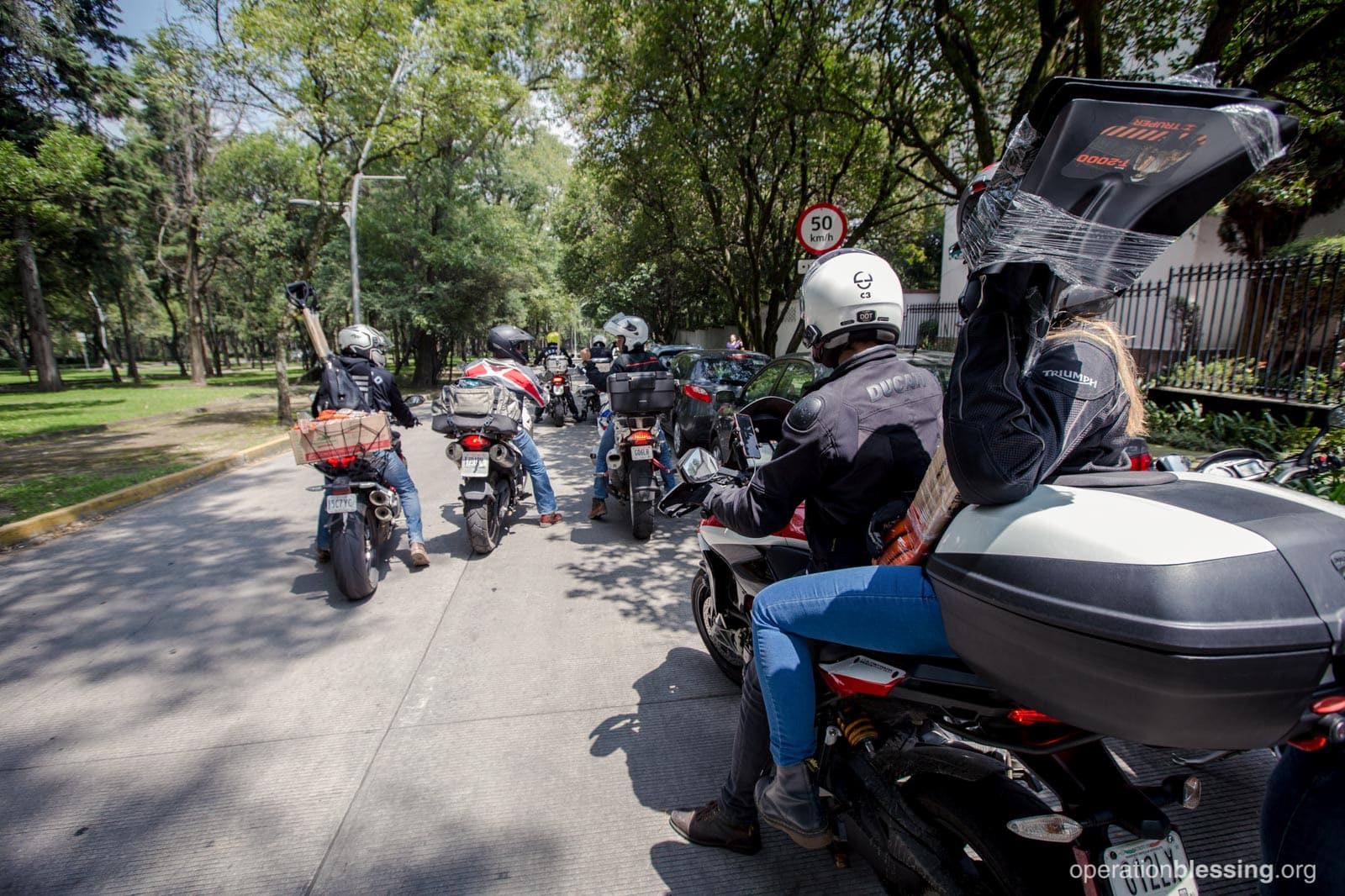 On Wheels and Wings in Mexico
When two powerful earthquakes rocked the nation of Mexico in a span of only 11 days, Operation Blessing partners responded immediately. In Mexico City, traffic jams clogged the city streets making in nearly impossible for OBI to deliver relief supplies and meals to those in need. So Operation Blessing used a brigade of motorcycles to infiltrate into the hardest hit areas with water and relief supplies.
To transport relief supplies to some of the hardest hit areas of southern Mexico, Operation Blessing was able to secure the use of an Aeromar cargo plane. Staff and volunteers loaded the aircraft with donated food, water, and other essential supplies.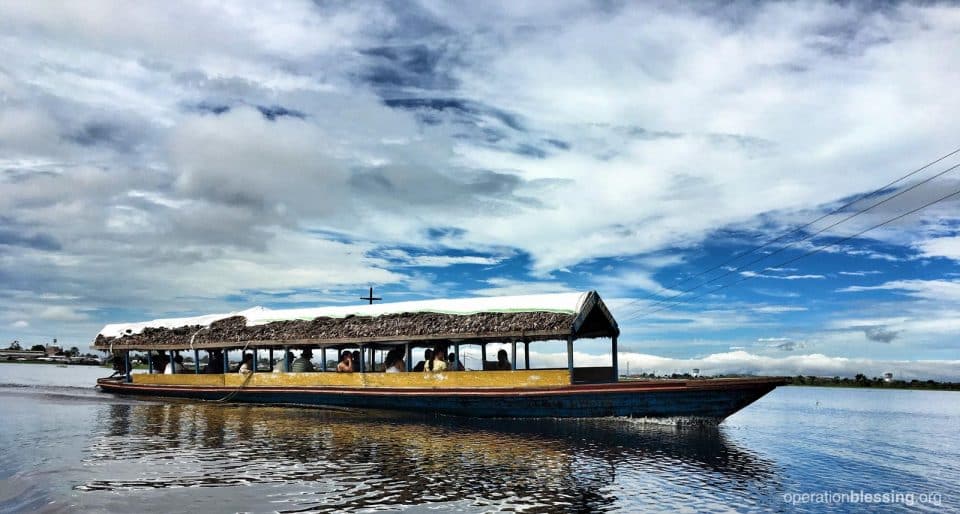 Boats Bring Relief in Belén
The district of Belén, Peru, is built on the banks of the Itaya River. For about half the year the river overflows its banks, flooding the entire region and making small boats the only means of transportation. Operation Blessing's local office, in the neighboring city of Iquitos, conducts a wide variety of projects in Belén, including a school nutrition program, community health worker program, medical brigades, new housing construction, microenterprises, and more. These projects require Operation Blessing staff and volunteers to frequent the water taxis that offer the easiest transportation around and across the Itaya.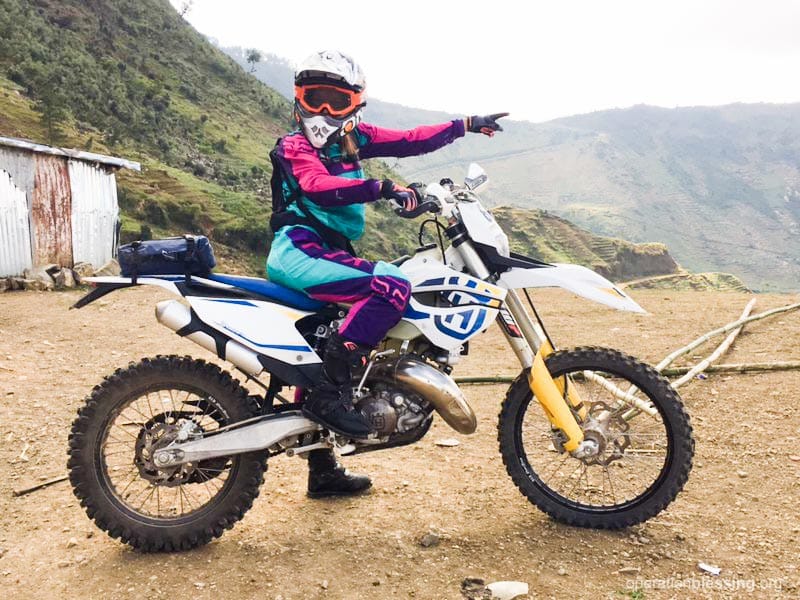 Motocross in Haiti
In Haiti, Operation Blessing's projects are widespread and often in remote and hard to reach areas. Roads are frequently dirt or gravel and in poor condition. Luckily, OB Haiti's Dora Nemere is an accomplished motocross rider. She uses her motorcycle to navigate the treacherous routes in between Operation Blessing projects while having a little fun along the way!
From the Field