For Lorena, a young single mother living in the rainforest of Peru, it was a constant struggle to provide for herself and her 10-year-old son, Edgar. The two of them live in the village of Manacamiri, where Lorena had a small business selling plantain chips. But because she lacked proper tools and adequate supplies, she often fell short of the earnings she needed to keep going—and her business was constantly at risk. Many days, she and her son had enough food for only two meals. Hunger was their constant, unwelcome companion.
Then, Operation Blessing staff in her area took notice and invited her to participate in our microenterprise program. She would be able to receive business training along with a donation of supplies to boost her production and income. This program would help to change her life and provide provision for a Peruvian family in need.
Your Support Provides The Provision For A Peruvian Family In Need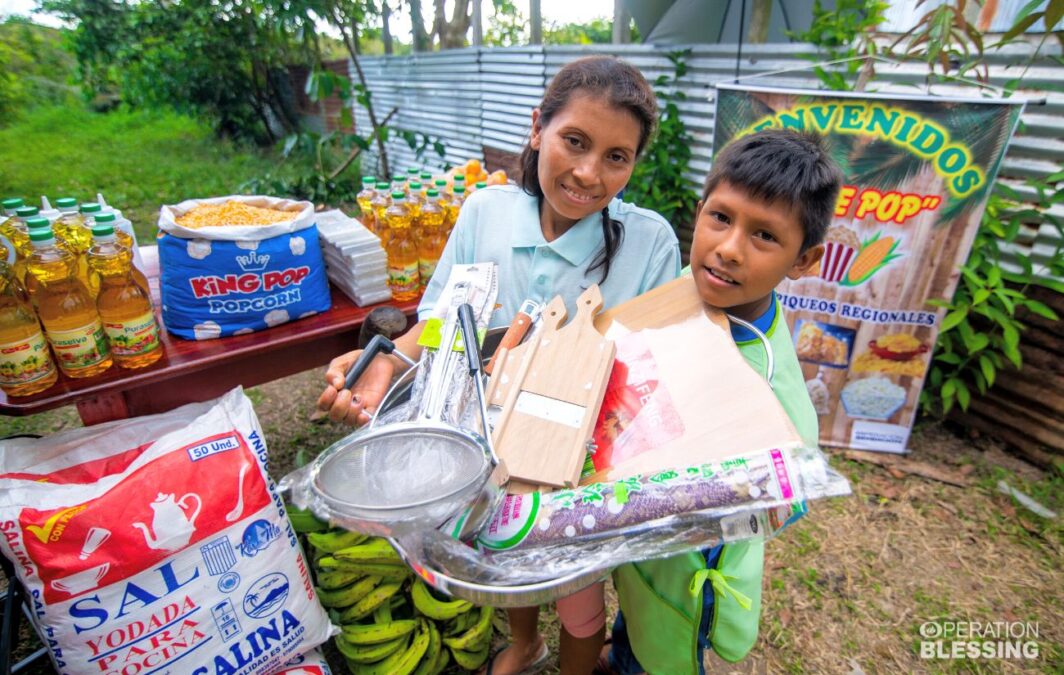 Thanks to the continuous support of generous donors like you, this hardworking young mother was blessed with both ingredients and materials. In addition to bunches of plantains and other foods, you gave her knives, pots, and pans to equip a small-scale kitchen. You even supplied her with a dolly to transport her products—everything necessary for Lorena to help her business grow. Now, for this family, there's no more wondering about where their next meal is coming from or how to meet their nutritional needs. They'll have the opportunity to truly thrive, not just survive.
"I thank God for this great opportunity and blessing … to improve the quality of my work," Lorena said gratefully.
Lorena's involvement with Operation Blessing has another important aspect as well, allowing her to give back. Thanks to friends like you, our Community Health Volunteers program was offered in her village—and Lorena decided to join the volunteer class. This important program provides training in first aid, disease prevention, nutrition, waterborne illnesses, handwashing and hygiene, prenatal care, and other vital areas.
Today, with those lessons in hand, Lorena is able to really help the people of Manacamiri. "When I was in training," she explained, "I was able to learn valuable knowledge to help my community. I learned about first aid, measuring blood pressure, and giving injections. I also learned how to detect different signs of disease—and how to treat them in time."
Because you reached out to her village, not only has Lorena received help, she is also helping others. Thank you for being a part of empowering communities like Lorena's to better care for their own! Your kindness helped provide provision for a Peruvian family in need.
Lorena is enthusiastic in her thanks to all the loving and generous people like you who make such transformations possible. "I know God makes all things beautiful in His name. I also thank Operation Blessing and everyone who makes this great help possible!"