UKRAINE – The entire world watched in shock as the lives of innocent Ukrainian families were thrown into turmoil. Women and children were forced to flee the country for their own safety when Ukraine was violently and aggressively invaded by Russia. In the face of such tragedy, you met this onslaught of violence with a powerful response of compassion and relief! And you are providing tremendous help to Ukraine.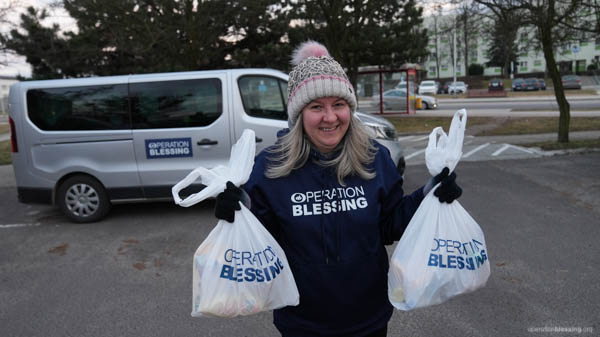 Operation Blessing on the Ground in Ukraine
Operation Blessing and several of our sister organizations were already strategically located on the ground in Ukraine and able to be among the first reaching out to victims of war with life-saving food, water, fuel, and generator power inside hard-hit communities.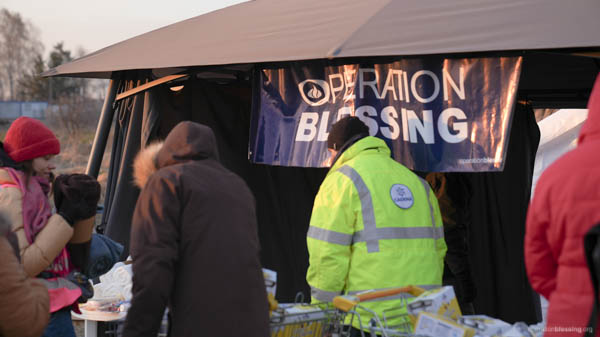 Shortly after, thanks to your support, we positioned a team on the border with Poland to give Ukrainians warmth, comfort, encouragement, and vital supplies as they suddenly found themselves refugees in a foreign land. We pitched tents, organized packages, distributed aid and helped equip shelters in partnership with churches and other organizations.
As Ukrainian refugees reached an unfamiliar country in search of safety—often in the middle of the night—our team greeted them with literally thousands of blankets, hot beverages, hygiene items, and other little pieces of comfort. Most of the refugees were women, children, and the elderly, as men remained in Ukraine to fight for their country.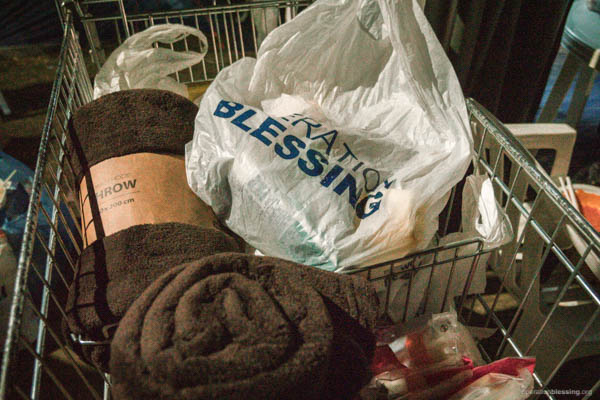 We have plans in place to continue increasing our support to meet this growing tragedy. And our wonderful, generous friends like you have been truly stepping up with the love and support needed to keep this effort going. Today we'd like to introduce you to a few of the people your love has reached.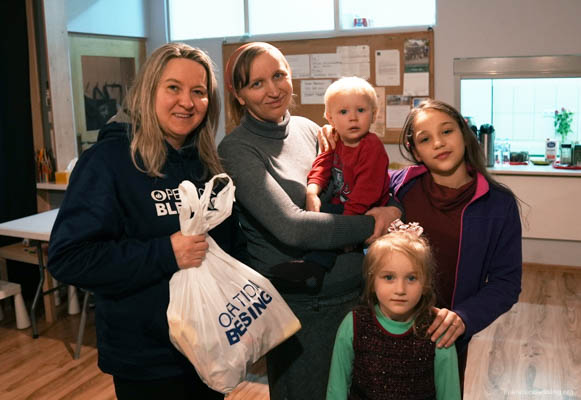 Meet a Ukrainian Refugee Family You're Helping
Olena, a pregnant mother with three children in tow, made the harrowing journey to safety in Poland. She had been getting her kids ready for school on that fateful day in February when she saw something streak pass her window. They quickly learned it was a Russian rocket, and fear and panic set in. She told us that she was horrified by the way the Russian military attacked civilian targets. The family could hear bombing at a distance and her children cried. The whole family was in a constant state of fear and turmoil.
She said, "Of course it's terrifying. It's one thing to hear about this, another thing when you see it with your own eyes. We could not sleep during nights." Olena also told us, "Over there only ruins are left. Hospitals, maternity hospitals, they shoot everywhere. In the villages also everything was destroyed."
Eventually unable to take it anymore, they risked fleeing to Poland. There, your love met them with open arms. They were so thankful for the warmth, food, refreshment, and encouragement. Despite her fears, Olena stands in faith. She said, "I hope in the Lord and only rely on God because God can protect. Many Christian people pray, and we pray."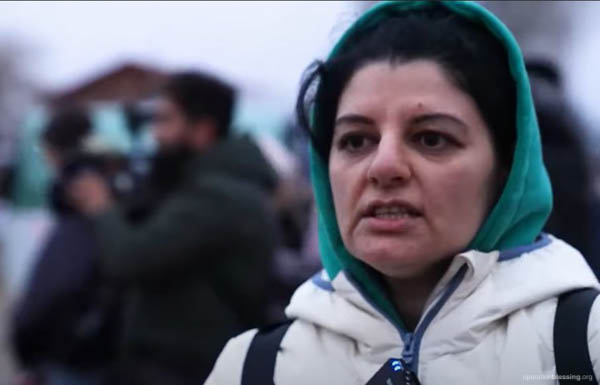 Report from War-torn Ukraine
Hasmik, a woman from the Kyiv area, fled Ukraine after hiding from the bombs for 10 days. She and her family had taken shelter in the basement of their apartment building, only leaving for food. But after the apartment's administrative building was hit, they decided they must leave.
"I thought, at this moment, we would die. Really," she said. "People need peace. They can't sleep. They have small kids. It's awful. War is awful."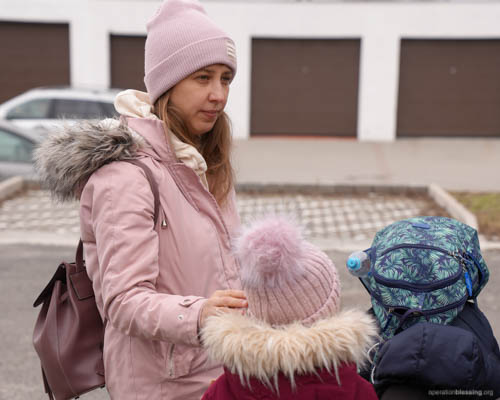 Refugees in Search of Hope and Peace
Nadiezhda, which means "hope", is a young mother of two children, Ilia, 9, and Mariana, 5. She and her children also fled Ukraine. Nadiezhda's husband stayed behind to fight in the war, so she is alone with her kids. They also received aid and assistance at the Polish border thanks to you.
"I put my hope in God, that He will give peace and protect our country," Nadiezhda told Operation Blessing staff. "Thank you for your help, for prayers. Thank you that you are welcoming us, this is very precious and important at a time like this."
We send you our heartfelt thanks as well. Please continue to keep the people of Ukraine in your prayers.
You can give a special gift to help crisis victims today.