WORLDWIDE – Security is something most of us long for, especially for our families. But we rarely have to think in terms of being food insecure. For much of the world, and even as many as 10 percent of Americans, a secure and reliable source of food can be hard to come by.
Food insecurity can take on several forms. For some it could mean lacking certain basic nutrients, or a home where parents skip meals to offer more food to their young ones. For others, it could mean ongoing hunger or even malnourishment.
That's why, with your support, Operation Blessing fights to cut off food insecurity at the root by helping families to help themselves. Agricultural opportunities, skills training, and small businesses make it possible for people to earn more income to better feed themselves and their families—hopefully long into the future. You give them essential tools to help them in a food insecure world.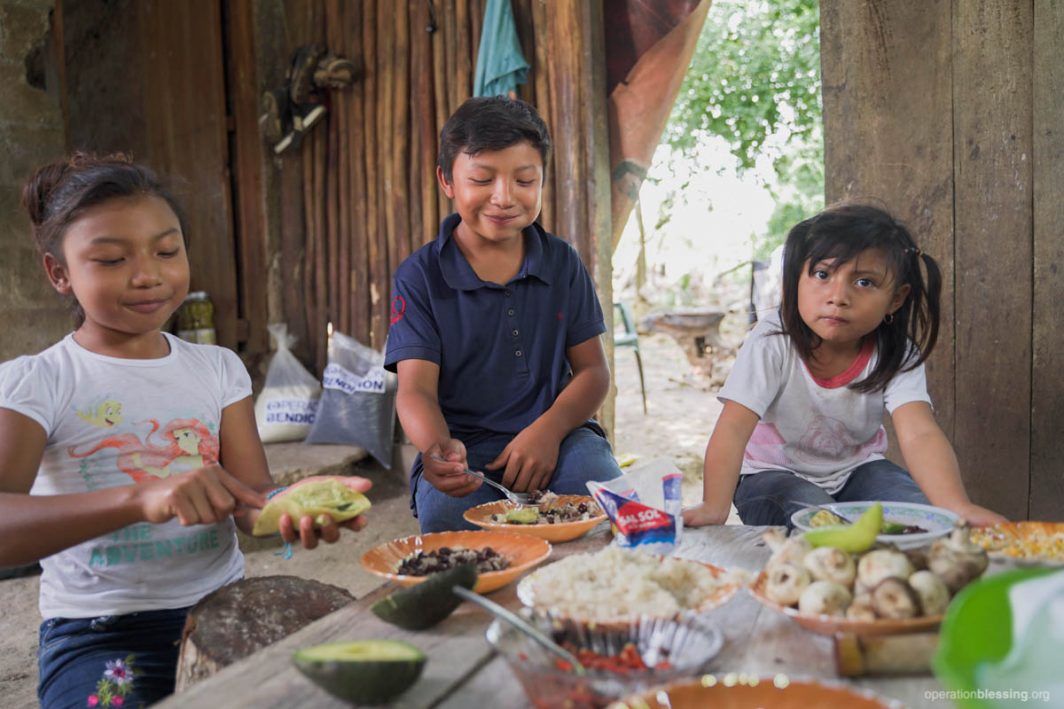 Agriculture
Mirna and Willy's family in Mexico faced double tragedies last year between the COVID-19 pandemic and tropical storms that ruined their harvest. This farming couple lives in a tiny home with their seven children between the ages of 4 and 16. When the storm hit, their home and the area around it flooded. After a scary few days, the water subsided, but they lost their chickens, crops, and fruit trees. Mirna grew desperate. Since they reside in a remote area, it's difficult to find any work. She asked, "My God, what will I feed my children?"
Then you came to the rescue of this precious family! Because you care, Operation Blessing in Mexico was able to deliver more than 150 pounds of native seeds so Mirna, Willy and their kids could replant their future and restart their business.
But you didn't stop there! You also gave this family over a hundred pounds of groceries like beans, rice, lentils and more to help see them through to their next harvest. This was just one of many families in their village to receive these blessings. Our staff will also return to the village to follow up and offer more support, resources, and workshops for Mirna, Willy, and the others in her community.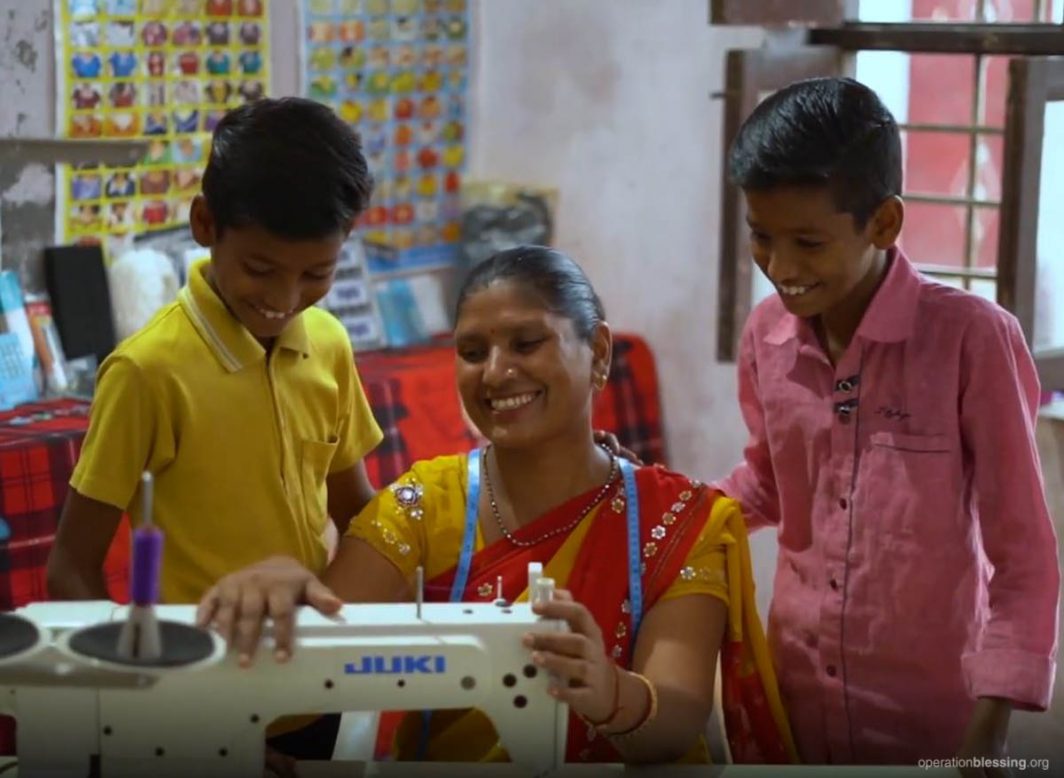 Skills Training
Krishna in India is another parent who can feed her two children thanks to you! This single mother wept as she told us, "I owed my landlord 4 months' rent, and I had to take care of the electricity bill and food expenses. No one wanted to help us. I had lost all my hope to survive."
Then Krishna found hope through an Operation Blessing mask-making opportunity. There she received training and was even given a professional sewing machine. "I am very happy that I found some help to earn money," said Krishna. "Now, I can take care of my children."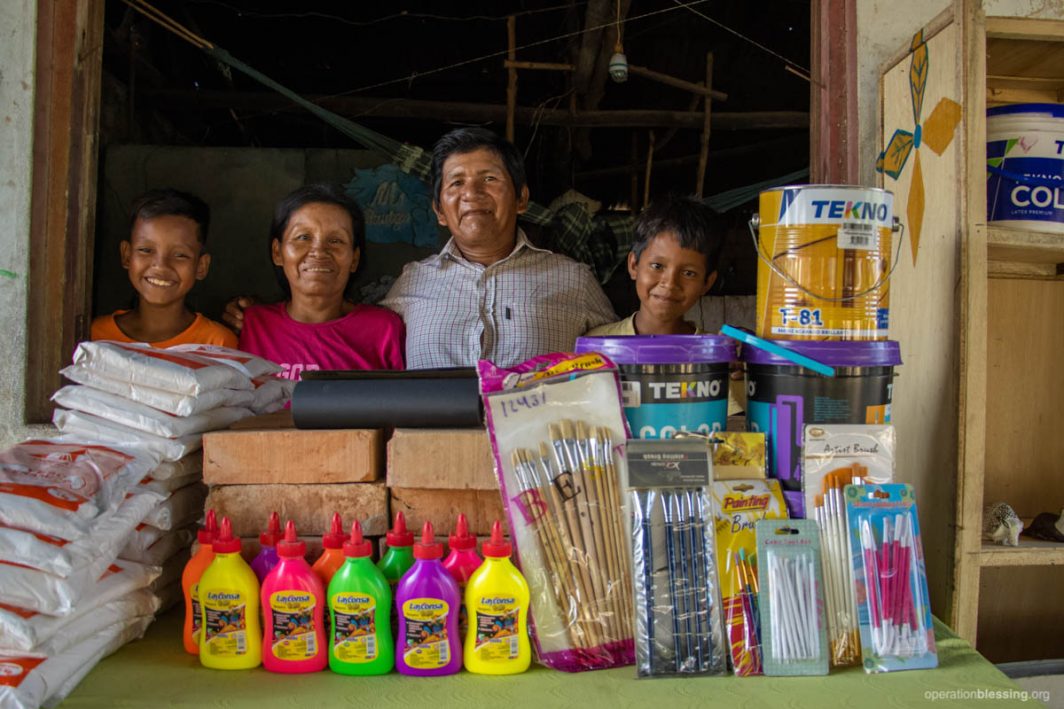 Microenterprise Support
In Peru, Dora and Mamerto use their traditional ceramic skills to earn a living. During the pandemic, they had to shut their business down because there was no way to deliver their products. Desperate to feed their two boys, Mamerto tried fishing for food, but guards shooed him home and threatened to take his nets.
When the quarantine ended, sales started picking up, but they were so far behind financially that they had no funds to restock their supplies to continue earning money to support their kids.
Then you made a huge difference for this family! Not only did you give them the needed supplies to keep their business going, you also provided training that should enable them to increase their profits moving forward. Dora said, "Now with all this, I can work much better."
And Much, Much More
These are just a few of the many people around the world that you bless by providing new opportunities to keep their families fed in a food insecure world. You're not just giving them a hand out, you're also giving them a hand up for the future, and helping to make food insecurity a thing of the past. Thank you so much for reaching out to people in need!