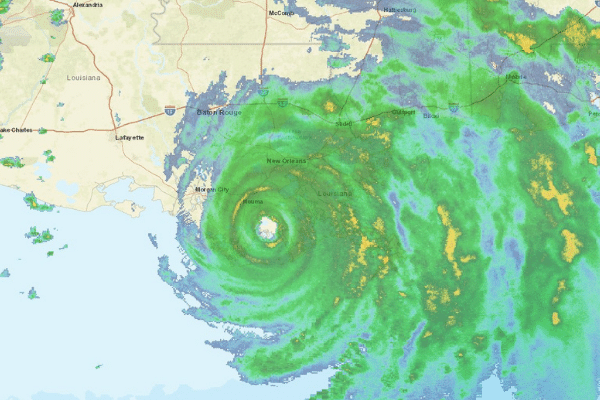 Hurricane Ida emerged from the Gulf of Mexico and developed into a category 4 hurricane. The projected path was the American Gulf Coast including the city of New Orleans. The buildup of this storm alone forced many to evacuate their homes and make preparations for the coming onslaught. As the storm came closer to the shore, a strong storm surge brought water into the coastline. The result was flooded roads, cars, and homes. All standard with a storm of this strength in areas at or very near sea level.
Preparation for Ida
As Ida approached land, Operation Blessing began preparations for hurricane relief. While we remain at the ready all year, an imminent storm requires that we prepare our team and assemble the necessary equipment to deploy. Having all the critical supplies will make a difference to families who lack, in many cases, even basic necessities. Before this happens our U.S. Disaster Relief Team begins pre-deployment. This is where the senior leadership begins mapping out specific steps both in determining where to send equipment and supplies and when.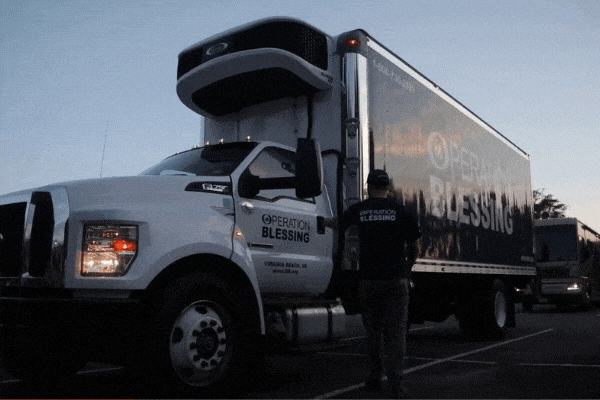 Residents along the Gulf Coast Evacuate
The prospect of powerful storm surge and destructive winds forced many to evacuate areas of the Gulf Coast. This included New Orleans, which faced the wrath of Hurricane Katrina on this very weekend 16 years before. Operation Blessing deployed to a staging warehouse in Bristol, Tennessee. There, the disaster team made final preparations for hurricane relief as the storm prepared to ravage coastal areas in its trajectory.
Ida Strikes
Sunday, August 29 saw the arrival of a category 4 storm. Some of the components of this deadly hurricane included:
150 mile per hour winds
Heavy rains
Strong storm surge that caused the Mississippi river to change course
Millions left without power
Hurricane Ida Recovery: Assessing the Damage
The storm has passed, but a new storm of challenges have hit the people of Louisiana as they find themselves without power, in shelters, and isolated. Thanks to friends like you, Operation Blessing is able to offer help to beleaguered residents in a number of ways. These include:
Distribution of supplies
Clearing yards of debris
"Mudding out" (clearing out) damaged furniture, belongings, flooring, and walls
Giving encouragement and hope to hurting residents
All of these are critical as thousands of people now find themselves in need of basic supplies and help to salvage what they can from their homes, as well as clear their yards of trees and other debris. This can often prove difficult for the homeowner to do alone, especially for the elderly, widowed, disabled, and single parents.
Hurricane Ida Cleanup
It is hard to truly put a financial cost to the damage from a storm like Ida. To some, it may appear to be just be a house, a yard, and furniture that was destroyed. To a victim of Ida, it is their home and their memories that have been lost. The financial cost of Hurricane Ida cleanup pales when weighed against these losses. As Operation Blessing staff and volunteers help people, the individual impact of the hurricane comes to light. One of those stories is from a Louisiana widow named Dorothy.
Dorothy had never seen anything like this in her years of living in Louisiana. But when Ida came, she saw her home devastated by the storm and her yard littered with debris. With only her grandson for help, she turned to Operation Blessing to help her pick up the pieces. Thanks to friends like you, Operation Blessing staff and volunteers were there to help clear her yard and assist her through this difficult time.
You Can Support Disaster Victims in a Number of Simple Ways:
Whether you make a financial donation, pray for those in need, or share our updates with friends and family, it makes a difference. Here are some specific ways you can help:
Donate to disaster relief to help storm victims
Share articles with friends and family on Facebook, Twitter, and Instagram to get the word out about how everyone can help
Start a simple fundraiser to help disaster relief efforts, it only takes a few clicks!
Sign up to volunteer your time to help disaster victims
---
Works Cited
"Hurricane Ida | FEMA.gov." Www.fema.gov, www.fema.gov/disaster/hurricane-ida. Accessed 30 Aug. 2021.
"Hurricane Ida Lashes Louisiana, Knocks out New Orleans Power." AP NEWS, 29 Aug. 2021, apnews.com/article/hurricane-ida-115ff1a54e18d9eee61a81afa8df9fad.
"Ida Now a Tropical Storm; Poses Flooding Rain and Tornado Threats from Deep South into the East | the Weather Channel – Articles from the Weather Channel | Weather.com." The Weather Channel, weather.com/storms/hurricane/news/2021-08-30-ida-forecast-inland-flooding-tornado-threat.