DALLAS, Texas – Yesterday, the Texas State Emergency Operations Center (EOC) asked OBI to come in to meet with them. The relationship that is developing with them is quickly gaining strength.
While at the State EOC I secured a letter to use for "re-entry" and to wave weight and permit restrictions for all vehicles/equipment that are responding to the disaster within the State of Texas. I also met with Texas DOT (Texas Department of Transportation) to confirm "in-routes" for us and Samaritan's Purse, and distributed entry and route information to all of our partners in the faith-based disaster relief agencies in the CRC (Christian Relief Cooperative).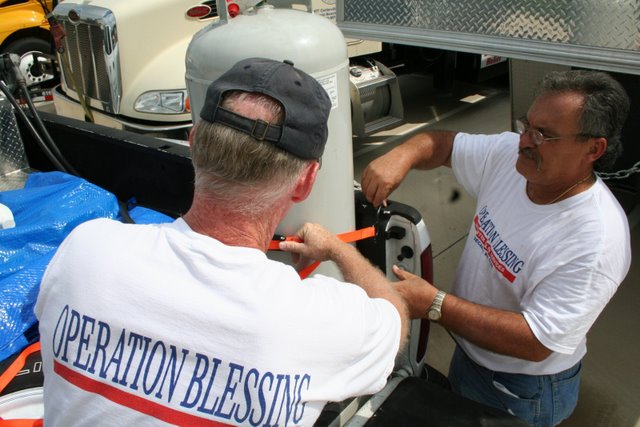 Right now our team is en-route to Beaumont, Texas. The convoy of equipment left today at 5:30 a.m. OB will be setting up our base of operations at Cathedral in the Pines Church in Beaumont, Texas, and service Orange and Bridge City communities from there. The power is out in Beaumont so our large generator that is en-route will be great to help power the church.
I am making plans to meet with the mayor and emergency manager of Beaumont today. I will also go to Orange and Bridge City for assessments. As of yesterday at 5:30 p.m. CST, the SARS (Search and Rescue) Teams were still rescuing people off roof tops in both Orange and Bridge City.
I followed up with Pastor Hallum of a 4,000 member church in La Marque. His church sustained approximately $250,000 worth of damage. He told us that there is damage in communities around him and we will conduct assessments in La Marque areas to see how we may assist that community.
Three OB trucks are scheduled to arrive Monday including disaster relief supplies from St. Bernard such as MREs, tarps and volunteer supplies, as well as A 1,000 AMP 3 Phase generator and skid-mounted shower. We have two teams of 10 that are ready to respond and will arrive probably by tomorrow. Additional volunteer teams are being lined up for later this week.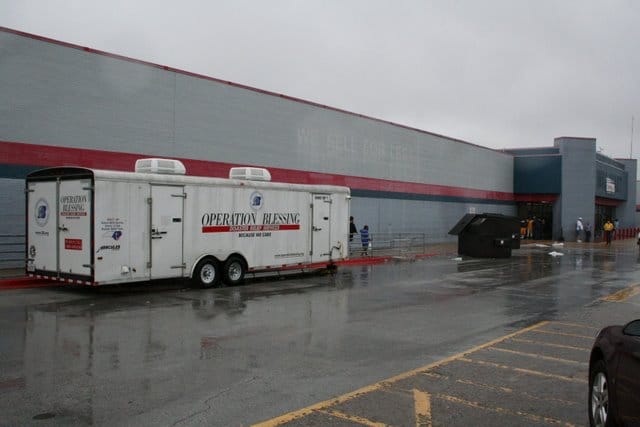 Already, our shower trailer has been assisting a shelter in Tyler, Texas, with more than 2,000 evacuees. The State EOC requested our help for a shower trailer and within 7 hours of their request we had the shower delivered and setup. The majority of evacuees staying at this shelter are residents of Beaumont, Texas, and so far most have been unable to find out what the condition of their homes are following the hurricane.
We are prepared to cook meals this evening if needed and will continue to work with the State EOC and local partners to determine the needs and bring relief and resources to those impacted by Hurricane Ike.
From the Field