VIRGINIA BEACH, VA- Early in the COVID-19 pandemic, Nye, a single mother of four, was working as a nurse. Then one day she became a patient herself when she went into respiratory failure.
"They said I was gone for about 8 seconds," Nye said. "The doctors believe that I had COVID, and that turned to pneumonia." The single mom had to quit working as a nurse because she couldn't risk further exposure to COVID. Nye explained, "It was a very scary time for me not to be able to support my kids, so we were just honestly living off of the savings that I had accumulated. And once that started dwindling, I started panicking."
Out of the blue, her pastor at Freedom Church of Virginia Beach told her the church was starting a food pantry with the help of Operation Blessing. There, Nye received the food she needed to feed her family. "The food pantry actually helped me and my kids a lot. It gave us nourishment," Nye told Operation Blessing staff. "God really answered my prayers," she said. The Virginia Beach Food Pantry helped to make sure Nye and her family were no longer facing food insecurity on a regular basis.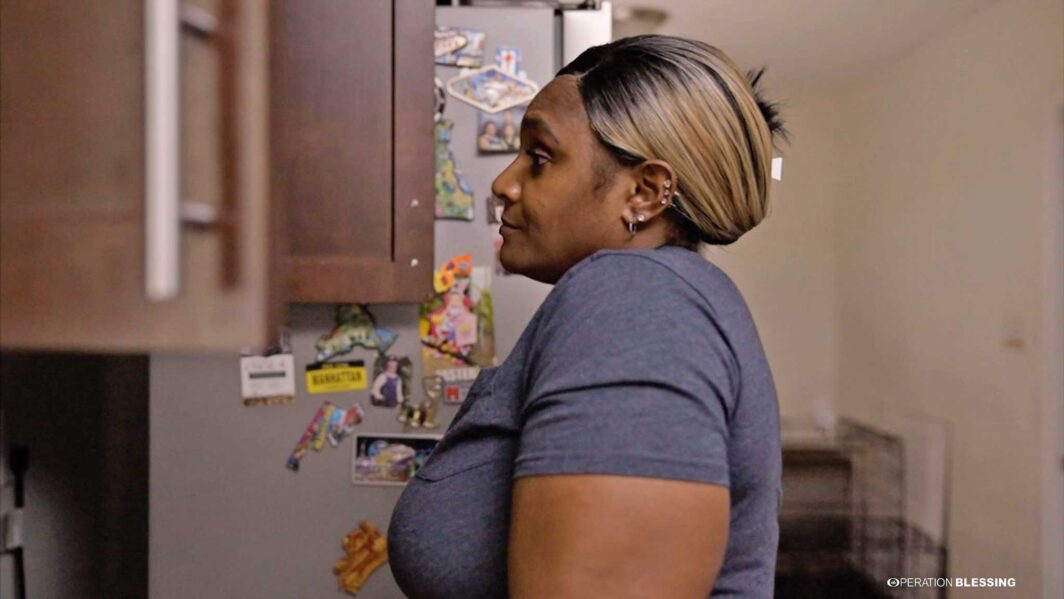 Serving Others at a Virginia Beach Food Pantry
Nye's pastor gave her the opportunity to run the Virginia Beach food pantry, and she seized the chance to give back to the community again. "Anything for the Lord!" Nye exclaimed. "When we partnered with Operation Blessing, it opened opportunities for me to do what I know the Lord put me on this earth to do, and that's to meet others that are in need. Even though I had the opportunity to feed others, He was feeding my family too."
Thanks to our ministry partners and friends like you, Nye's family made it through the rough patch. Now Nye is back to working full-time as a nurse, and her family is thriving. "The Lord has carried me through so many storms. He has covered me in so many ways," Nye said, overcome with emotion. "I'm filled with so much joy and happiness."
God is so good and faithful! Because of the love Jesus Christ poured out on us, it is our mission at Operation Blessing to be used to pour out His love onto others. All throughout the US and the world, there are hurting people who need to know that God has not forgotten or forsaken them. In the midst of their struggles, they need that hand of hope to get them through the trials of life. Thanks to friends like you, families just like Nye's are receiving the help they need when they need it the most.