HAWAII – In early August of 2023 a series of wildfires broke out in Hawaii—primarily affecting the island of Maui—and spread rapidly in part due to heavy storm winds. The wind-driven fires prompted mass evacuations and incinerated the town of Lāhainā, taking lives and displacing thousands from their homes.

In the aftermath, wildfire survivors had to deal with a lack of basic necessities due to destroyed homes and infrastructure. They were desperate for food and cooking implements, clean water, shelter, and hygiene supplies. Thankfully, Operation Blessing was able to respond with immediate relief working in partnership with other organizations and local churches.
Disaster Facts
110+ deaths*
11,000+ displaced people*
3,200+ acres of land affected*
20+ injured*
2,200+ buildings destroyed*
$5.5+ billion in property damage*

*source: Reuters.com
Current Response
09/6/2023
Operation Blessing is working in wildfire-devastated Maui through a network of churches and other partners in affected areas. We've been providing relief items to help displaced people survive, including water filtration systems, tents, clothing, hygiene supplies, tarps, lanterns, generators, grills and propane for cooking, fishing gear, etc.


---
---
Response History

In August of 2023, one of the deadliest wildfires in United States history occurred in the state of Hawaii. From the outset of the Hawaii wildfires, Operation Blessing began monitoring the situation. The purpose was two-fold: to ascertain the scale of the disaster and to evaluate the best ways to provide Hawaii wildfire relief to people overwhelmed by this natural disaster.
The Operation Blessing disaster relief team heard reports of the devastating wildfires enveloping the island. The once pristine town of Lāhainā was now a ruin, its beauty marred by the fierce inferno that raged through its streets. The wildfires, made worse by dry conditions and fanned by strong winds, showed unprecedented intensity, leaving a trail of destruction in their wake.
Hawaii Wildfires Devastate Lahaina
The once-idyllic Lāhainā was now a scene of chaos and devastation. The raging wildfires showed no mercy, consuming entire blocks in minutes. Buildings that once stood as symbols of the community were reduced to smoldering ruins. The flames spared nothing in their path, engulfing homes, businesses, shops, and restaurants alike. The crackling of burning wood and the swirling ash became the only physical memory of the once-thriving community.
Amidst the heartbreaking scenes, the toll on human life was shocking. Dozens of lives were tragically lost in the flames, leaving the community reeling from the loss. The extent of the tragedy was compounded by the list of missing individuals, a number that kept growing as relief efforts continued.
Operation Blessing Evaluates Ways to Respond
For each disaster, Operation Blessing assesses the best way to help people suffering in the aftermath. In the case of the Hawaii Wildfires, we focused on what the most pressing needs of the people in Lāhainā were and how we could most effectively meet them. Accordingly, we decided to reach out to one of our local partners in the area. After arriving in Hawaii, we met with a local organization called YWAM that had strong church connections across the island.
Operation Blessing then looked for ways to supply this partner ministry. After meeting with YWAM's director, we learned what supplies were needed to help Hawaiian families. Through contributions from our generous partners, we began supplying necessities to YWAM who then began mobilizing the relief to church partners offering direct support to suffering families in Maui.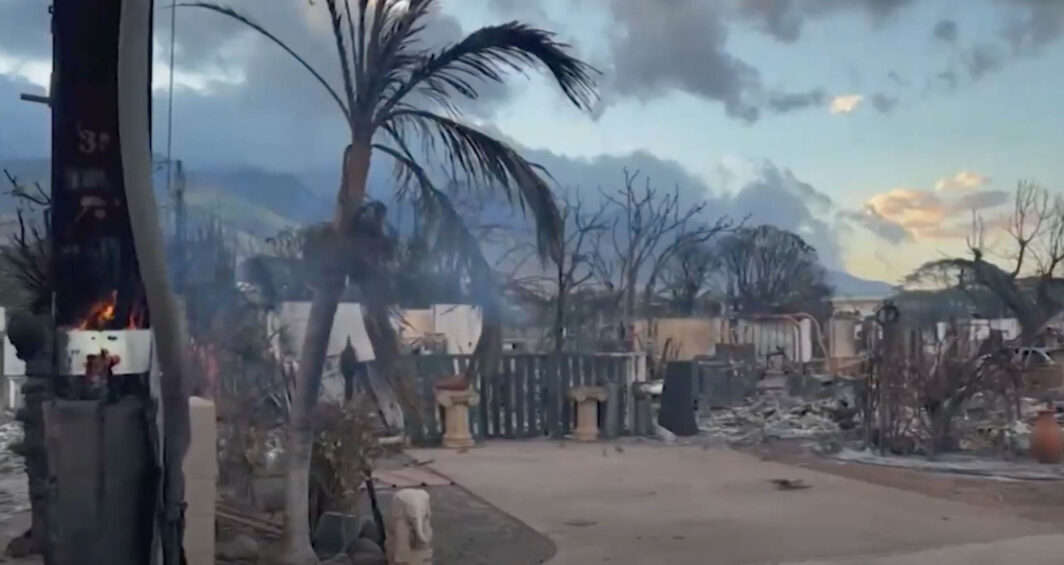 New Hope
The Hawaii wildfire was arguably one of the worst wildfires in American history. The intensity of this natural disaster caused unimaginable damage. The images we saw from the media seemed almost surreal: homes burned to the ground; pools of aluminum trailed off from metal shells that used to be cars; and empty neighborhoods that were once alive with people. It was all just ash and ruins. With so much destruction, it seemed like recovery was impossible. But there was always hope.
Giving Hope to Wildfire Survivors Who Had Lost Everything
Your love gave wildfire survivors hope. One thing we did in our disaster relief efforts was look for ways to offer the most help to the wildfire victims in greatest need. In the Lahaina area, many people were divers or fishermen. We learned this as we went to find out the needs of actual Maui wildfire victims who were struggling after the disaster.
We also learned that some of the local divers and fishermen lost all their equipment in the terrible fire. So on top of losing their home and possessions, they had no way to earn a living. What they needed was new fishing and diving equipment. That is where your generosity helped show the love of Christ. Your giving allowed us to purchase diving and fishing equipment to help these survivors and their families get back on their feet! 
While these survivors fished for a living, YOU were truly fishing for men by showing the love of Christ in profound and moving ways!