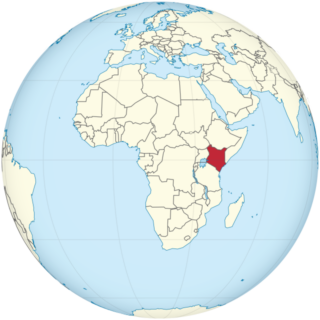 Located on the coast of eastern Africa, Kenya is a place of both great beauty and great need. For years, Operation Blessing has been involved in a variety of programs to help Kenyan people in dire need from the Mukuru slums all the way to remote rural places like Tubcha village where nomads roam the countryside.
Operation Blessing offers four main programs to meet the most basic needs of impoverished Kenyans across the country. These programs stand as pillars upon which Operation Blessing's mission is built as we seek to demonstrate God's love to people who are suffering. These pillars include hunger relief, disaster relief, medical care, and clean water. Each focus has made a tremendous impact on countless communities around the world.
---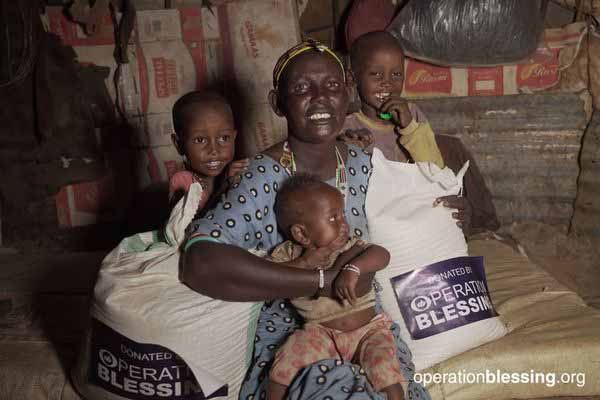 Kenya Hunger Relief
Operation Blessing has long been involved in hunger relief efforts in different parts of Kenya. Complications from the pandemic have only worsened the already devastating effects of recurring natural disasters, posing severe challenges for the people of this beautiful land. They need our help, and the Operation Blessing family has been there to give food to the hungry. Some of the ways we have aided people suffering with hunger relief, famine, and food insecurity are as follows:
Kenya Drought
Since a horrifying drought began to ravage large swathes of Kenya, many families have been going hungry. The drought has been so persistent—destroying crops and herds—that large numbers of people have lost their livelihoods. One of the places hit hardest has been the Marsabit region of Kenya.
The vast majority of people in Marsabit depend on the land to make a living. They raise livestock that needs to graze on vegetation to live. But the plants just can't get enough rain to keep growing. As a result, the livestock has been dying off—and with them, the hopes and dreams of families who rely on these animals.
Diboya and Woromo are two villagers in Marsabit who have been living this seemingly endless nightmare. At first, they found themselves facing food insecurity, and they tried their best to get through it. As resources dwindled, however, finances became tighter. Food scarcity persisted until they and their children were going hungry. Food insecurity quickly led to famine.
Thankfully, faithful partners sent their compassion across the globe to help these villagers in their time of need. Operation Blessing supplied monthly provisions to help people like Diboya and Woromo survive the drought. The whole community of 150 villagers received food and water backpacks that would help keep them going until conditions could improve.
Feeding Single Mothers Through Hunger Relief Efforts
Operation Blessing continues to help suffering Kenyan families in greatest need—especially single mothers. Kadzo is a widow with 5 children. The drought has destroyed her flocks. Her family has gone hungry far too often—once for two days! But all that changed when Operation Blessing showed up. She received enough food and supplies to feed her children.
Microenterprise
One way to battle hunger, both in Africa and worldwide, is by taking a proactive approach to meet needs. Operation Blessing proactively looks for ways to help people feed themselves. One way our teams do this is by providing hungry families with farmland and tools to grow food. We also focus on education through agricultural programs that help people raise their own food—even in urban environments—using methods such as sack gardens.
Schools
Many hunger problems stem from a lack of opportunities and training. Part of breaking the cycle of hunger and poverty is quality educational programming. This need has led Operation Blessing to provide resources for Kenyan children to go to school. Our supporters give kids everything from school supplies to tuition so local residents can attend. Operation Blessing also helps school-age children, who may not otherwise be able to attend due to health or hygiene concerns, stay in school.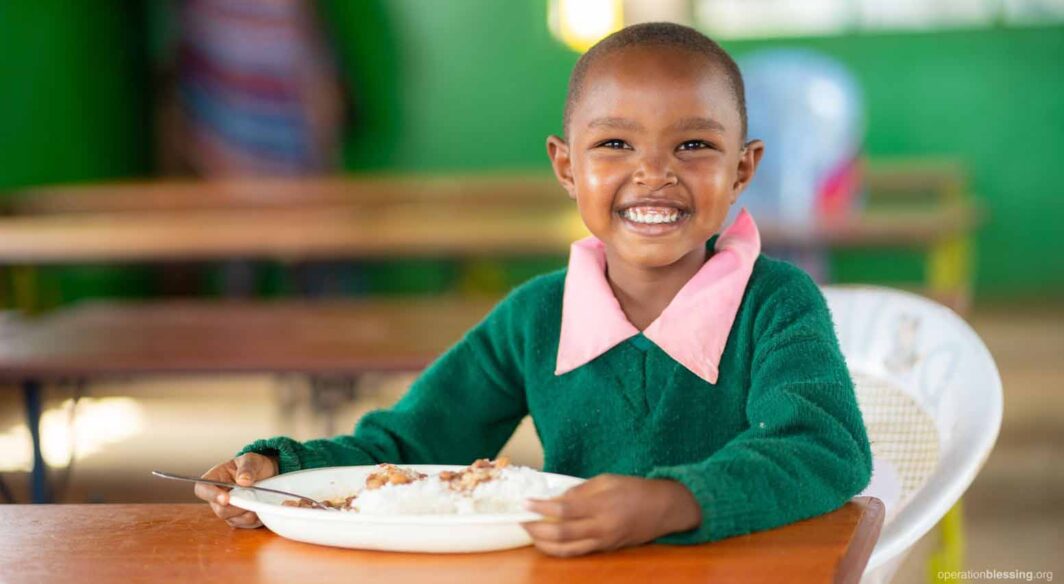 ---
Hunger Relief and Food Insecurity in Tubcha Village
Gulmato and her family found themselves in a situation similar to Diboya and Woromo. Her nomadic community in Tubcha Village was decimated by drought. She lost nearly all of her livestock, which served as her only means of income. This led to the only thing she could think to do—borrow money. As her credit diminished, however, food insecurity gave way to starvation. Her children were going to bed hungry, and there was no end to the trouble in sight. For many, this may have been the end of hope. But not for Gulmato. Operation Blessing arrived just in time to supply food packages to help her and her family.
---
Kenya Clean Water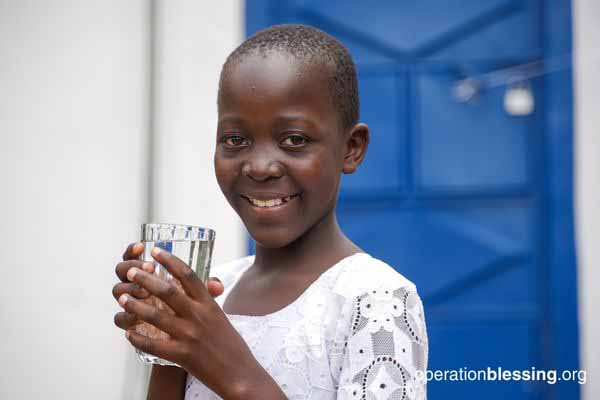 Though many of us are accustomed to getting water anytime we need it, reliable access to clean water remains out of reach for billions of people in developing nations. Citizens in Kenya regularly struggle to find adequate sources of water. Compounding the problem, persistent and brutal drought has devastated whole villages of people who have watched their livestock and livelihoods perish under the scorching equatorial sun.
To show God's love to thirsty people, Operation Blessing has initiated clean water projects in Kenya to help people in desperate need get safe water. One example is a water well project in Gongo Village. Through the support of our partners, we were able to drill a sustainable well that ongoingly supplied the water needs of the entire village. Coupled with a pipe system and separate hand-washing stations, the well provided residents with access to clean drinking water and increased community health.
---
Kenya Medical Care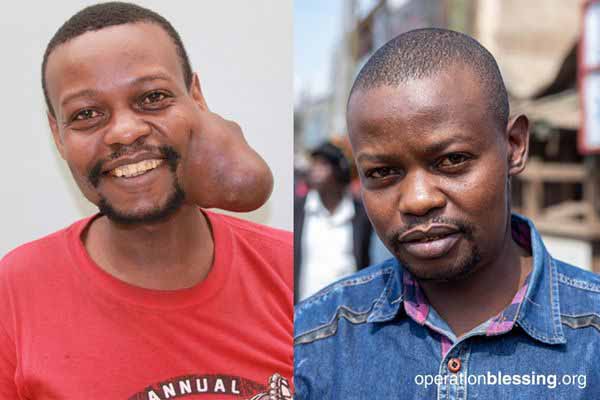 Surgery
One goal of Operation Blessing is to help heal the sick by providing access to medical services. A notable program is our life-changing surgeries, serving Kenyans struggling with deformities and conditions that make life incredibly difficult. For those who don't have the finances to pay for the surgery themselves, we provide surgery free of charge.
Operation Blessing partners donated to help pay for life-changing surgeries with incredible results. One example is a man named Dominic. He suffered from a sizeable tumor that protruded from his left cheek.
The tumor was so large, it made his daily life difficult. And the kindness of friends like you changed that. The generosity of our partners allowed him to get the surgery he needed to resume a normal life.
Health and Hygiene
We have also improved the lives of Kenyan people in need through our health and hygiene programming. In honor of the International Day of the Girl, Operation Blessing helped school-age girls who did not have access to feminine hygiene products to receive the supplies they needed.
Malaria Prevention
When Kenyan people face the onslaught of disease, Operation Blessing is there. To stop the problem before it even starts, we initiated a malaria prevention program. It also helped during active outbreaks. When an outbreak occurred, measures were taken to stop the spread of this insidious and persistent disease.
---
Disaster Relief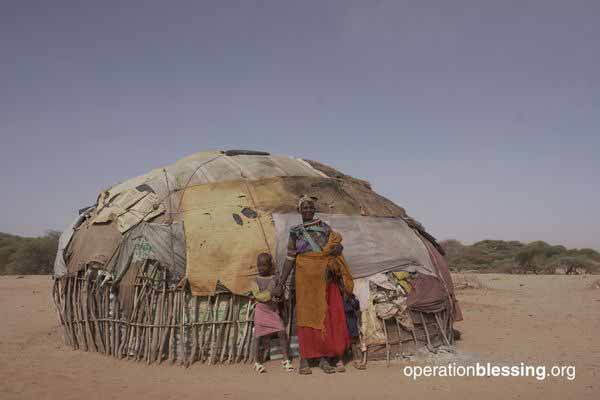 Disasters can strike unexpectedly anywhere in the world. In 2019, Operation Blessing responded to a flood which devastated parts of Kenya. For families who had lost everything—including their homes—our teams provided tangible assistance cleaning out homes and providing emergency supplies.
Culture and Customs
Holiday Recipes
Operation Blessing likes to share customs and traditions from the indigenous peoples of every country where we work. Our Christmas recipe booklet featured a tasty native Kenyan dish called Christmas Githeri. Christmas Githeri is a delicious blend of vegetables and seasonings that is the perfect accompaniment to your holiday dinner offerings.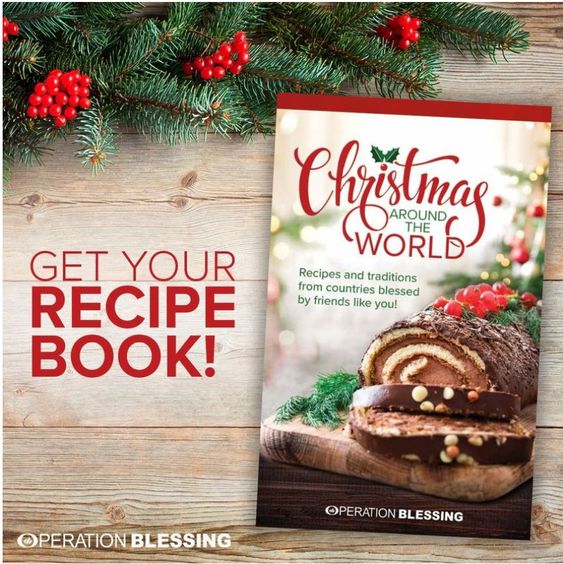 Partner With Us to Help Families in Need
There are so many ways you can make a dramatic difference in the lives of Kenyan people and so many others around the world.
Partner with us: Join the Operation Blessing family and become a monthly supporter.
Be a digital volunteer: Follow us on social media and share our posts and articles with friends and family to get the word out about families in need.
Pray: Nothing is as powerful as prayer. Pray for our efforts and people all over the world who desperately need miracles in their lives.
Start a fundraiser: Unleash the incredible power of crowdfunding by starting your own fundraiser to involve friends and family in the initiatives important to you.