TURKEY – A massive earthquake ripped through *Turkey and parts of Syria overnight on February 6, 2023. This 7.8 magnitude quake cost tens of thousands of lives, sending first responders scrambling to help people trapped in the wreckage of ruined buildings. Following a heartbreaking natural disaster like this, the race is on to help as many suffering men, women, and children as possible. Time is a critical factor. Thankfully, friends like you put an Operation Blessing relief team on the ground immediately after the event, and together we are working to help those who are suffering.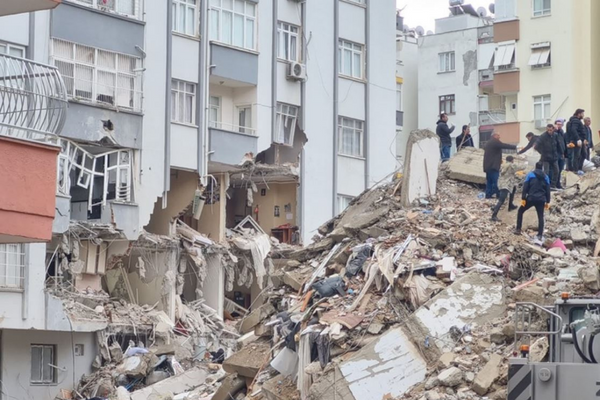 Since the earthquake, many find themselves homeless and traumatized as the infrastructure of their homes, schools, and businesses has crumbled. Search and rescue operations went on for days, though they have largely concluded as the death toll soars above 40,000. Already-strained medical facilities have been stretched beyond capacity as physicians cope with the tens of thousands of injured people in need of assistance.
Operation Blessing's International Disaster Relief Team
Operation Blessing's International Disaster Relief Team has been deployed to the area. Together with partners like you, Operation Blessing is taking this opportunity to show God's love to those who are hurting by meeting critical needs. Our multinational team of relief specialists is serving hot meals and holding relief distributions in hard-hit areas, providing food, water, blankets, hygiene items, and solar lights to people in need.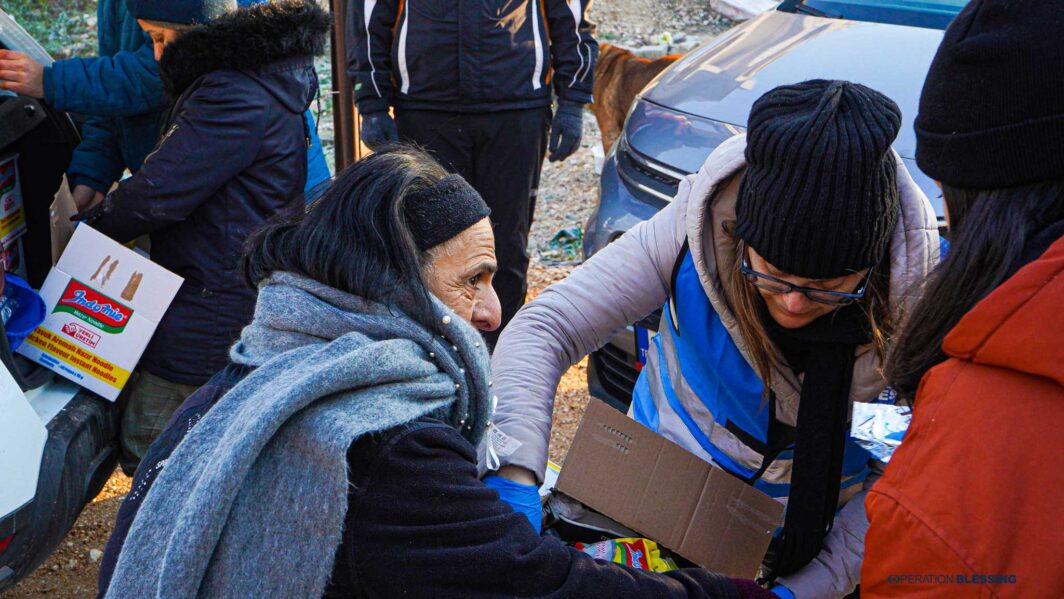 We also have medical people on the ground in hard-hit Hatay assessing the level of need as we seek to build an appropriate response that will best serve the hurting. Our physician, Dr. Gustavo, has begun to help some of the people we encounter during our assessment process.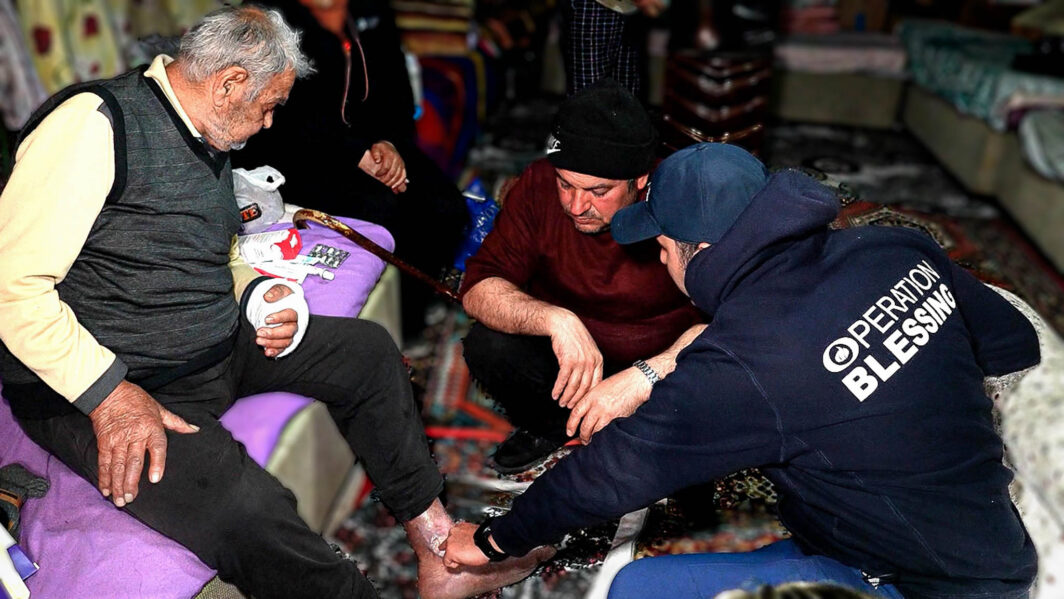 ---
Operation Blessing Deploys International Disaster Team
The Operation Blessing International Disaster Relief Team was deployed to Turkey to assess the situation and determine the best way to help the many people in dire need.
Getting Help To Turkey Earthquake Victims
As with any natural disaster, time is in short supply. Thousands are homeless and in need of assistance after this horrific tragedy. The Operation Blessing International Disaster Relief Team is there to help determine the best way to help people who have immediate and pressing needs.
Our Team Is On The Ground – Pray!
Operation Blessing relief staff are working to assess the situation and offer help where it is needed most. And the needs are great! Residents of Turkey and Syria traumatized by recent events need our prayers as they grieve lost loved ones.
Preparing Supplies for Those in Need
For people who are struggling without basic necessities, receiving a little food and drink can make all the difference. Our team on the ground is prepared to be a blessing, carrying with them relief bags filled with food, water, and solar lights to brighten the night.
Distributing Relief Items in Hatay
Our team is roaming through devastated Hatay, Turkey handing out relief items to suffering residents, many of whom are sleeping in their cars. We're providing hot food, solar lamps, bags full of other helpful items, and snacks and juice for children. People are so thankful for the relief.
Helping Where We're Needed Most
As the death toll rises to 36,000 in Turkey, our disaster relief team is receiving truckloads of vital supplies. We're distributing them in some of the hardest-hit areas, like Hatay, where almost every building is either uninhabitable or completely destroyed. The team is handing out relief items like food, drinks, diapers, fuel, solar lights, and hot meals.
Working Together in the Worst Places
Operation Blessing volunteers and staff are working in the worst areas offering tangible aid. We want to be right in the center of the action where people need the most help. Please keep praying for our volunteers as we deploy additional teams. The help is so needed.
How We Helped Grace After the Quake
The earthquake left families like Grace's without a home. As they roam the streets, sleeping in tents and cars for fear of returning to damaged buildings, Operation Blessing is there to help them. Read more to hear the story of how friends like you blessed Grace and her children, giving them hope in an otherwise dark time.
Medical Aid Begins
With tens of thousands of people injured from the earthquake, one of the main needs is medical assistance. The local hospital in the impact area was destroyed, and many people lost their prescriptions and medicine during the quake when their homes were damaged. That's where the Operation Blessing medical team comes in. We are assessing needs and beginning to treat patients with chronic illnesses.
One Family's Journey to Recovery
As the hundreds of thousands of people displaced by the recent earthquakes in Turkey attempt to recover, they face a long and difficult road. For one temporarily-homeless family, the only bright spot on the journey is Operation Blessing. Friends like you provided the Dudaklis with food, medical assistance, and hope through our team on the ground.
Operation Blessing Keeps Working as Quakes Continue
As our international disaster relief team helps traumatized families on the streets of Hatay, Turkey, another earthquake sent tremors and waves of fear rippling across the area. People are afraid to re-enter their homes, because the quakes never seem to stop. Please pray for all those trying to live in this volatile region. We're continuing to show God's love, and we're not going anywhere.
Update from The Field
March 1, 2023
Here is an update from Operation Blessing program analyst Brendan O'Leary concerning distribution efforts for people in need in Turkey following the devastation of the earthquake:
More than 300 hygiene kits distributed
Over 2,000 food boxes given to families
Thousands of hot meals served, hundreds daily
Medical care provided to over 700 patients
Household water filters supplied to 40 different families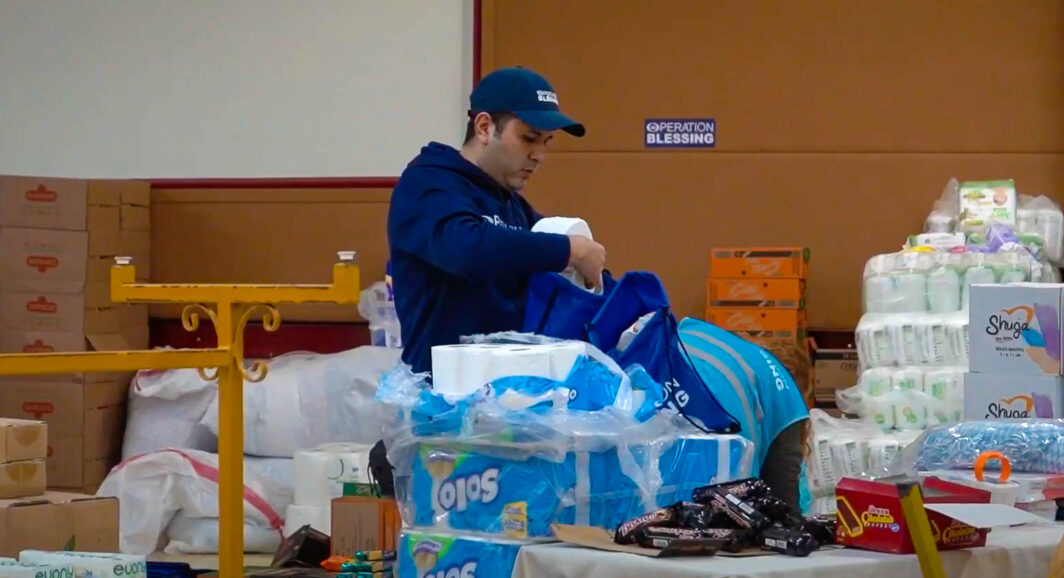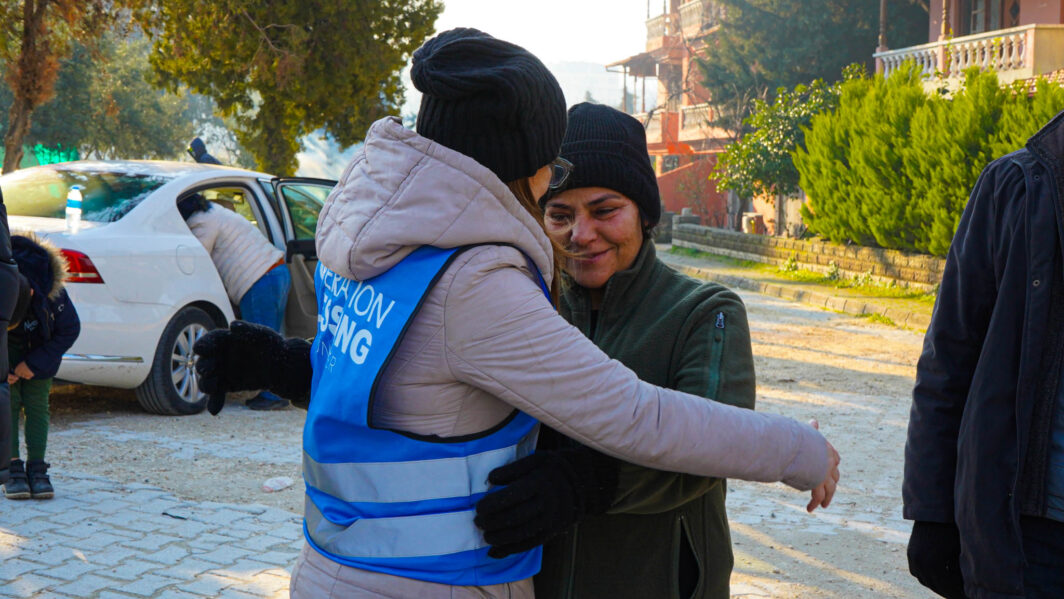 Please Pray for Turkey and Syria
Please join us in praying for those who are suffering and grieving loved ones; and check back for response updates. To give a special gift to help disaster victims today, visit ob.org/disasterrelief
*Now officially called Türkiye
Works Cited For Turkey Earthquake
"7.8-Magnitude Quake Hits Southern Turkey: USGS." VOA, www.voanews.com/a/magnitude-quake-hits-southern-turkey-usgs/6949351.html. Accessed 6 Feb. 2023.
Bogle, Emily. "Photos: A Devastating Earthquake Hits Turkey and Syria." NPR, 6 Feb. 2023, www.npr.org/sections/pictureshow/2023/02/06/1154761412/photos-a-devastating-earthquake-hits-turkey-and-syria. Accessed 6 Feb. 2023.
"Powerful Earthquake Kills More than 2,300 in Turkey, Syria." VOA, www.voanews.com/a/deadly-earthquake-hits-southern-turkey/6949424.html. Accessed 6 Feb. 2023.
Usgs.gov, 2023, earthquake.usgs.gov/earthquakes/eventpage/us6000jlrc/executive. Accessed 6 Feb. 2023.