VICE PRESIDENT OF INTERNATIONAL OPERATIONS – David Darg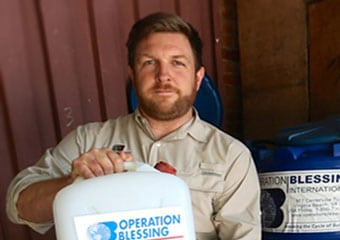 As Vice President of International Operations for Operation Blessing International, David Darg oversees OBI's ongoing strategic relief efforts in 37 countries.
Since 2001, Darg's work with OBI has included aiding war refugees in Sudan, Kenya and Somalia; being one of the few aid workers permitted entry into cyclone-devastated Myanmar; overseeing the rebuilding of a village in Yao Jin, China that was destroyed by an earthquake; and directing OBI's relief and recovery efforts in Haiti following the 2010 quake. Other relief efforts include responding to Typhoon Haiyan in the Philippines and to the 2015 Nepal earthquake plus providing aid to the current Syrian/Iraqi refugee crisis.
During the height of the Ebola outbreak in Liberia, Darg directed Operation Blessing's efforts on the ground to set up the first chlorine production facility in that country's history, as well as establish an Ebola Orphan Program that provides support such as daily meals, clothes, school scholarships and more to children whose parents died of Ebola.
Inspired by the bravery of the Ebola body collector teams working in Liberia, Darg directed and co-produced "Body Team 12," a short documentary that chronicles their heroic efforts and has been nominated for an Academy Award. Darg has also directed and produced other films stemming from his humanitarian work with Operation Blessing that have won prestigious awards at major film festivals such as the Tribeca Film Festival. Prior films include The Rider and the Storm (Hurricane Sandy), Baseball in the Time of Cholera (Haiti) and Sun City Picture House (Haiti).
In addition to Darg's passion for photography and film production, he has also served as a frontline contributor for Reuters, the BBC and CNN, covering some of the world's largest natural disasters and wars.
Darg graduated from Oxford University with a Bachelor of Theology and also holds a GNVQ (General National Vocational Qualification) in sound engineering from Hereford Technology College. He currently resides in the U.S.