VICE PRESIDENT, U.S. DISASTER RELIEF & PROGRAMS – Jody Herrington-Gettys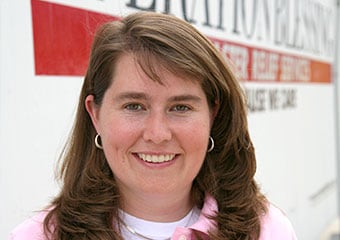 Jody Herrington-Gettys serves as the vice president of U.S. Disaster Relief & Programs for Operation Blessing International overseeing domestic disaster relief operations and special programs. She joined OBI in 2005 and has coordinated relief efforts for several federal declared disasters including Florida tornados (2007), Hurricane Katrina (2005), Hurricane Rita (2005), and Hurricane Ivan (2004).
In support of OBI's response to Hurricane Katrina, Jody moved to Louisiana from 2005 – 2007. Her responsibilities included guiding daily operations at OBI's command center in Slidell such as: coordinating volunteer service hours; managing a field staff of more than 40; directing OBI's free medical and dental clinics in New Orleans; implementing a fast track grant program which awarded more than $4.8 million in grants to local community based groups; and helped launch OBI's "Bug Buster's" mosquito control program with the city of New Orleans to combat the threat of the West Nile Virus and encephalitis by treating thousands of abandoned pools.
Jody took an active role at the New Orleans Emergency Operations Center with the Mass Care Committee, FEMA Voluntary Agency Liaisons, Greater New Orleans Disaster Relief Partnership, and has established partnerships with hundreds of local pastors. In February 2007, she and Operation Blessing received a "Hero of Katrina" medal from the St. Bernard Parish Council. In addition, Jody has had the opportunity to serve in advisory roles with the White House's Office of the Federal Coordinator of Gulf Coast Rebuilding and spoken at a post Katrina Conference for faith-based groups hosted by the Homeland Security Institute.
Jody brings more than 10 years of experience working with relief groups, churches, nonprofit organizations and international ministries. Previously, she worked in dual roles as both an associate pastor at the Brownsville Assembly of God and assistant to the president at the Brownsville Revival School of Ministry. Her responsibilities included coordinating disaster relief, serving on the school's management team, overseeing the school's daily operations and directing the school's recruiting department. She is a licensed minister with the Assemblies of God.
Having earned a bachelor's degree in music education from Valdosta State University, Jody also holds national emergency response credentials from National Incident Management Systems. She and her husband reside in Virginia Beach.